Partnering with five zonal art centres, the Tata Trusts Art Conservation Initiative aims to train conservators via annual material conservation training courses, and help establish conservation labs at these institutes.
Art conservators make up a small community in India, with a handful of them in circulation for providing conservation and restoration services. Senior conservators that are experts in particular materials find rare opportunities for training in India, and most would have studied and been mentored abroad at reputed conservation centres or art schools. In India, post-graduate training opportunities are offered at the National Museum Institute (for a Master's degree in Art Conservation), and short-term training courses at the National Research Laboratory for Conservation of Cultural Property (NRLC). Other opportunities are ad-hoc workshops that are organized by a medley of institutes and/or individuals.
Couple this lack of trained conservators in India, with the poor state of art conservation related facilities, there is a serious dearth of knowledge in this informal, yet extremely lucrative, sector.
There doesn't exist an intensive training programme that focusses on a particular material with a strong focus on hands-on training in preventive and remedial conservation methods. The Tata Trusts Art Conservation Initiative was designed, in part, to address this gap.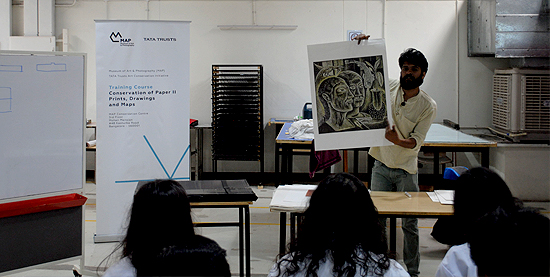 Partnerships with institutes
Instead of focusing attention on one conservation centre to make it a hub for training, the initiative was designed to spread training opportunities across five centres in India. The five centres that are partners under the Tata Trusts Art Conservation Initiative are – Chhatrapati Shivaji Maharaj Vaastu Sangrahalaya (CSMVS), Mumbai; Mehrangarh Museum Trust (MMT), Jodhpur; Anamika Kala Sangam Trust (AKST), Kolkata; Himalayan Society for Heritage and Art Conservation (HIMSHACO), Nainital; and Museum of Art & Photography (MAP), Bangalore. Each centre will offer two annual material conservation training courses open to conservators in the field.
By duplicating the format and mode of delivery of these training courses across five centres, simultaneously, the Initiative hopes to render each institute a specialist in two materials, and create a year-long training calendar that practicing conservators can avail of.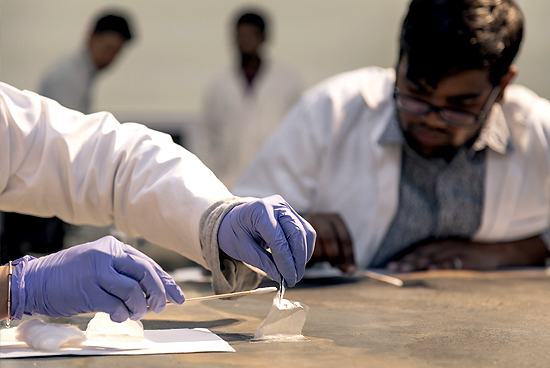 Format of the training courses
The training courses, ten in total, are designed across four levels, starting with basic. Each year, the institutes will offer more and more advanced levels and will ideally see repeat participation from previous years. Thus, a conservator who undertakes all four levels of one material conservation training course would be at par with senior conservators in the field. A conservator who is unable to undertake a post-graduate degree in conservation (either in India or abroad), can avail of these courses that don't allow for that much time investment but are intensive and build on knowledge year-after-year.
The applications for these ten-day intensive training courses are screened by the institute and the Tata Trusts Arts and Culture team to ensure that the selected participants demonstrate some working experience in that material and a commitment to staying in the field of art conservation.
The faculty is sourced from across the country and conservators that specialise in that particular material are invited to lead a majority of the course. The course also includes understanding material history and technology via studio/site visits – a crucial first step in correctly identifying signs of deterioration and degradation.
At the end of each training course an assessment is conducted that comprises a written test, practical sessions and a viva voce session that is valuable in helping to establish a baseline in a field where none exists. This will also help pursue those participants who have shown a high level of skill and understanding, to encourage them to apply for the subsequent advanced-level courses.
One year in
The project was initiated in February 2019, and nearly one year in, nine training courses have been successfully completed across the five centres. While the training courses themselves last for ten days, the prep time involved in releasing the announcement, finalising the schedule, sourcing faculty, and organising the workshop itself means that at least two months are spent per institute per training course. Currently, no fee is charged to attend these courses, but the selected participants must make their own travel and boarding arrangements for the duration of the course. In the future, once these centres themselves are secure in offering these trainings, methods of sustainability and opportunity can be explored by charging a minimal fee, offering scholarships, collaborations with other institutes, etc.
With this first tranche complete, there have been some learnings and the course has been tweaked to ensure that maximum hands-on interaction is included in the ten-days. As the centres gear up for the second year of training courses, efforts are currently underway to undertake a review of Year 1, finalize the syllabus and calendars for the advanced level courses, and disseminate the calls of application early so as to attract a talented application pool comprising practicing art conservators, ideally attached to institutes where they can return and care for their collection.
2019-20 Tata Trusts Art Conservation Initiative training course calendar:
CSMVS, Mumbai: Metals | July 2019 & Wood Panel Paintings | January 2020
AKST, Kolkata: Paper 1 | August 2019 & Oil Paintings | January 2020
MAP, Bangalore: Paper 2 | September 2019 & Photographs | TBA
HIMSHACO, Nainital: Wood | October 2019 & Stone | February 2020
MMT, Jodhpur: Textiles | November 2019 & Wall Paintings | TBA
Subsequent training course details will be announced here.

— Paroma Sadhana