The Tata Trusts and the Directorate of Basic Education, Uttar Pradesh, launch the book 'Ummeed ke Rang' on August 26, 2020 — a book that highlights the experiences of teachers who have re-shaped their schools through innovative pedagogical solutions
Every person who has gone through the process of education knows that the teacher's role is central in the field of education. This fact has been accepted in all policy documents of education and is constantly reiterated. This role of the teacher is seen in nurturing the ability of the learner to think, cultivate a scientific outlook towards the world, develop good habits, and develop interest, instincts and values. All of these are also necessary for a harmonious and healthy society. Hence the teacher is also called the creator of a future society.
Millions of teachers are playing this important role in their own way across the country. About 4 lakh teachers are employed in Uttar Pradesh alone. After a regular life of teaching and learning, they often get fewer opportunities to share experiences and learn from their peers. One reason for this is also the unavailability of such forums which can get them recognition in lieu of their labour.
There have been very few teachers around the world who have recorded their experiences, been considered among world's greatest teachers and have also guided the generations to come. To name two in India, Gijubhai Badheka and Rabindranath Tagore whose writings are still read.
The Tata Trusts recognises that teacher education is critical to enhancing the quality of learning outcomes of children. To foster communities of practice among teachers, the book 'Ummeed ke Rang' was born out of an idea of providing a collaborative platform to teachers who are doing excellent work in their respective schools. These are the teachers who have succeeded in re-shaping their schools through innovative pedagogical solutions. In close collaboration with the Directorate of Basic Education, Uttar Pradesh, the Trusts supported the publishing of the experiences of these teachers, both as recognition and for the wider cohort to cross-learn from their experiences.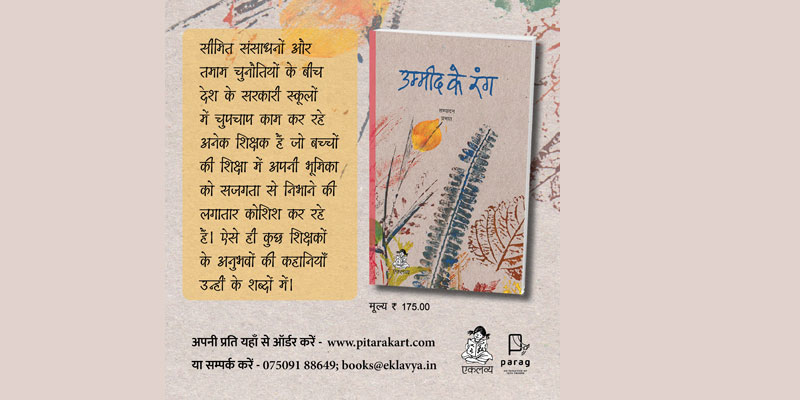 This book is a result of a collective process, where a group of 60 teachers were identified and invited to a two-day workshop for sharing their teaching experiences, and thereafter were trained on professional writing skills. Following some rounds of story writing and reviews, stories from 24 teachers were finally selected for the publication. The book is published by Eklavya, Bhopal, which is also one of the partners of Parag — an initiative of the Tata Trusts that supports publication of original stories for children in Indian languages.
The book is released with a hope that the voices of teachers can be heard, read and shared for the benefit of the larger teaching ecosystem in the country.