Swaha Sahoo, who heads the Parag initiative of Tata Trusts, talks about the challenges facing education policy and how the Big Little Book Award will serve to put regional children's literature on the map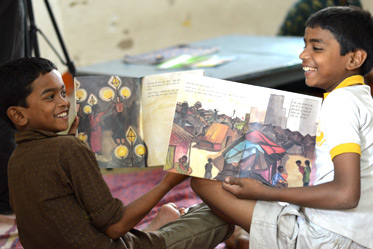 Following our interview with Amrita Patwardhan who heads the education portfolio at Tata Trusts, we spoke to Swaha Sahoo who is leading the Parag initiative and behind the implementation of the Big Little Book Award which will debut at the Mumbai Literature Festival this year. She tells us about how Parag has supported 350 regional children's literature books in India.
Can you tell us a bit about the Parag initiative of the Tata Trusts and your role?
Parag is a decade old initiative that aims to fill a gap in availability of and access to good quality, contextual and original reading material for children, especially in Indian languages. We have supported 350 children's books across nine languages. These are stories that children relate to, emerging from their lived contexts. Parag promotes libraries as vibrant spaces, with a rich collection of books and an active library educator who engages children with reading. We support a large number of organisations to strengthen their book collection and improve skills of facilitators. Recently, Parag launched the Library Educator's Course, a seven month, dual mode certificate course targeted at librarians and educators. Last year Parag launched the Riyaaz Academy for Illustrators to identify and train young illustrators. Parag is also keen to use technology to reach more children and catalyse the reading space.
I lead the implementation of the programmes and grants across Parag. I work with my team to ensure project output and impact. I look at opportunities to partner with more organisations in this space advocating use of children's literature for reading improvement. The best part of my work is that I get to read so many richly illustrated picture books, non-fiction, poetry and national and international literature.
What are the key challenges that have constrained education policy, in your view in India? Have there been any positive movements recently that are likely to incite the change required on the ground?
There are multiple levels of challenges in educational policy. First, for policy planning the child comes last. We don't appreciate that children come into school with prior knowledge and varied experiences. We teach; we don't facilitate learning. Learning happens naturally for children. Education policy must focus on multiple ways of learning, encourage mistakes and enable skill building. Secondly, we should look at the highest levels of training for pre-primary and primary teachers. If you look at recruitment adverts, you will notice how the position for pre-primary teachers requires the minimum qualification and it moves up the grade. Primary schooling is the key. If we focus on quality in the first eight years and are able to engage children, they will have the foundation for further education. Last but not the least, move away from an exam-centric, percentage-oriented school education system and focus on learning by doing.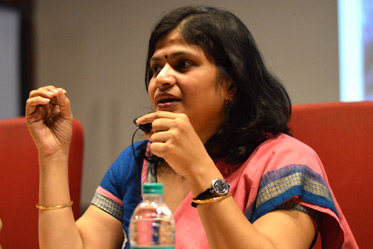 Many positive policy changes have happened in the last decade and I say decade because in education it takes time for any policy to be implemented and to show impact. The National Curriculum Framework 2005 is one of the key changes. If schools adhere to the NCF and teachers are trained accordingly, learning would shift from the textbook to the learner. Sarva Siksha Abhiyan (SSA) has successfully provided access to primary schools in most remote areas but we lack trained teachers. The push towards "Swachh Bharat", if it succeeds in creating and using toilets and access to clean drinking water in our schools, will go a long way in retaining children in schools. The intent behind Padhe Bharat Badhe Bharat is to promote reading and math skills. If implemented with adequate resources and training it can make a difference to early grade literacy skills in children. Similarly, the industry focus on skilling and entrepreneurship can only succeed if school education moves from a rote and examination based approach to focus on children using their knowledge in everyday life.
What more should the Indian government and policymakers do to engage with the needs of first-generation learners and the incredible dearth of quality education at the primary level in India?
Many of the challenges I spoke about and what should be done instead are also ways in which we can cater to the need of first generation learners. For example, we assume when they come to school, children don't know anything. But children already know a lot that they have gathered from their environment, parents, family and culture. If we can train our teachers to use the prior knowledge of children, it will give children confidence. The school will not be an alien place with which they do not identify or connect. Secondly, language is a key factor that often alienates first generation learners. They speak a different language from the language of instruction and finding no help to link the two can be a big burden for young minds. Having story books in children's regional languages, keeping aside some hours to tell stories and creating a link between home and school language will go a long way in helping children succeed at school.
In your work with Parag and your interactions with stakeholders, have you been able to identify the reason for the sorry state of affairs when it comes to literature focused on children in India?
The larger, sectoral challenge is lack of a reading culture. Schools are singularly focused on exams and finishing the curriculum. They have no space or energy for reading. They don't realise that children develop many essential skills such as reading and writing skills, communication, vocabulary and critical analysis if they are exposed to a wide variety of books. Similarly, few parents encourage children to read for pleasure. It is also difficult for children to find books that are engaging. A handful of publishers in India are publishing good books in multiple Indian languages. Yet these books don't reach a large number of children. A large number of private schools in India and parents who can afford to buy books tend to buy English literature from Western authors and publishers. Government schools have resource constraints. When they do have a budget, schools end up buying books from local publishers at deep discounts without looking at the quality. Developing original stories and illustrations with high quality production and printing is expensive and publishers price their books accordingly to recover costs. Those who keep costs low rely on subsidies. Another way of keeping costs low is to print high volumes. But in the absence of reliable government procurement, it becomes difficult for publishers to print large numbers.
How will initiatives like the Big Little Book Award serve to buoy the interest and focus on Children's Literature in India?
An award can play many roles. It brings the winner's body of work to the forefront and generates interest and awareness around it. If the award process is transparent and jury independent and competent, it can impact the sale of the book/s. For instance, the Newberry and Caldecott Medals, instituted by the American Library Association, have significant impact on the sale of books by a winning author/illustrator. The Big Little Book Award is in its debut year. It aims to promote the work of winners and make them accessible to children through several means. Over October and November we are organising author/illustrator meets, library and reading sessions across schools and libraries. The Big Little Book award will serve its purpose if it successfully creates a platform for young readers, parents, schools, publishers and other stakeholders to meet, access and read the works of winners. We hope the Award will give children's literature it due recognition and encourage young talent to contribute original, contextual and contemporary stories for children.
Swaha Sahoo heads the Parag initiative of Tata Trusts
This article first appeared in the Scribbler