Deepika Sorabjee, Head of the Arts and Culture portfolio at Tata Trusts, looks ahead to 2021 with hope as she looks back on an unusual, unforgettable 2020
2020, a year we will never forget is over. As 2021 commences — with hope, in the coming vaccines — we can look back at a year, that unequivocally, was unusual. But while we didn't meet at the workplace or over a meal at our favourite restaurant, we came together, more than ever, in the digital space. This newsletter captures what the digital space can do despite difficulties — bring back past lectures and programmes to a meaningful afterlife, give students the opportunity to continue learning (Inspire India community music pedagogy), re-watch films ('State of Housing') which gained a whole new meaning after witnessing the horrific urban migrant housing crisis as the lockdown forced millions to walk back, for days, to faraway homes.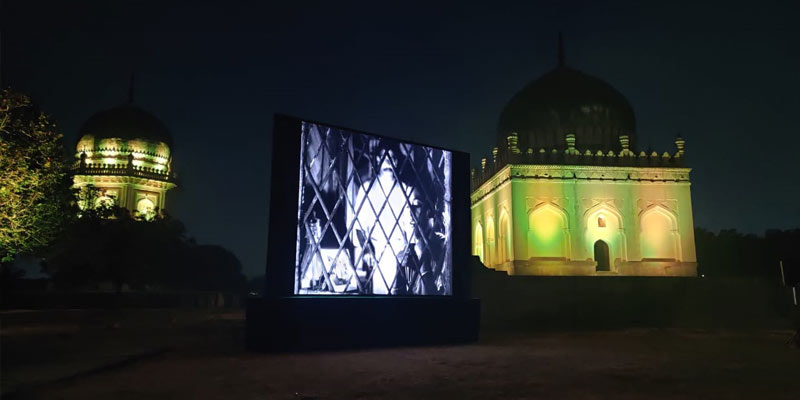 Listen to Professor Naman Ahuja (Kalapana 2018), in this excellent lecture, presciently talk about the need for building a digital vocabulary — 'Visual Lexicons and Iconographic Vocabularies: The Need for Art History in a Digital Age'. Watch students (of the Tata Trusts' Shankar Mahadevan Academy supported Inspire India programme) pursue their music training, and excel, despite all odds, and watch an archival gallery come alive (Ramya Ramesh, The Journey in Space and Time: The Makings of the Raman Research Institute Archival Gallery, on a Tata Trusts' supported India Foundation of the Arts Museums and Archives grant). The Museum of Art and Photography, Bengaluru, one of the five institutions on the Art Conservation Initiative scheduled to open last November, took to the digital space in December, for a week-long introduction to its collections. Conservation training and lab set up however, are on track, on the ground, as work resumed after the initial lockdown months.
A pioneering master's programme supported by the Trusts at the Ambedkar University Delhi, master's in performance practice (dance), had to shift to the virtual stage as the lockdown hit the final semester. Both the student dissertations and the end peer reviews had to be conducted online. A clip of the student dissertations can be seen in this newsletter.
The rush to the digital stage however, brought to the fore more sharply the inequities that exist—not just in the arts but how economics, education, region and gender can impact the access to be able to be a participant in this digital world as well as how some programmes cannot have a digital life. Much like doctors who have to be hands-on with their patients, conservators too, had to be on site to attend to their patients — buildings and objects. Here, while sites and labs remained closed, we re-structured learning with online reading discussions and object examination so as to keep the learning ongoing, and limited time at the workshops saw the craftsmen re-start work safely.
For so many of us there was this abundance, of art, film, literature and music that was made available for free, or for an affordable fee, but this required the access to the basic equipment, the data packages, the language, or just the permission to partake of all of this. It was universal, across continents, and left us all deeply reflective about the way forward. It is not easy, especially in countries like ours with deep social and economic divides and diverse languages and customs, and any inclusion strategies are bound to exclude somebody. It must be acknowledged that perhaps in now privileging the previously left out, the current actors in the art world may have to sit out time themselves— feel the struggle of understanding art in another language, sharing programmes between institutions as funds are scarcer, privileging certain regions over others, investing in infrastructure in the arts over events and many other strategies that may mean upending ways that so far have run the show.
In the meantime, these are some of the past and present programmes we invite you to watch and listen to.
Kalapana, (a Trusts' constituted platform to engage with issues about and beyond the scope of the programme), this year, will emerge from one of the most pressing issues of our times. A forthcoming talk will feature Rahul Mehrotra, Kaiwan Mehta (co-curators on the Trusts' supported UDRI State of Housing exhibition) and others, speak about possible solutions to migrant housing and discuss Mehrotra's new book, 'Working in Mumbai', about the challenges of architectural practice, an increasingly contested space, in India.
Housing for migrant labour in our urban environment, for so long brushed away as if left unseen would not be the city's problem, has been shockingly brought to the forefront. With the reckoning that the migrants were young, single and largely male, do we look at not just rental accommodation but a more humane community living and kitchens that can sustain in times of a crisis, efficient public transport and childrens' school adjustments for this transient population, and the ways that one can increase the feeling of belonging even as they are far away from their homes? How does culture play a part in making a home away from home? For instance, the Inspire India programme was designed specifically to be placed in community, a way to provide access to cultural learning, and as a model that could be instituted in migrant communities in any of our cities around India.
We wish all our fellow travellers in the arts a more engaging new year; the digital will never go away, but may we re-convene afresh in our much missed spaces of the arts, slowly and safely, and may 2021 herald happier, vaccinated beginnings for all.
— Deepika Sorbajee