A unique social arts-based behaviour change campaign in Rajasthan is demonstrating how culture and storytelling can drive behaviour change at the grassroots, write Parikshit Singh Tomar, behaviour change expert and Pankaj Papnoi, team leader (WaSH) at the Centre for microFinance (CmF)
Traditional performing arts may be gradually vanishing from our cities, but they still hold sway in many parts of rural India. The tribal belts of Sirohi and Pali districts in south Rajasthan are one such example. With no phones or televisions to spend their time on, these communities deeply connect with folk arts like puppetry, mime art, dance and music. This fact has inspired an innovative and successful social art-based behaviour change intervention around water, sanitation and hygiene (WaSH) by the Centre for microFinance (CmF), an associate organisation of Tata Trusts.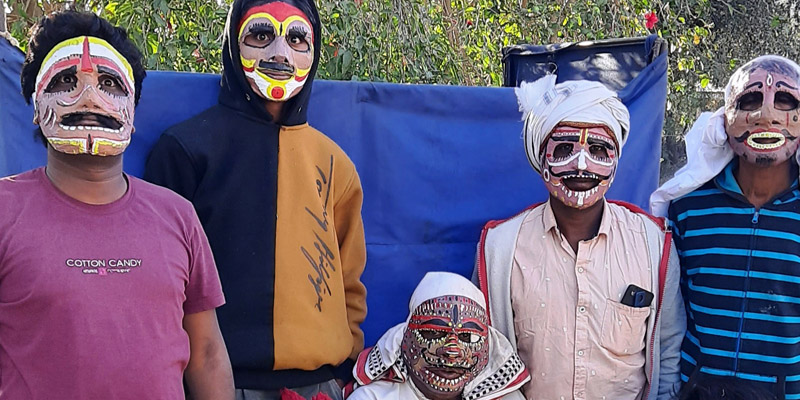 CmF's intervention focuses on 40,000 tribal households living in 200 aspirational villages. These communities are largely marginal agriculturists. Being historically deprived of economic opportunities, education, and infrastructure, they follow outdated and unhealthy practices around water. For instance, open defecation was quite common prior to the intervention. Hygienic behaviours like regular washing of hands were also rare. An equally grave health concern was the fluoride contamination in the region's groundwater, which is used for both drinking and irrigation.
Unfortunately, efforts by governments and non-governmental developmental organisations to change these behaviours have had mixed success. Traditional approaches for sharing information and engaging the communities, like holding meetings, sharing informative posters, etc., often did not trigger the desired response. Entrenched beliefs are a major challenge here. Many locals used to think that defecating in the open is "better for one's health" and that not regularly washing one's hands "improves their immunity". Owing to these beliefs, countless toilets and water systems in rural areas have been unused for years.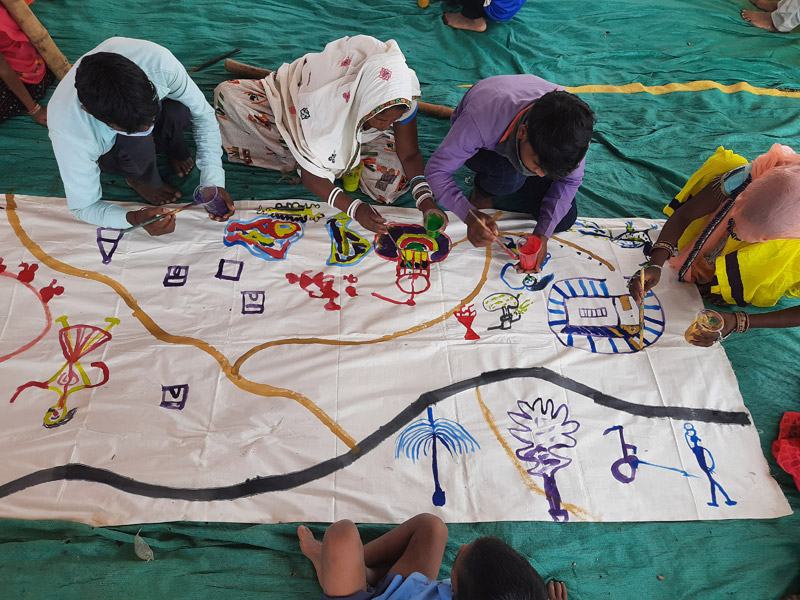 An innovative alternative
In 2016, when Tata Trusts and CmF launched the WaSH programme for south Rajasthan as a part of the Trusts' Tata Water Mission initiative, it decided to overcome this stumbling block with a creative idea. The idea, proposed by its technical support partner, One Drop Foundation, involved using art as a component of its Social Art for Behaviour Change (SABC) campaign. Based on the learnings of the Trusts' Social Behaviour Change Communication (SBCC) interventions in other states, CmF has focused on using social art as a key tool to complement the community mobilisation process and create awareness among rural communities.
Social art forms have certain advantages. In tribal belts like Pali and Sirohi, art forms like gawari dance dramas, puppet and mime shows, and skits featuring masked performers and traditional instruments like clay drums are a core part of local culture and folklore. They also have high recall value – and thus lend themselves to positive messaging around the desired behaviours.
The CmF team decided to incorporate these arts into a central theme titled 'Hum Samajhdar' (literally translating to 'We are wise/intelligent'). The theme has been derived from the idea of 'progressive nurture' as a key driver to trigger positive behaviours among community members at the individual, household and societal level. The 'Hum Samajdhar' campaign has been executed by the Trusts in a few other states as well.
The first targeted behaviour was the regular usage of toilets by families. The second was the adoption of hand-washing as a habit before meals and after defecation. The third and final behaviour had two facets: make community members use fluoride-free water sources, and divide the task of fetching water – traditionally seen as a woman's job – more equitably among the men and women of the household.
The campaign enlisted local folk artists who made a living performing at fairs or events, as well as amateur artists from local communities. These performers were trained by CmF's subject matter experts to incorporate the WaSH campaign's key messages into the art forms, which is the best way to involve and engage the audience, and bring home the points with better recall. Thus, they became facilitators for the programme.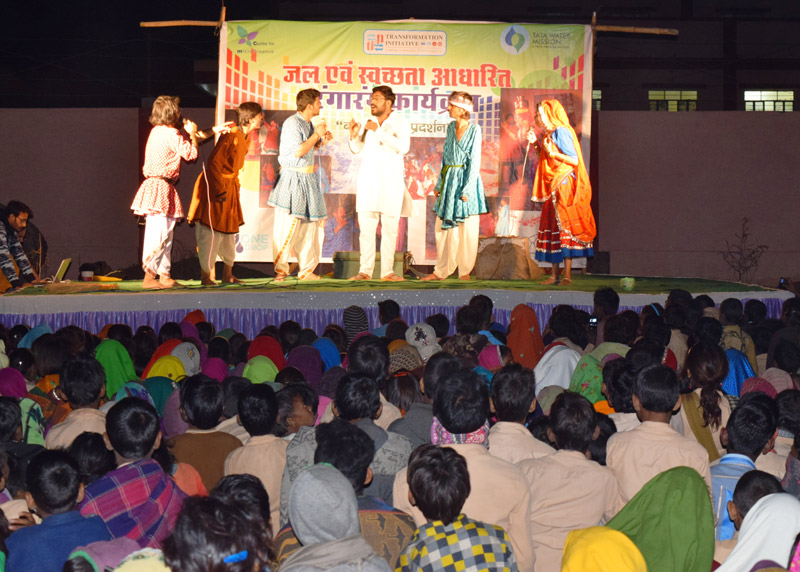 Art as an agent of change
Given that the 'Hum Samajhdar' campaign had to be simultaneously broad-based and behaviour-specific, it was implemented at three levels.
The first level was a panchayat-level multi-disciplinary show (MDS) featuring art performances, musical dramas and a light and sound show. The objective was to make the project a talking point in each panchayat, which typically includes 2-3 villages. A few weeks later, CmF's folk artists would visit individual habitations to perform thematic 'nukkad nataks' (street plays) around sanitation, hygiene, fluoride awareness or gender equity, depending on the habitation's identified needs.
To ensure that the messages did not get diluted, in level three, CmF's team would conduct group and interpersonal meetings and door-to-door campaigns, and implement co-creational activities (for community engagement) such as mural-drawing, slogan-writing, and common celebrations to reinforce the desirable habits.
The response was overwhelming. Over a million people across the project area attended the 97 MDS events and 1,166 thematic shows conducted by CmF across Pali and Sirohi. In contrast to the traditional method where holding the community's attention for extended periods was often a challenge, here a 'pull factor' was strongly visible. In post-show surveys, attendees would express a preference for longer shows and more performances.
The social art experiment also witnessed strong traction in terms of the behaviours adopted by the community. Eighty-seven percent of the communities from the fluoride-affected habitations – where the behaviour campaigns were executed – were confirmed to have shifted to fluoride-free water sources. Meanwhile, 75% of the community now believes that fetching fluoride-free water from a safe source* is a shared responsibility of men and women. Toilet usage has increased from 20% in 2016 to 64% in 2022. Further, 67% of people wash their hands with soap at key moments in the day.
While the community has reaped the benefits in terms of better health and water security, they are not the only ones. Thanks to CmF's campaign, folk artists who were seeing declining demand for their performances were able to earn a livelihood. The initiative also put the spotlight back on the tribal art forms, instruments, and cultural nuances that were fading over time.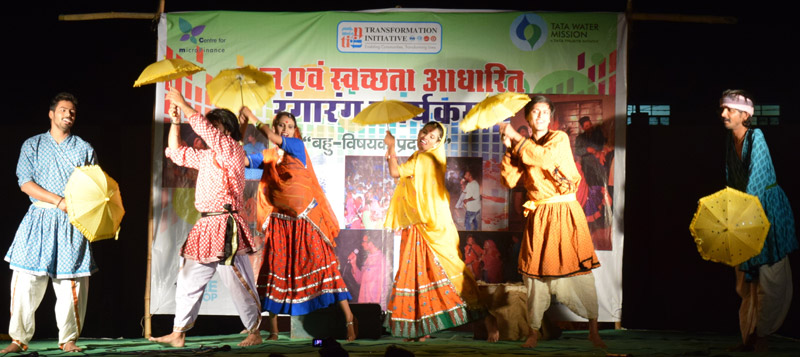 Enduring benefits
The first phase of the WaSH intervention concluded in March 2022. However, its messages continue to echo in the project area, thanks to the sustenance activities carried out by Tata Trusts and CmF. The habitation walls and public areas in the villages are today adorned with beautiful drawings and slogans etched by community members to spread the word on safe water and gender equality. Recall was also strengthened in the form of vehicle awareness drives and community fairs – accompanied by vibrant performances – to drive home the importance of sustaining these behaviours.
A number of musical and video assets were generated by the folk artists over the six years of the programme's first phase. To document these for posterity, CmF recorded an audio album containing 16 songs on thematic topics. This album, along with recordings of the thematic shows, reading literature, and other assets, were shared through social media, WhatsApp, and with the self-help groups, so that they could continue using them in later years.
We have now initiated the second phase of the WaSH campaign in south Rajasthan, which focuses on water security. Having established the power and potential of art-based storytelling, social arts will play a key role in this phase too. Given the vital role they play in supporting social behaviour change in communities, social arts can, and should, be leveraged by more organisations as an integral component of their programmes on the field.
* - Results from the end-line study of the project, conducted by an external agency