October 2018
Tata Trusts wins the Corporate Trailblazer Award at the fourth India Today Safaigiri Summit and Awards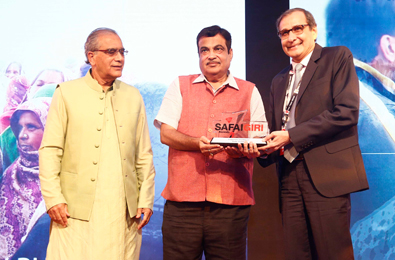 Burzis S Taraporevala, CFO and company secretary, Tata Trusts, receives the Corporate Trailblazer Award on Tata Trusts' behalf from Nitin Gadkari, Minister of Road Transport and Highways
In 2015, India Today launched the Safaigiri Awards to felicitate pioneers in implementing the Swachh Bharat Abhiyan and showcase their efforts in changing public attitude towards cleanliness. Prime Minister Narendra Modi gave away the 2018 Safaigiri Awards to a series of amazing achievers involved in the mission to clean India. Over a day-long singathon on October 2, India Today celebrated the Safaigiri champions, highlighting their achievements and showcasing their work.

The awards are a direct corollary of the Prime Minister's Swachh Bharat Abhiyan, which has given an impetus to countless Indians to clean the streets they live on, the air they breathe and the water they drink, and recycle the waste they generate.

Tata Trusts were selected as the award winners in the 'corporate trailblazer' category at the fourth edition of the Safaigiri Summit and Awards. The Trusts won the award for their multi-pronged approach to involve the community in achieving a Swachh Bharat in 17 states and 170 districts across the country, and collaborating with an efficient network of 450-plus partner organisations.

The jury comprised Aroon Purie, editor-in-chief, India Today; Vinayak Chatterjee, co-founder and chairman, Feedback Infra Private; Shubhagato Dasgupta, Centre For Policy Research; Neerja Birla, founder and chairperson, Aditya Birla Education Trust; TV Mohandas Pai, chairman, Global Manipal Education; Swati Ramanathan, founder, Janagraha Group; Sangita Jindal, chairman, JSW Foundation; and Sam Balsara, founder, Madison Group, and verified by an independent research agency, MDRA.
Source:
https://www.indiatoday.in/safaigiri-awards-2018/story/here-are-the-winners-of-safaigiri-awards-2018-1354021-2018-10-02
https://www.indiatoday.in/safaigiri-awards-2018/story/india-today-presents-4th-edition-of-safaigiri-awards-1353881-2018-10-02