National Animal Healthcare Scenario and Shortfalls:
Personnel:

Only 63,000 veterinarians in the country while requirement stands at 120,000

Institutional:

55 veterinarian colleges in India, with an average of only 60 students each
3,300 new veterinarian students admitted per year of which 1/3rd drop out

Infrastructure:

Only primary polyclinics in India, unevenly distributed, and only 2 blood banks functioning nationwide
Inadequate imaging, intensive care, dialysis, pathology and recovery facilities present in the country
Source: Hospihealth India Consultants Pvt. Ltd.
Mumbai:Tata Trusts, one of India's oldest philanthropic organisations, in partnership with People For Animals, among the country's largest animal rights organisations, today announced their collaboration to build a state-of-the-art, multi-specialty veterinary hospital and emergency clinic that will serve the needs of all domestic and farm animals at accessible and affordable rates. The hospital will be located at Kalamboli in Navi Mumbai and is expected to be ready to welcome animals in two years. The project cost including construction, facilities and infrastructure is estimated to be over INR 100 crores.
People For Animals has been at the forefront of animal welfare in this country, rescuing and rehabilitating animals in need and lobbying for animal rights. Tata Trusts, over the 125 years of its existence, has been driven by the fundamental principles of compassion and the desire to serve. It has helped create institutions of repute across India, including the Tata Memorial Center, the Indian Institute of Science and the Tata Institute of Social Sciences. Tata Trusts and People For Animals see the Animal Care Center becoming an institution of similar excellence in the field of veterinary medicine in the country.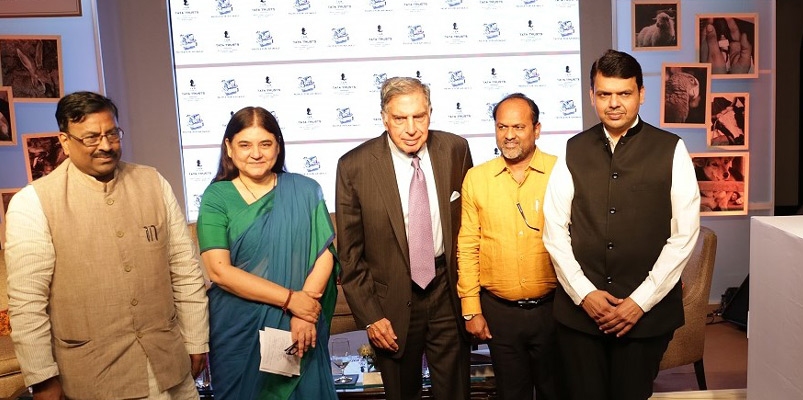 From Left to Right: Shri Sudhir Mungantiwar, Cabinet Minister - Finance, Planning and Forest Department, Government of Maharashtra, Smt Maneka Sanjay Gandhi, Hon'ble Union Cabinet Minister - Women and Child Development and Founder, People for Animals, Mr. Ratan N. Tata, Chairman, Tata Trusts, Shri Mahadev Jankar, Minister, Animal Husbandry, Dairy Development and Fisheries Department, Shri Devendra Fadnavis, Hon'ble Chief Minister, Government of Maharashtra unveils the foundation stone plaque of the upcoming state-of-the-art Animal Care Center by Tata Trusts and People For Animals in the presence of dignitaries. The plaque symbolizes unwavering and uncompromising commitment and compassion to animal health care.
Honorable Chief Minister of Maharashtra, Shri Devendra Fadnavis said, "This is a proud moment for Mumbai, when organizations like PFA and Tata Trusts have come together to set up a state-of-the-art animal care hospital in Mumbai. I must congratulate them for participating in such a noble cause. With Maneka ji and Tata Trusts coming together, this will create capabilities that can serve the entire country. Mr Tata, you go on inspiring us, and Tata Trusts is one such institution that has supported every single good initiative in Maharashtra. Tata Trusts is changing the lives of people, reaching the have-nots and the last person in society. I am sure this coming endeavor will benefit the people of Maharashtra, and I thank both People For Animals and Tata Trusts for taking up this initiative. I assure you that you will always have the support of the Government of Maharashtra."
Smt Maneka Gandhi, Union Minister for Women and Child Development and Founder, People For Animals (PFA) said, "I would like to thank Shri Devendra Fadnavis and Mr. Ratan Tata for their support to realize a vision that dates back to 35 years when Pritish Nandy, MF Hussain, Mario Miranda, Anupam Kher and I came together and voiced our need for a pan-India animal organization. I approached Tata Trusts and they have always helped me for various programs and I am deeply grateful for this. Today, what is taking place is a miracle. I am deeply grateful that the Chief Minister agreed to come and be with us today. He runs a pragmatic, compassionate and good government. I extend my best wishes to make this hospital an amazing one in the years to come."
Mr. Ratan N. Tata, Chairman, Tata Trusts, said, "Today is a very special day for me, because it is a dream for me and I can see it coming true. A state-of-the-art animal and care unit for the city of Mumbai was much needed. We are happy…. Tata Trusts has agreed to fund this facility as it will help save animals beings who give so much of themselves to us. A promise has been made to give the city a good facility and I trust all of us who have been involved, to have the passion and integrity to make this happen."
The vision for the Animal Care Center is of a state-of-the-art animal hospital spread over 9,000 sq mts in size, with emergency, in-patient and out-patient facilities for small and large animals. The Centre will be equipped with operation theatres, an intensive care unit, recovery rooms, imaging and pathology services, etc. It is conceived as a one-stop destination that provides high-quality medical care for animals, with specialised services in orthopaedics, dentistry, trauma surgery and other treatments lacking at present in the greater Mumbai region.
In addition to the medical facilities for animals, the proposed hospital will also impart continuing veterinary education and training and host workshops and programmes for the skills development of practicing veterinarians. The Centre will, additionally, train veterinary support staff to enable the building of a cadre of well-trained professionals who can service the hospital as well as contribute to the greater human resource needs in animal healthcare in India.
Tata Trusts and People For Animals are committed to ensuring that the Animal Care Center becomes a top-quality institution for animal healthcare in India by fostering international collaborations with partners such as Cornell University's College of Veterinary Medicine, world leaders in veterinary care. Cornell University will bring to the project their expertise and provide inputs on the designing, planning and operations of the facility.
Tata Trusts and People For Animals believe the Animal Care Centre is a path-breaking initiative that will meet a great and pressing need in the domain of animal health and well-being.
About Tata Trusts
Celebrating its 125th anniversary this year, Tata Trusts is amongst India's oldest, non-sectarian philanthropic organisations that work in several areas of community development. Since its inception, Tata Trusts has played a pioneering role in transforming traditional ideas of philanthropy to make impactful sustainable change in the lives of the communities served. Through direct implementation, co-partnership strategies and grant making, the Trusts support and drive innovation in the areas of education; healthcare and nutrition; rural livelihoods; natural resources management; enhancing civil society and governance; and media, arts, crafts and culture. Tata Trusts continue to be guided by the principles of its Founder, Jamsetji Tata, and through his vision of proactive philanthropy, the Trusts catalyse societal development while ensuring that initiatives and interventions have a contemporary relevance to the nation. For more information please visit http://tatatrusts.org/
Social media
Twitter: @tatatrusts / Facebook: Tata Trusts / Instagram: tata_trusts
About People for Animals
People for Animals also known as PFA is India's largest animal welfare organization with a nationwide network of 26 hospitals, 165 units and 2.5 lakh members. They work to rescue and rehabilitate sick and needy animals. PFA sets up and runs shelters, ambulance services, sterilization programs, treatment camps and disaster rescue missions for animals. PFA also conducts education programs in schools, fights cases in court and lobbies on animal issues in Parliament.
Contact:-
Mr Nikita Crasta, Rediffusion / Edelman, Mumbai
Email: Nikita.Crasta@edelman.com / Mobile: +91 9821071527