The catastrophic floods in August 2018 caused massive destruction in the state of Kerala, fondly called 'God's own country'. Taking away many lives and causing immense loss to property, this is possibly the biggest tragedy that the state has faced in the recent times. Though all 14 districts of the state bore the brunt of the disaster, but Wayanad and Idukki in particular were the most adversely affected districts. The floods, along with severe landslides in these hilly terrains, led to people losing their houses as well as land.
The Tata group and Tata Trusts under the leadership of Tata Sustainability Group, deployed full-fledged teams to provide relief and rehabilitation across the affected areas of Kerala. The teams witnessed the efforts of a community which is rebuilding itself after the tragedy. Some people were optimistic, some of them were hopeless and crying, and some of them were so engaged in extending their help to their fellow beings that they had no time to reflect upon their losses.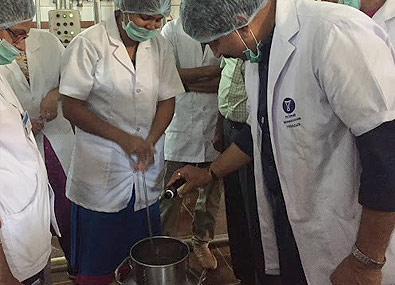 Tata Trusts, in association with the Tata Projects Community Development Trusts, mobilised three mobile RO units from Hyderabad to provide safe drinking water in the flood-hit areas of Kerala. The base locations for placing the RO units were identified after a preliminary assessment of need for safe drinking water. Various teams from Tata Trusts, Tata Projects Community Development Trusts, Titan and local civil society organisations came together to execute the plan. The water was tested regularly with health officials to ensure acceptable quality standards. Communities from the villages and local political leaders also provided their active support during the implementation. Over the period, August 19 to September 5, 2018, more than 200,000 litres of water has been supplied to the rural areas of Kochi, Alleppey, Wayanad and Idukki, covering approximately 6,500 households.
The Trusts have also put up two "Water From Air" units with the support of WaterGen Technologies — an Israel based organisation to supply safe drinking water to more than 200 households a day. These units would continue providing water till end of October, 2018.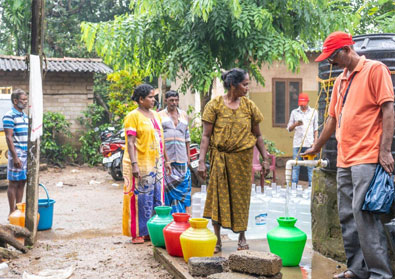 Medical aid
A team comprising doctors and other supporting staff was formed from the Health portfolio of Tata Trusts. This team worked along with the Tata Group volunteers and the Department of Health, Government of Kerala to provide medical support and conduct camps in the heavily affected flood areas. Several medical camps and home visits were conducted in Wayanad and Idukki, directly benefitting a total of 1,233 individuals in the two districts.
During the camps, it was found that people there mainly suffered from non-communicable diseases like hypertension, diabetes and chronic obstructive pulmonary disease (COPD). Their condition had worsened due to inaccessibility to health care centres for more than two weeks during the calamity. A large number of patients also suffered from upper respiratory infections and muscular skeletal disorders. Appropriate medication was given by the experts and leptospirosis prophylaxis was done to prevent further epidemics.
Way forward
The Trusts, in partnership with Tata Sustainability Group (TSG), undertaking detailed assessment on loss of livelihoods and housing to develop a plan for rehabilitation work.
It will take a long time to bring life back to normalcy in these areas, but every step towards that would be a great help to humanity.
Click here to view the audiovisual snapshot of Tata Trusts' initiative in Kerala