March 2016
A season for change
The male-dominated panchayat was not pleased when Maniben took the lead to implement water and sanitation schemes in Langad village. She persevered, and now each household has tap connectivity
Langad village in Mangrol taluk, Junagadh district, comprises 227 households, predominantly populated by Koli, Harijan and Mer communities, with a few Brahmin and Devipujak families. The geographical situation of the village and its close proximity to the sea makes all available water saline. Village women had to walk long distances to a private tubewell to fetch drinking water. However, during the monsoons, this area would be water-logged and remain submerged, and the only source of drinking water was the village pond.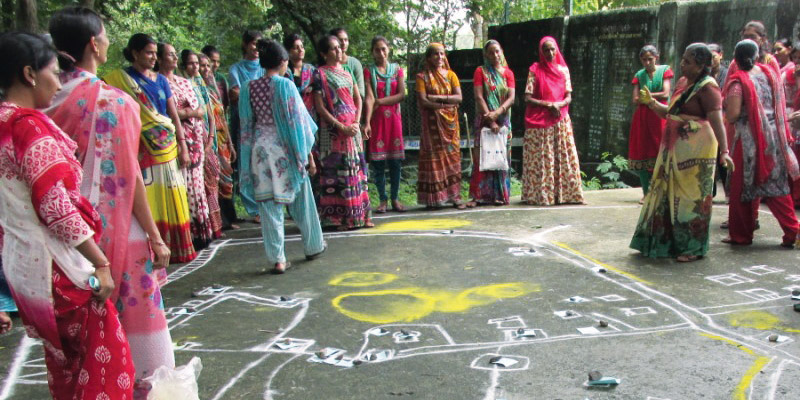 A group of women meet to discuss issues related to sanitation in their village
The Aga Khan Rural Support Programme (AKRSP-I) selected Langad village for implementation of the 'Community Managed Drinking Water and Sanitation Programme', with support of the Trusts. The titular sarpanch of Langad is Maniben Ghosiya, a housewife who looks after her family's agriculture and animal husbandry. However, she did not participate in the initial village meetings; her husband did. When the AKRSP-I team arranged a Participatory Rural Appraisal (PRA) meeting to discuss drinking water issues, there were more men present than women. When the organisers enquired about the sarpanch, they were told that 'he' was present. The AKRSP-I team insisted that since drinking water issues affected women more than men, women needed to be part of the decision making.
When Maniben and other women became a part of the discussions, the men distanced themselves saying that it was women's work in which they had no role to play. The village elders stepped in to convince the men that they needed to work together with their women for their own betterment.
Peer members helped them understand the essence of PRA, and how the organisation would collect information about the village, provide information about the drinking water and sanitation scheme, community participation, modus operandi, training of village leaders, etc.
After the PRA exercise was completed, AKRSP-I provided details such as the type of drinking water
facilities, forming a Pani Samiti, how government funds would be received, the villagers' contribution to the scheme, and how the scheme would be implemented. The villagers, anxious to solve the problem, immediately accepted all conditions, and within a span of two days, collected Rs50,000 as part of their contribution.
However, around 50-60 households withheld their contributions to the community fund. Their negativity affected others and soon Maniben and other Pani Samiti members contemplated giving up the whole endeavour. Understanding village dynamics, AKRSP-I arranged an exposure tour to Baradiya village, Devbhoomi Dwarka district, where women had played a crucial role in collecting community funds. Maniben and the Pani Samiti members talked to village committee members and women and heard about the condition of the village before the scheme was implemented, the problems they faced during implementation, how they coped, how they succeeded in collecting community contributions, and how the village now has drinking water security. This had a positive impact on the Langad team. They decided to try again to convince the recalcitrant families in their village.
Maniben took the lead to arrange another meeting within the village, and personally approached every household in the village to ensure maximum participation. AKRSP-I members once again explained how community contribution worked. Committee members, especially women, went on a drive to collect funds from households which were ready to contribute. Several households, which had earlier refused to participate, contributed this time. Some families still did not contribute but they were few in number, and the Pani Samiti managed to collect Rs129,000 as community contribution. Today, the panchayat has a tube well from which water is pumped to the sump, from where tap connectivity supplies water to every household.
"We've faced a lot of difficulties, but now, there is no tension regarding drinking water," says Maniben. Another issue that needed addressing was sanitation. In order to make the community aware about safe sanitation practices, AKRSP-I arranged for a comprehensive one-day communication campaign, which included: (i) rally of schoolchildren with "Swachhata Rath" placards on safe sanitation practices; (ii) the community was involved in faecal mapping and taught the harmful effects of open defecation under Community Led Total Sanitation activity; (iii) role play on 'Safe Sanitation Practices' was performed by Centre for Development Communications' (CDC) students; and (iv) a film show on sanitation was organised, followed by a discussion on how to adopt safe sanitation practices.
After this campaign, sanitation issues received an impetus and 46 sanitation units were completed; 11 more units are underway in the area. The same approach is being used towards scaling up the Drinking Water and Sanitation programme across the region.