December 06, 2015
Tata Trusts and Khan Academy join forces to transform education in India
Empowering students and teachers across India by delivering free, world-class and relevant education for anyone, anywhere
Focus on developing technology-enabled, free, high quality and localised education resources for India, by providing a personalised, mastery-based learning experience
Will jointly collaborate with public and private sector partners to empower and equip students, families and teachers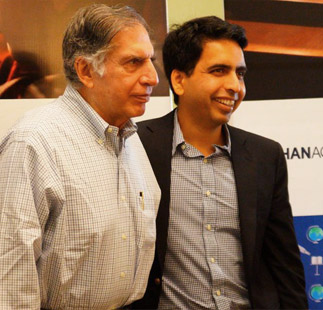 Mumbai: Tata Trusts and Khan Academy today announced a strategic, five-year partnership to leverage the power of technology to provide a free, world-class education for anyone, anywhere in the country. With Tata Trusts as the Lead Founding Partner, the collaboration will adapt and build upon Khan Academy's existing high-quality resources and tools to serve the specific needs of the Indian learner. The collaboration will also work with other partners to build a supportive educational ecosystem to employ these resources to empower students and teachers, in particular the underserved who may otherwise lack access to quality education options.
The partnership is founded on the belief that technology can help the nation to provide a quality education to one and all. On the one hand, the growing penetration of the internet and proliferation of low-cost computing devices and mobiles enables us to reach and support students and teachers across the country at an unprecedented scale. On the other hand, technology has sufficiently advanced to fundamentally transform the learning experience itself and help both students and teachers. For instance, interactive and adaptive tutoring platforms can provide a personalised, self-paced, mastery-based learning experience - allowing every learner the opportunity to truly master foundational concepts at her own pace and achieve her full potential.
To deliver on this promise, the five-year partnership will be phased into two stages. The initial period of two years will primarily focus on designing a robust set of educational resources that is tuned to the particular needs of middle- and low-income students in urban environments. Building upon and extending the resources and tools already developed by Khan Academy, major efforts will be dedicated to (i) developing a technology platform that enables a seamless user experience across desktop and mobile environments, (ii) creating high-quality academic content in a relevant language and aligned to local curricular standards, with an early focus on math and science and (iii) supporting the adoption and use of the resources by learners. Drawing on learnings from this initial period, subsequent years will see branching out into additional content areas and strengthening the ecosystem to serve learners in a more diverse set of environments.
Reflective of its commitment to serve India in the years to come, Khan Academy will also establish its first-ever international legal entity in the country.
"Education has always been at the core of the Trusts' work since its inception and is imperative for societal progress. Our partnership with the Khan Academy will help us deliver on our vision to inspire, motivate and empower the next generation of Indians" Mr. Ratan Tata, Chairman, Tata Trusts.
"Khan Academy exists to empower students of all levels, all over the world. Our goal is to use technology to humanise the education sector on a global scale. Khan Academy is privileged to associate with Tata Trusts to impact lives by providing free and quality education to children in India" said Mr. Salman Khan, Founder & CEO, Khan Academy.
Serving India in all its scale and complexity is a massive, long-term undertaking and will require cooperation from many organisations across the public and private sectors. Tata Trusts, Khan Academy and our other partners invite like-minded organisations to join hands with us on this important journey.
About Tata Trusts
Tata Trusts are amongst India's oldest, non-sectarian philanthropic organisations that work in several areas of community development. Tata Trusts seek to be catalysts in development through giving grants to institutions and executing large projects in the areas of Natural Resources Management, Rural Livelihoods, Urban Livelihoods & Poverty, Education, Enhancing Civil Society and Governance, Health and Arts and Culture. Trusts engage competent persons and government bodies, international agencies and like-minded private sector organisations to nurture a self-sustaining eco-system that collectively works across all these areas.
Tata Trusts continue to be guided by the principles of its founder Jamsetji Tata. The Trusts catalyse societal development while ensuring that initiatives and interventions have a contemporary relevance to the nation. In addition to promoting and facilitating initiatives in elementary education, Tata Trusts also awards fellowships, merits and scholarships to students pursuing higher studies. It grooms social scientists, cancer specialists, nuclear scientists and distinguished institutional administrators who in turn, have strived to make the country a power to reckon with in various fields including science and technology. The Trusts also support causes and initiatives that provide disaster relief and aides rescue work in case of calamities. The Trusts not only assists by providing grants and helping mobilise funds, it also offers on-ground support directly as well as in partnership with other stakeholders. For more information please visit http://tatatrusts.org/
About Khan Academy:
Khan Academy is a 501(c) 3 nonprofit with a mission to change education for the better by providing a free, world-class education for anyone, anywhere. We believe that students of all ages should have free, unlimited access to the best educational content, and that they should be able to consume and master this content at their own pace. In addition, we believe that there are incredible opportunities to use intelligent software development, deep data analytics, and intuitive user interfaces to more effectively surface and present these educational resources to students and teachers around the world. Our library of content covers kindergarten to early college math, science topics such as biology, chemistry, and physics, and reaches into humanities with tutorials on economics, finance, music, philosophy, and art history. We have over 26 million registered students and to date, we have delivered over 580 million lessons and over 4 billion exercise problems.
For Further details, please contact:
Preeti Binoy
Rediffusion/Edelman
Email: preeti.binoy@edelman.com
Mobile: +91 8879522879