November 2017
Crafting stories of success
Tata Trusts, through its various projects, has been working on resolving issues faced by artisans, thereby reviving their livelihoods
The crafts sector in India has been struggling for resources, largely financial; yet it is the second largest employment provider to the rural populace. It is estimated that handicrafts provide employment to anywhere between 13 million and 200 million men and women in the country.

For the Trusts, investing in crafts is not just about financial facts, it's more about the values and cultural legacy which the crafts represent. From developing a pre-loom ecosystem in Andhra Pradesh to nurturing the young generation of handloom weavers in Madhya Pradesh, the Trusts has been extensively supporting craftsmen to enhance their technical and marketing skills. In Odisha, Tata Trusts has been closely working with Mahashakti Foundation and Darbar Sahitya Sansad for the upliftment of Dhokra artisans. Majority of the artisans belong to tribal community and witness active engagement of women, particularly in skills involving sculpting and wax threading.
Mounabati making lockets and hair pins using Dhokra craft
Dhokra involves metal casting using the lost wax technique and is a traditional craft, widely practiced in Gatiguda village of Muniguda block in Odisha's Rayagada district. Dhokra artisans have been facing challenges for many years due to limited resources. Once the intervention began, the artisans received support in various forms – through skill development trainings, designing workshops, raw materials, market linkages, improved tools for casting, etc. Gradually, there has been a paradigm shift in the way artisans are creating and selling their products. Many channels have also been developed for marketing these products. In addition to finding solutions to the many issues faced by the villagers, the project team has helped in resolving their biggest issue – electricity.
Mounabati Pidikaka, an artisan in the village, has an expertise in making lockets and hair pins using Dhokra craft. With support from the project team of Mahashakti Foundation, she has been connected to many buyers. This has given a boost to her income. She happily shares, "I had never imagined I would get advance payment for my orders. It has encouraged me to work with extra efficiency. I am now making products which I am skilled at, and not just those which the buyer wants me to make."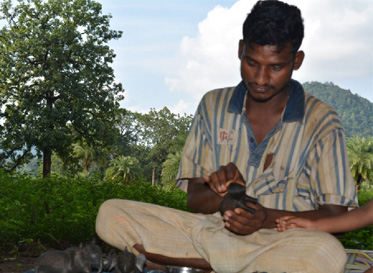 Basudeb at work making Dhokra jewellery
Similarly, Basudeb Urllaka has been making Dhokra jewellery and metal art along with his wife. They have learnt many modern designs as well as new skills from the designing workshops and are receiving raw materials from different sources. According to Basudeb, "We are now able to take many orders from buyers and complete them on time by putting in extra hours at work during the night. Continuous power supply has been a blessing!"
Until recently, the artisans in Gatiguda were not aware of the fact that their products have a huge demand in domestic and foreign markets. With encouraging results of the intervention, they are now working hard to make Gatiguda a model village for Dhokra craft. The Trusts and its partners have come a long way in reviving the livelihoods of these artisans.