Tata Memorial Centre, in collaboration with Tata Institute of Social Sciences and supported by Tata Trusts, launches a specialised academic programme in cancer care: KEVAT – a post graduate diploma in patient navigation.
The need
The health care system can be fragmented, uncoordinated and complex to navigate for patients and families. The main role of patient navigators is to guide patients through the health care system, thereby ensuring that they receive timely, effective and efficient care. They help patients and their families understand diagnoses, treatment options and available resources. By assisting all sections of society, particularly vulnerable populations, overcome barriers to health care access and bridge gaps in transitions of care, patient navigators can effectively contribute towards an efficient, equitable, and patient-centred health care system.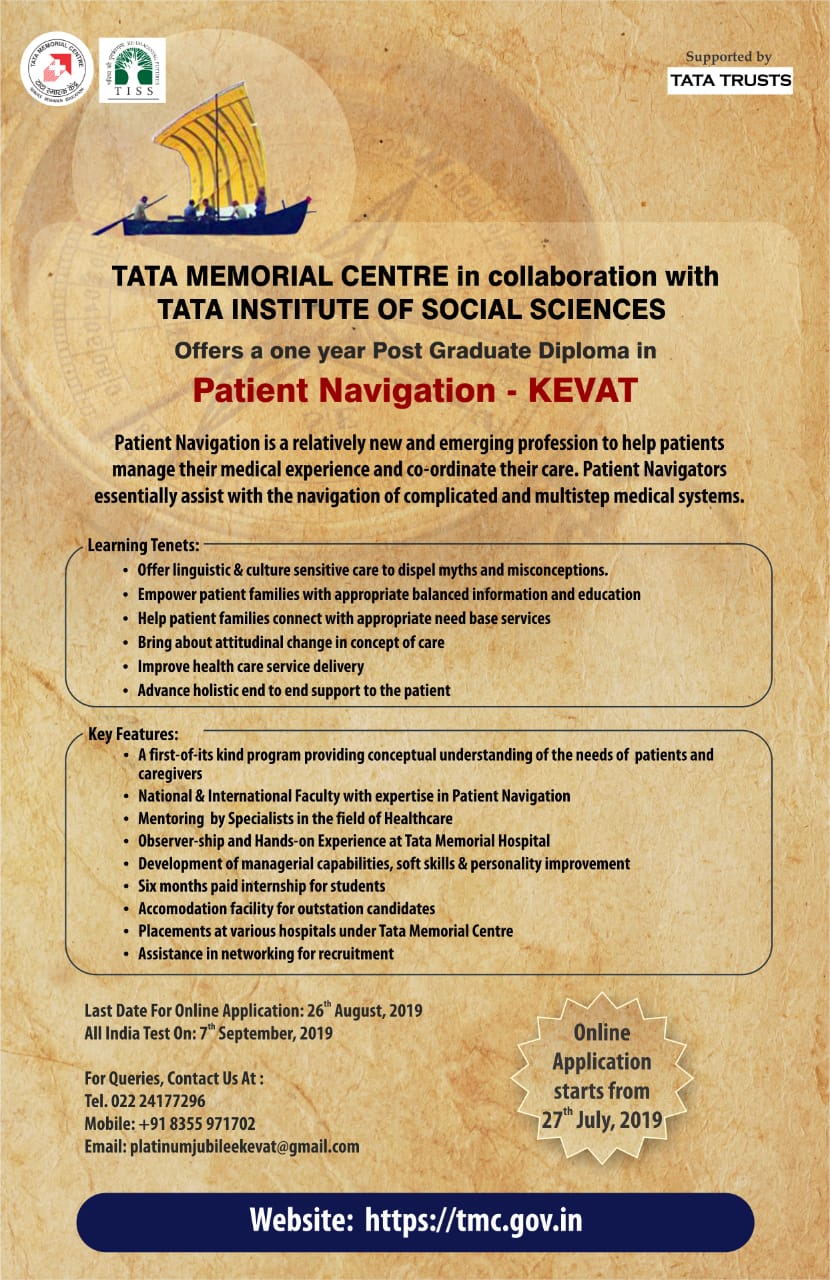 Programme summary
This course is one of the first in India to focus on an emerging patient navigation model that can be applied across all cancer care institutions. Participants learn how to:
Help patients navigate complex health care systems
Be at the forefront of patient-centric care
Be part of the movement to apply the potential of patient navigation to improve health care systems in India
Learning outcomes
Understand the emerging patient navigation role and how it applies to various health care and social services settings
Become knowledgeable about the current health care climate and structure, including transitions of care
Understand how to communicate effectively with patients and families in a way that maintains dignity, autonomy and confidentiality
Learn how to engage with patients and families in meaningful and productive discussion, ie, be able to identify what can be done to improve patient experience and how to reconcile differences between what patients want and what health providers believe is right for them
Acquire skills to assess patient needs and outcomes, and evaluate your own patient navigation practice
Understand confidentiality protocols, ethics in care, advanced directives, patient rights, etc.
A course meant for
Health care professionals seeking a career transition into patient navigation
Health administration or health allied professionals interested in expanding their scope of practice to include patient navigation
Individuals seeking to join the health care field as a patient navigator
Current social workers, support groups and NGOs seeking a deeper understanding of their role and responsibilities
Clinicians or caregivers interested in learning about patient navigation
Who can apply
Any graduate / post graduate with a degree from a recognised institute / university and minimum 50 percent marks, preferably in medical social work, sociology, psychology or public health.
Course duration and fees
It is a one-year, full-time, post-graduate diploma course. Following the successful completion of the first six months of course, students will graduate to a six-month internship with a monthly stipend of Rs15,000.
The total course fee is Rs18,000. Outstation candidates will be considered for accommodation (on twin-sharing basis) based on availability, and subsistence allowance may be provided.
Career opportunities
All the collaborating institutes will provide excellent recruitment opportunities / platforms.
For registration, please visit www.tmc.gov.in.
For queries, clarification and other details, please feel free to contact us at +91 8355971702 or 022 24177296. You may also write to us at platinumjubileekevat@gmail.com.
To know more, download PDF.