Heera Devi and Sher Singh live in Sainj village in Bageshwar district, Uttarakhand. "Our main source of income lies in the cultivation of our land – all of 0.55 acres, on which we grow traditional crops using traditional methods of farming. Our only option during the rabi season has been to grow local varieties of wheat, which carries a high risk of being plagued by pests and diseases," shares Heera Devi.
Dr Rajendra Koshyari, Area Manager, Agriculture, Tata Trusts, explains, "In the absence of intercultural operations, technical input and economic assessment of crops, the yield was often low. Moreover, these communities lacked access to proper storage facilities and harvesting practices, so despite depending on agriculture for the better part of their income, they were losing heart. However, theirs is not a unique experience; across the region, many small farmers suffered the same conditions."
Old is not always gold
Traditional practices can be good in many ways; however, what worked many decades ago may not work as efficiently in today's changing landscapes and changed weather patterns. For instance, seeds are undoubtedly the basic and most vital single input that plays a key role in boosting agricultural productivity. In the hilly regions of Uttarakhand, where livelihoods depend on agriculture, farmers use locally stored seeds for cultivation, following old traditional methods of farming. It is all they know. However, the seeds are not always stored well or graded according to productivity.
Ignorant of the change in cultivation practices and post-harvest technologies, and with little to no access to skills, knowledge, inputs and infrastructure for seed production, this hardy folk continued the vicious cycle of putting more into the land than they got out of it.
The necessary impetus
Himmotthan Society, a Tata Trusts' associate organisation, began working in the Central Himalayan region in 2007, to build prosperous, self-sustained mountain communities. In 2014-15, Himmotthan, supported by the Trusts, initiated the Maximising Mountain Agriculture Project to improve farmers' livelihoods. This project sought to improve the life of vulnerable communities by helping them enhance their income through productivity enhancement and seed production, and by strengthening community-based institutions to manage micro enterprises.
Therefore, in close supervision and guidance of Dr H S Rewal – Advisor, Tata Trusts, Himmotthan Society, a seed production programme of mountain crops and varieties was initiated. Himmotthan procured approximately 1.45 lakh VL3 seedlings from Vivekananda Parvatiya Krishi Anusandhan Sansthan (VPKAS), and transplanted them in 0.27 hectares of land across Kathpuriyacheena (Bageshwar) and Ganeshpur (Uttarkashi) to observe production and see if the yield of the new variety improved in comparison with the local variety of onions. A total of 33 farmers across the two clusters took part in this demonstration while it was closely monitored by Dr Rewal and VPKAS scientists. Dr Rewal remarks, "The results were excellent – farmers obtained an average yield of 23.8 tonnes per hectare (as against 10.3 tonnes per hectare for traditional varieties) of the new crop in the Ganeshpur cluster and 23.2 tonnes per hectare (as against 19.2 tonnes per hectare for local varieties) in the Kathpuriyacheena cluster. The improved yield made farmers more amenable to exploring new seeds, and more acreage came under commercial onion production in subsequent years."
In 2016-17, under its agriculture initiative, Himmotthan introduced a few more crops – and farmers could sign on to provide demonstration fields. "As they learnt improved cultivation practices, Heera Devi and Sher Singh agreed to try the improved, high-yielding variety of wheat. They also started an onion nursery in a 0.09-acre plot. With quality planting material and a proper package of practices for selling to other farmers, the couple managed to sell onion saplings and earned a profit of Rs11,775 in just a month and a half," exclaims Dr Koshyari.
A new future
Once the success of the VL3 variety was demonstrated in the field, the demand for the seeds increased. Himmotthan began a seed production programme in 2018-19 through Baandalghati Swayatt Sehkarita, Raipur, Dehradun, registered under the Uttarakhand State Seed and Organic Production Certification Agency, Dehradun.
The seed production programme was implemented under the technical guidance of experts from the Trusts, VPKAS scientists, and the Uttarakhand State Seed Certification Agency. Seeds for the trial were chosen for yield performance, bolting characteristics and shelf life, in comparison with local / traditional varieties. Dr Koshyari explains, "The strategy was simple – select fields with low or no incidence of disease at all, segregate the cultivation of onions and follow wheat and onion in a rotational crop cycle, and implement an appropriate package of practices to ensure good yield. Himmotthan also developed a well-thought-out standardised process for onion seed production, planting, storing and marketing the produce."
Sustainable impact
Heera Devi and Sher Singh used to earn Rs670 from 0.05 acre of traditional wheat crop; with the new, improved, high-yielding varieties, they now earn Rs1,150 from the same acreage. With their onion nursery also proving fruitful, the couple reduced the area under wheat cultivation and replaced it with onion; they grew onions in 0.08 acre, onion seed crop in 0.13 acre and expanded their onion nursery to 0.15 acre. Their income increased exponentially, earning them profits of Rs8,760 (onion bulbs), Rs28,875 (onion seeds) and Rs20,600 (onion nursery).
"I never imagined that onion nursery and seed production is possible in my area. Now, my whole thinking has changed thanks to the support I received from Himmotthan," says Heera Devi.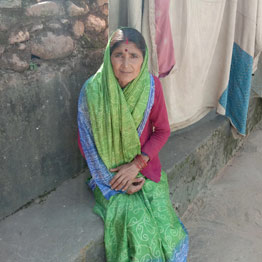 Santosh Goswami
There is another success story of Santosh Goswami – a woman farmer – and her husband Padam Singh of Chaukhutiya village in Almora district. Their two sons worked for the private sector and lived away from the village. Like Heera Devi and Sher Singh, Santosh too produced traditional crops like rice and wheat – in their 1.1 acre plot. She was ignorant of high-yielding varieties of crops, modern agricultural techniques and cash crops. With no other avenue of livelihood, Santosh continued to till her land along with her husband, eking out a meagre income.
However, in 2016-17, everything changed. Taking part in Himmotthan's initiative, Santosh sowed the high-yielding variety of onions. She began an onion nursery and seed production in earnest. Using modern techniques, she learnt through the initiative, harvested a good crop of onion seeds, and was able to sell her produce for a good price. The next year, Santosh extended the area under onion cultivation. When she harvested 4kg of seeds (sale price Rs3,200) from half a nali (100 sq.m.) of land, she realised that it was possible to earn better income even with a small patch of land. While the high-yielding varieties of wheat had increased her income to Rs950 from Rs500 per nali (200 square metre) of land, cultivating onion seeds on the same acreage was earning her Rs8,000 – almost nine times more.
"I am very happy seeing the results. I never thought the production of onion could also be done here. Himmotthan has broken the myth for all of us," says Santosh.
For the Himmotthan project, the total bulb to seed production of onions in 2014-15 was 15.75kg, but by 2018-19, the yield had increased to 475kg. In December 2020, Baandalghati Swayatt Sehkarita reported that it had sold seeds worth Rs12,27,000 while earning a profit of Rs1,22,000.
The real impact, however, has happened in the lives of small farmers like Santosh and Padam Singh, Heera Devi and Sher Singh, and countless others like them.