Asharam Patel, aged about 26 years, lives in Amodi village in Nuapada district of Odisha with his parents and three siblings. Earning a decent living was a constant struggle for the family and the members had to migrate to far-off places for livelihood. Though the grinding poverty did not allow Asharam to complete his higher education, he never gave up on his dream of providing a better standard of living for his family and himself. After completing schooling up till standard 10th, he supported his father, who worked in the fields, by becoming a daily wage labourer.
In 2018, the tide turned. He was identified by the Skill Mitra (skilling friend) of Parda, a partner organisation in Tata Trusts' Tata STRIVE initiative, as a candidate for its automobile mechanic training. Tata Trusts has partnered Parda in Odisha to roll out initiatives that are aimed at helping migrants face the challenges of migration. The Trusts' vision is to support the development of migrant communities by introducing sustainable and scalable solutions to achieve large-scale impact.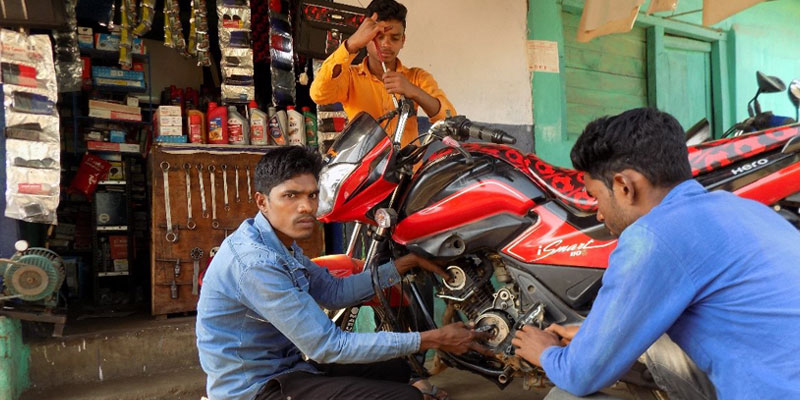 Asharam was sent for automobile training at Maruti Automobile (a Udyog Mitra or business friend attached to Parda), Nuapada, for three months. The training was hard work, but Asharam was unfazed. Strenuous labour was not new for him; after all he had worked as a daily wager. He dedicated himself towards mastering the programme.
After completion of the three months' training, he was offered a job at Maruti Automobile at a monthly remuneration of Rs4,000. That was his first step towards a secure future. He continued to work there till August 2019.
Once while relaxing outside his house, he saw two people towing their bike for repair to a nearby town. Enquiring around, he got to know that there were no auto mechanics in the surrounding nine villages. Asharam smelled a lucrative business opportunity and decided to start his own auto repair shop in his village. He invested the seven-eight thousand rupees he had saved up to procure tools. In September 2019, he established Ashok Auto Centre, naming it after his younger brother. In no time he tasted business success, and soon became an 'Udyog Mitra' supporting more beneficiaries along the way.
Life is looking up for Asharam. He earns Rs14,000-15,000 per month from his repair shop. Now his family does not migrate for work and has a stable life. His younger brother has started working with him, and he has two other employees. He has purchased a two-wheeler for himself and one for his younger brother. He still dreams big and plans to start a new repair shop in a nearby village, which will be managed by his brother and two other trainees. He is determined to support other youth realise their dreams by providing training at his shop.
An inspiration for all those who hesitate to take that first step towards entrepreneurship, Asharam believes that "people are not unemployed because of lack of education or money. They are unemployed because they don't get proper support and guidance", adding, "just as I received from the Trusts."