Manlli village in Limkheda taluk, Dahod district, Gujarat is home to 5,693 residents, spread over 1,274 households. The village is dominated by scheduled tribes (ST) with a small minority of other backward castes (OBC). The primary occupation is agriculture. Like other tribal districts in Gujarat, Dahod too has very few functional household tap connections (FHTCs). In fact, Dahod ranks second from the bottom in terms of coverage.
According to Amit Wajpe, Coordinator, Drinking Water and Sanitation, Collective for Integrated Livelihoods (CInI, a Tata Trusts' associate organisation), Gujarat, as of August 15, 2019, only 16.92 percent of rural households – i.e., 3.24 crore of the total 19.12 crore rural households – in India, have piped water connections. In Gujarat, 29.87 percent of rural households do not have 100 percent DHTC. Dahod's figures are even lower – 67.57 percent of villages in the district do not have 100 percent FHTC. The state has been working to address this issue.
Water on demand
Jal Jeevan Mission (JJM) is the Government of India's flagship programme that aims to provide FHTC to every rural household by 2024. JJM's 'Har Ghar Nal se Jal' initiative is designed to finding solutions to multifaceted issues of assuring potable water to rural households, including quantity and quality. However, its key focus is to ensure community involvement so as to ensure the success and sustainability of its set agenda.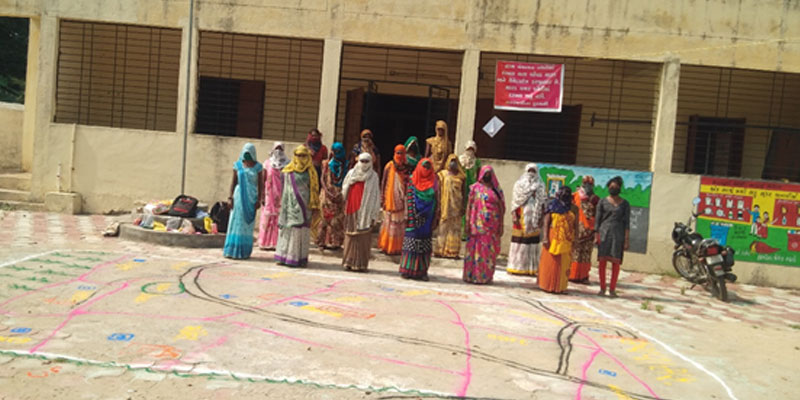 In Gujarat, the state government had already promoted a special purpose vehicle (SPV) named The Water and Sanitation Management Organisation (WASMO) to ensure water security and habitat improvement by empowering communities to manage their local water sources. The state has set an aspirational target of achieving 'Har Ghar Nal se Jal' by 2022 as against the nationwide target of 2024.
Mr Wajpe explains, " CInI is one of WASMO's support agencies and plays a critical role in ensuring community engagement in the planning and execution of government initiatives at ground level. Under JJM, CInI supports 501 hamlets in 47 villages in Limkheda taluka of Dahod district. One of these project villages is Manlli, situated 43km from district headquarters in Dahod, and 8km from the taluka headquarters."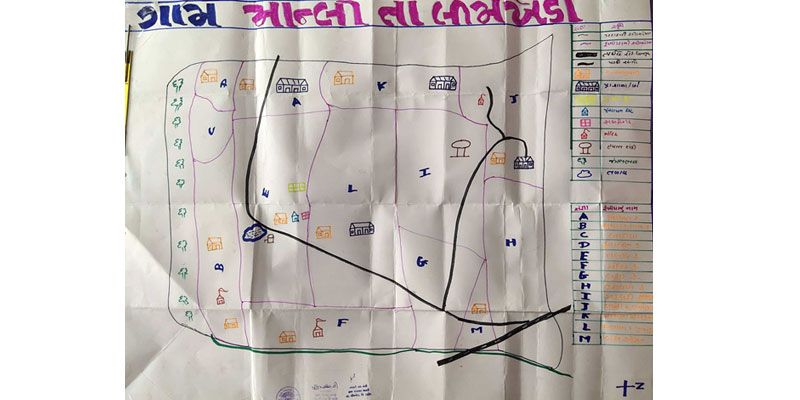 Ground realities
In September 2020, JJM conducted an orientation meeting for panchayat members including the Sarpanch and Talati (revenue officer) of Manlli village. It was critical for the team to understand the situation on ground, and the historical availability of drinking water in the village.
Patel Suryaben Vajesingbai, the Sarpanch of Manlli village is also the President of Manlli's Pani Samiti. The Deputy Sarpanch, Patel Puspaben Jaswantbhai, a trained teacher, is also an active member of the Pani Samiti. Being women, they knew that having a tap in every household would ease their burden.
Suryaben informed the CInI team that all households obtained their water from an open well or an existing hand pump in the village. There had been an old existing water scheme in one of the hamlets, but it was now defunct. "We women had to walk nearly a kilometre to fetch water from one of these two water sources which sometimes didn't have water. Summers exacerbated the situation," recalls Suryaben.
Once the situation became clear, the CInI team shared the context of the project and the details of the JJM initiative with respect to Manlli. The aim of the orientation was to obtain a consensus from the villagers to go ahead with the project and get a firm commitment to ensure community participation. CInI's team lead by Somabhai Parmar, Senior Community Mobiliser, also explained the role the villagers would play in the success of this initiative. This was the cue to the Sarpanch, Deputy Sarpanch and the members of the pani samitis that they had a pivotal role to play in making their village water sufficient.
Kickstarting change
"Each of Manlli village's 13 hamlets was considered as one unit of planning aggregated at village level for the overall village-level water supply system," says Somabhai. Our team members undertook a detailed analysis of the drinking water situation in each hamlet and identified hamlet-level leaders or key individuals who could influence the community. These individuals were provided with a detailed brief of the planned project."
Then, the CInI team began social and resource mapping along with the village Sarpanch, Talati (revenue officer) and the nominated 'leaders' of each hamlet. At the same meeting, it was proposed to form a Village Level Water & Sanitation Committee (VWSC) that would take the lead in the planning, execution and O&M of the water supply system. Talking about the formation of the VWSC, Says Puspaben, "Representatives of each hamlet were nominated to the VWSC with unanimous support. We are a 12-member committee. Somabhai and his team briefed us about our roles and responsibilities in this initiative. We are very excited that our village would finally have water, and that we would be the ones to plan, execute and maintain our water supply scheme."
While CInI plays a strong role as co-facilitator, the VWSC is the sound foundation on which the success of the project is laid. At present, water supply from the regional water supply scheme has been ensured up to the sump. After due process of submitting tenders, the VWSC has selected the agency for inner village pipeline work for individual household connections. The actual work will be initiated once the monsoon ends. In a few months' time, this project will provide water in every single home in this village. "By building their capacity and enabling them to perform their roles, we ensure that the community plans and plays a key role in the execution of their own drinking water supply scheme," says Mr Wajpe.