Mohan Singh hails from Jawaja in Ajmer district of Rajasthan. At the age of 51, he returned to his native village after working in Bijoliya for around 20 years. His deteriorating health compelled him to quit his job as a mining labour. However, his financial needs forced him to work as a construction labour for five more years. This affected his health further.
Upon returning to Jawaja, Mohan received information about the Building and Other Construction Workers (BoCW) diary and registered for it through Apna Sewa Kendra (ASK), an initiative of the Trusts. When the ASK staff got to know about Mohan's previous work, they informed him about an occupational hazard that often affects mine workers and counselled him to get a check-up done. As suspected, Mohan was diagnosed with silicosis. Silicosis is an occupational lung disease caused by inhalation of crystalline silica dust over a period of time.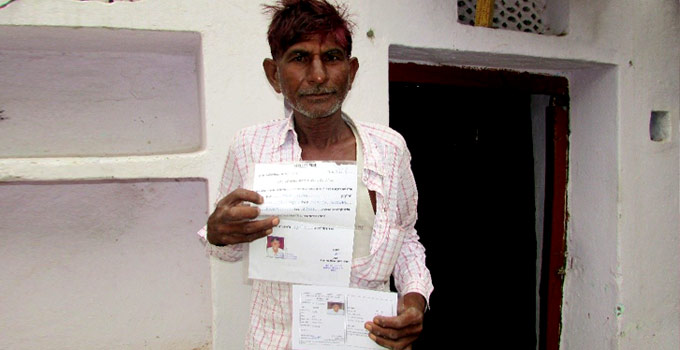 With the support of ASK, Mohan received Rs 1 lakh from the Department of Labour and Employment, Rajasthan. He used the compensation amount to change his livelihood and chose a way of living which would be able to generate income as well as be less labour-intensive. With his wife Pushpa by his side, Mohan began working on his agricultural land. He now earns over Rs 20,000 by growing and selling vegetables.
Support to silicosis-affected families cuts across SDG Goal 1 and SDG Goal 3. Awareness about the disease can help the families avail the benefits from the government. The support at the time of distress can enable them to pay for the medical treatment as well as continue their lifestyle, and provide food, education and sustain the lives of those left behind.
Mohan's ordeal and struggle with silicosis made him realise the severe consequences of the disease. He says, "If Apna Sewa Kendra had not stood by my side, I would have been unaware about this deadly disease. They provided me with information about the government schemes. Moreover, the regular counselling on rehabilitation empowered me and has changed my life". This incurable disease damages the lungs and makes it hard to breathe, increasing the risk of lung infections and can even lead to a heart failure. Mohan has become more sensitive towards the occupational hazards of working in the mines and has been spreading awareness about it among other mine labourers.