When Ibeusile, a 35-year-old woman from New Tesen, Peren district, Nagaland, began to experience body rash, itching and dry throat, she was alarmed. Suffering from kidney issues, Ibeusile had spent a lot of money undergoing one treatment after another. Thinking that maybe it was a side effect of one of her medicines, she stopped the meds at once. Not once did she suspect that the cause was more innocuous – her drinking water.
During her latest treatment at one of the best hospitals in Nagaland, her doctor had advised her to drink 2 litres of water every day along with her prescribed medication. And Ibeusile had diligently followed his orders. It was drinking impure water that was affecting her.
The silent killer
Water is known as the essence of life. Yet, water can also be the cause of sickness, hospitalisations and even death. According to the World Health Organization, 3.3% of all global deaths are related to Water, Sanitation, Health and Hygiene (WASH) issues. Diseases like cholera, typhoid, acute diarrhoeal diseases, dysentery, hepatitis A, etc, affect nearly one billion people globally every year. In India, a 2018 UNICEF India report estimates that around 60,700 children under the age of five die every year from acute diarrhoeal diseases.
Even today, large swathes of the population do not have access to safe drinking water. Rural populations are largely unaware of the problems caused by drinking or bathing in contaminated water, and ignorant of how deadly water-borne diseases can spread, and even kill. Nor do they have the necessary information, or the means to prevent the spread of disease.
For decades, the Tata Trusts have worked with local communities to teach sanitation and hygiene practices and helped to provide access to safe drinking water in remote areas where access to water is nil, or where the water available was not safe to drink.
Ensuring safety at point of use
In the North-East, the Trusts is reaching out to rural households to improve access to safe drinking water through a point-of-use system – typically a water purifier for the house. North East Initiative Development Agency (NEIDA) is an associate organisation of the Trusts active in Nagaland, Mizoram and Arunachal Pradesh. NEIDA has been working to make communities aware of the need to purify drinking water for health purposes.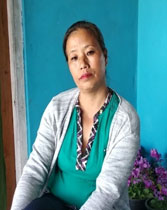 In Nagaland, NEIDA teamed up with local NGOs, self-help groups and the Langmai Baptist Association to conduct awareness campaigns. These campaigns helped to raise community awareness of what is safe water, how water-borne diseases are transmitted, and ways to purify drinking water. Solutions were presented such as the use of water filters and water purifiers that could kill microbes in the water. The team also introduced Tata Swach purifiers that have been designed as an affordable and convenient purifier that does not need electricity or running water.
NEIDA has covered 14,458 households in 480 villages across the state and the feedback has been overwhelming. The villagers have reported that the quality of their drinking water improved considerably with the use of water purifiers.
One of the beneficiaries is Ibeusile, who was introduced to the Tata Swach water purifier by a friend who had been using it for a few months after attending an awareness meeting organised by NEIDA and Kapha. When Ibeusile started drinking purified water, her skin-related problems disappeared.
Prevention is better than cure
NEIDA has also taken the point-of-use water purification project into Arunachal Pradesh, by reaching out to SHG groups in Hari village to organise meetings with the local community. In the interactions, the villagers shared that most of them did not boil or filter water as they were unaware of the health dangers.
Ms Hage Yassung, one of the villagers who spoke at the meeting, explained that she had never paid much attention to the quality of water that her family consumed. Sometimes, they boiled their drinking water over a wood stove, but usually, she said, they drink it straight from the source.
The NEIDA meetings helped change her mind. "Just by using a water filter, I could protect my family," she says. She now uses a Tata Swach purifier so that her family has access to good, safe drinking water. Her feedback to the NEIDA Point of Use project is to find ways to reduce the price of the purifier to make it even more affordable. "Tata Swach Goan Swach Zindagi," is what the locals say. In other words, safe water leads to better health.