Seema Devi took up daily-wage work at construction sites. Borrowing funds to start her own enterprise was out of the question. "I could not get credit; people knew I had no fixed income source," she says.
For Seema Devi and many others like her, redemption from poverty and suffering has come in the form of Livelihood Skills Uttarakhand (LSU), a programme designed to build a comprehensive rural livelihoods ecosystem in Uttarakhand. LSU's focus is women farmers who rely on agriculture or allied activities for subsistence. By creating alternative livelihood options for these marginalised farmers, LSU de-risks their livelihoods from threats like climate change and environmental degradation, and gives them and their families financial 'safety nets' to fall back upon.
LSU was launched in 2018 through a joint collaboration between the Rural Development Department of the Government of Uttarakhand (GoUK) and the Tata Trusts. The Himmotthan Society, a partner of the Trusts, was roped in as the technical expert for the implementation of the initiative in five blocks of the State under the Uttarakhand State Rural Livelihood Mission (USRLM).
The LSU programme financially empowers women from rural mountain communities in two ways: by developing their skills and by creating livelihood-generating ecosystems in their villages. The initiative has transformed countless lives, including Seema Devi's.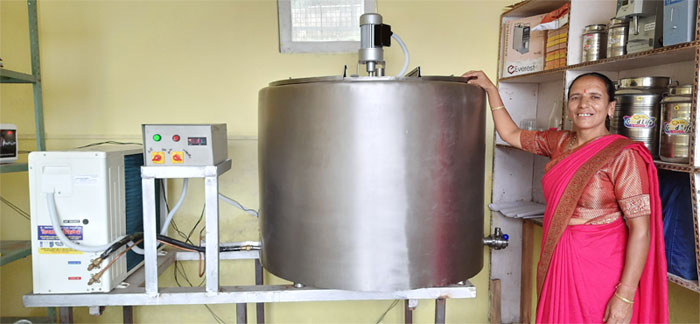 Today, Seema Devi is a BMC (bulk milk cooler) machine operator working at a dairy started by Himmotthan Society, the Trusts-run organisation implementing the programme. She has a steady monthly income of Rs8,000 – enough to sustain her family and put one of her sons through college. "If I had access to credit and enterprises like dairy [earlier], I would never have sent my eldest son to Delhi for work at a young age," she says.
Nearly 21,000 households have benefited from the LSU programme, which currently covers 650+ villages in five blocks (Ukhimath, Pauri, Chinyalisaur, Berinag, Betalghat) across Rudraprayag, Pauri, Uttarkashi, Pithoragarh and Nainital districts of Uttarakhand. Over 15,000 women have been trained by Himmotthan in livelihood-generation skills, and over 10,000 households have started income-generating activities.
As a direct result of the Trusts' interventions, the average annual household income in the project area has grown by nearly Rs81,000, and the Trusts aim to take this figure to Rs100,000 by 2023. By the same deadline, it will also mobilise 25,000 households, skill 20,000 women, and develop or strengthen 5649 village-level institutions, including self-help groups, village organisations, and cluster-level forums.
Empowering rural mountain-based communities
The Trusts' agreement with GoUK has four priorities: strengthen community institutions at the local level; provide the required skill training; support individual entrepreneurs; and develop community enterprises. Interventions under the programme are structured around both farm as well as non-farm activities, and range from dairy and backyard poultry to nurseries, handicrafts, musical bands, homestays, restaurants, and others.
Himmotthan provides the necessary human resources for project implementation, livelihood skilling, enterprise promotion, and market linkages. Their work is helping creating a financial safety-net for marginalised farmers like Ganga Devi.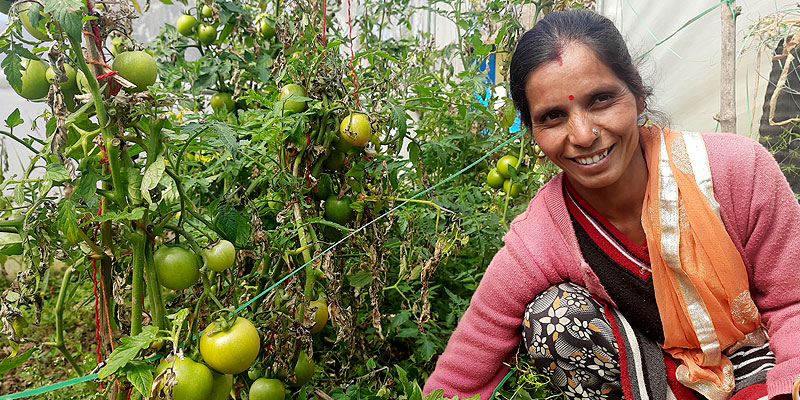 A few years ago, Ganga Devi suffered a fall-related injury when gathering cattle fodder from a jungle near her village in Uttarkhashi's Chinyalisaur block. The injury forced her to stop going to the forest for fodder. Ganga Devi ultimately sold the cow, which was a source of income for the family. "I began to wonder how I would sustain my family," she says.
Shortly after, Ganga Devi and her husband started a small hotel in their village with a loan of Rs50,000. Then COVID-19 came along, and they ran into heavy losses. Once again, Ganga Devi began looking for other livelihood options. This time around, thanks to the LSU programme, she found a viable solution in vegetable farming.
With support from Himmotthan, Ganga Devi makes nearly Rs30,000 a year from selling vegetables locally. She and her family also experimented with growing strawberries, and in the very first year, made Rs12,500 from selling the produce. Ganga Devi also sold strawberry saplings, which netted her another Rs20,000. Emboldened by these experiments, she has undergone training for mushroom farming as well. Having multiple sources of income has finally dispelled all her fears over her family's security.
Facilitating non-farm livelihoods
Besides training women in agriculture-based livelihoods, Himmotthan is also teaching them skills like knitting that can help them earn a steady income.
For the last three years, Shashi Devi, a resident of Ukhimath in Rudraprayag district, has been running a small shop where she sells woolen clothes, cosmetics and summer wear. Hailing from a poor financial background and with four children to support, Shashi Devi knew she had to do something to augment the income of her husband, a local taxi-driver.
After attending knitting classes conducted by Himmotthan, Shashi Devi borrowed an old knitting machine from a relative and began making woolen clothes. Later, through her women's self-help group, she got a bank loan of Rs50,000, which she spent on a new machine and raw materials.
Three years later, Shashi Devi makes about Rs150,000-200,000 every year from her shop. Not only does she pay back the loan installments and shoulder a good part of her family's expenses, she even has money left over to invest in her future!
The assistance she received through the LSU programme has totally transformed her life. "The timely training and access to finance made it easier," she says.
De-risking rural livelihoods from climate change's impact
Before the LSU programme arrived in her village, times were hard for Sunita Mahant, a resident of Chiyalisaur. After her husband returned from the city due to health complications, the couple lived off their tiny farm, where they grow pulses and vegetables. However, the fallout of climate change has badly affected farm yields over the years, pushing farmers like them deeper into poverty.
"There are [attacks by] wild animals and untimely rains," says Ms Mahant, "Life, especially for women, has become difficult."
But thanks to the programme, an alternative emerged. Most residents of Ms Mahant's village – including her – keep cattle who yield milk, butter, and ghee. Himmotthan established a milk collection centre in the village to purchase the excess milk, and Ms Mahant was appointed a milk collector there. This gave her an additional source of income. She was also able to get a bank loan to start a small general store, which her husband manages today. What's more, Ms Mahant learnt mushroom cultivation and makes Rs30,000 per season.
By creating climate-proof livelihoods for farmers like Ms Mahant, LSU is enabling rural residents to find sustainable sources of income. "[Having] access to alternative sources of income and skills to run these initiatives is the key to the future," she says.