The hospital is equipped with state-of-the-art diagnosis and treatment technology for cancer care
Facilities to benefit over 5000 cancer patients and families in the region annually
Tirupati, May 05, 2022: The Chief Minister of Andhra Pradesh, Mr. YS Jagan Mohan Reddy, today inaugurated the Sri Venkateswara Institute of Cancer Care & Advanced Research (SVICCAR) in Tirupati, in the presence of Mr. Y. V. Subba Reddy, Chairman, Tirumala Tirupati Devasthanams (TTD), Dr. K S Jawahar Reddy, IAS, Executive Officer, TTD, Mr. N. Srinath, Chief Executive Officer (CEO) of Tata Trusts, Dr. Sanjiv Chopra, Chief Executive of ACF and other key personnel of TTD, Alamelu Charitable Foundation (ACF) and Tata Trusts.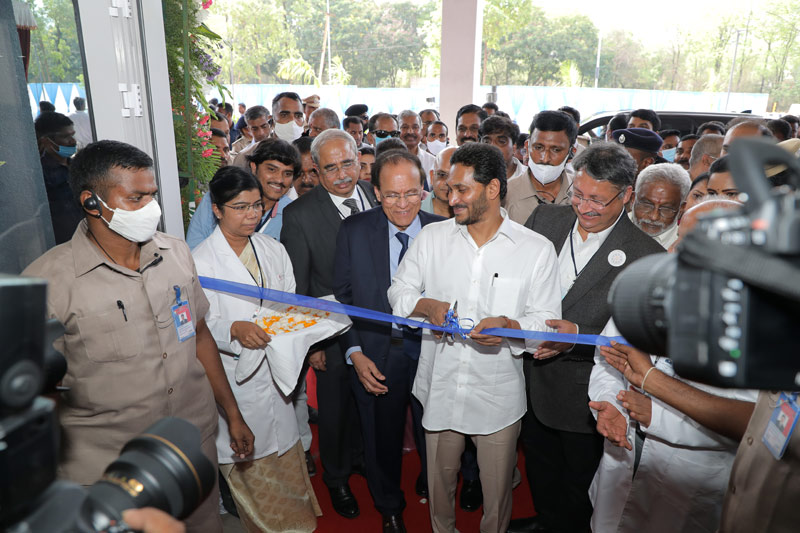 The hospital has been set up by Alamelu Charitable Foundation (ACF), supported by Tata Trusts in partnership with the Tirumala Tirupati Devasthanams (TTD). The TTD provided a parcel of land for its construction, and the Government of Andhra Pradesh has supported its establishment. SVICCAR is guided by the Trusts' Distributed Cancer Care Model.
Hon'ble Chief Minister Mr. YS Jagan Mohan Reddy, said, "We are proud and glad that Tata Trusts has come forward to collaborate with TTD and the State Government. This is a kind of masterpiece in Tirupati that will go a long way. TTD has also put in a lot of energy and effort, and the State Government has also requested TTD to now focus on medical services."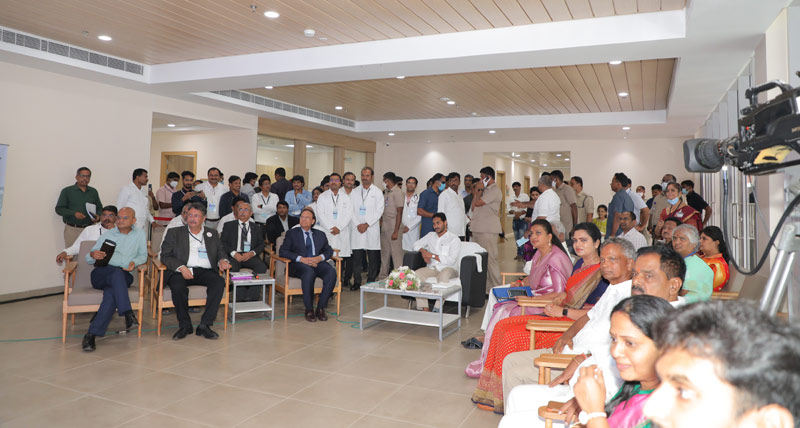 Mr. Srinath N, Chief Executive Officer, Tata Trusts, said, "Cancer Care needs to be enhanced and made affordable and accessible, which the Trusts are attempting to do through a distributed care model. We believe that through early screening, state-of-art infrastructure and equipment and well trained medical onco-practitioners, precious lives can be saved. We are hopeful that SVICCAR will be able to provide relief and care to many, especially the most marginalised in society."
Dr. Sanjiv Chopra, Chief Executive, Cancer Care Programme, Tata Trusts, said, "At Cancer Care Programme, we are focusing on holistic care which starts before the diagnosis of the disease and encompasses end of life care. At SVICCAR, we have been working with the National Health Mission for awareness and screening for early detection of cancer. Through our palliative care team, we try to improve the quality of life of terminal cancer patients. Our committed and trained team at SVICCAR looks forward to provide quality cancer care to people of the region."
Dr. Ramanan, Medical Director, SVICCAR, said, "I am confident that the versatile team at SVICCAR will provide the necessary competent care for cancer patients of the region with compassion."
Cancer care facilities in India are concentrated in big cities. The situation forces patients and their families to travel to these centres, bearing high cost, often unaffordable for many. Tata Trusts' Distributed Cancer Care Model (DCCM) eliminates these handicaps, and makes world-class treatment accessible, closer to where patients live, and, therefore, affordable.
SVICCAR is a comprehensive cancer care facility equipped with latest equipment and technology for diagnosis and treatment of cancer. It has a well-equipped laboratory and diagnostics equipment including high-end CT scan and MRI scanner. A proficient medical oncology team has been inducted to provide chemotherapy. Radiotherapy is being administered using most advanced Linear Accelerator and Brachytherapy. The hospital has modular operation theatres equipped to carry out open and minimal access surgeries.
Cancer patients will be able to access these services at affordable prices. The hospital is going to be empanelled with Aarogyasri and other government schemes to ensure access to maximum possible people.
Tata Trusts, since 2017, has and is developing and augmenting more than 20 hospitals in six states through its Distributed Cancer Care Model. The organisation has been collaborating with various states and like-minded organisations to facilitate the network. The Prime Minister, Mr. Narendra Modi, on April 28, 2022, inaugurated seven cancer care facilities in Assam, part of a state-wide, multi-level cancer care network to expand affordable cancer treatment to more towns and cities. The Prime Minister also laid the foundation stones of seven more facilities in the state, which will join the network in the second phase.
Since its inception in 1892, Tata Trusts, India's oldest philanthropic organisation, has played a pioneering role in bringing about an enduring difference in the lives of the communities it serves. Guided by the principles and the vision of proactive philanthropy of the Founder, Jamsetji Tata, the Trusts' purpose is to catalyse development in the areas of health, nutrition, education, water, sanitation and hygiene, livelihood, digital transformation, migration and urban habitat, social justice and inclusion, environment and energy, skill development, sports, and arts and culture. The Trusts' programmes, achieved through direct implementation, partnerships and grant making, are marked by innovations relevant to the country. For more information
TTD is a conglomeration of temples, brought under the First Schedule 2 of the Act 30 of 1987. The Board of Trustees is constituted by members appointed by the government. TTD maintains 12 temples and their sub-shrines and employs about 14,000 persons. TTD has dedicated itself to serving pilgrims who visit Tirumala and Tirupati. It provides facilities to make their pilgrimage a unique and rewarding spiritual experience. It also works towards preserving the serenity and sanctity of the sacred Tirumala-Tirupati area. TTD is ever-conscious of the social, economic, religious and environmental needs of the people, especially the needy. It undertakes several activities and has initiated different schemes in these areas. TTD has a renewed focus on cancer and healthcare infrastructure and intends to take concrete steps to improve infrastructure & access to healthcare in Tirupati.
For further details, please contact: