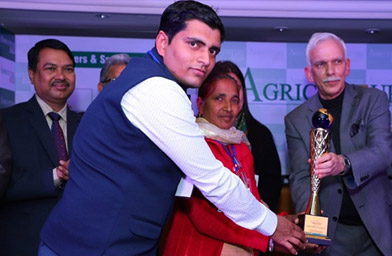 Award received by Ms Manjit Kaur, Chairman and Sh Dharmendra Chaudhary, CEO - Sakhi Mahila Milk Producer Company Ltd
Sakhi Mahila Milk Producer Company Ltd. (SMMPC) was incorporated in March 2016 and commenced operations from November of the same year. Within a short span of time, the company reached sizeable volumes and achieved a significant turnover; in fact, it broke even in the second year of operations. As of December 2019, SMMPC had over 18,000 women members, 329 functional milk pooling points (MPPs) in 300 villages across Alwar, Bharatpur and Jhunjhunu districts of Rajasthan, and collected around 110,000 litres of milk daily.
SMMPC is governed by a board consisting of 11 directors, including one chief executive, eight producer directors and two expert directors. Financial and administrative powers are delegated to the chief executive of the MPC for carrying out business activities. The chief executive director also has adequate freedom to take decisions pertaining to the day-to-day function of the company. Producer-member directors come from different regions and classes, thereby ensuring a fair representation of small, medium and large milk producers on the board. SMMPC deals with issues such as transparency, information disclosure, grievance redressal and monitoring with utmost importance so as to ensure good governance.
Apart from milk business, SMMPC also provides productivity enhancement services to its members, including artificial insemination for cattle breed improvement, ration balancing programme, cattle feed and mineral mixture, etc. The company also organises infertility management camps and silage demonstrations for the farmers.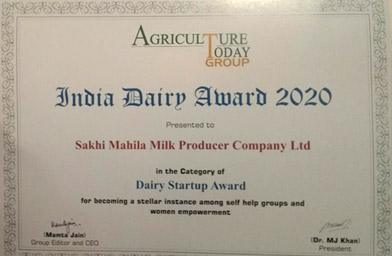 SMMPC was awarded the Dairy Startup Award at the recently-concluded Agriculture Today India Dairy Award 2020 held in New Delhi on January 10, 2020 that brought India's dairy sector heroes to the fore.
The event saw experts from dairy sector across India and the forum discussed the potential in dairy sector for doubling the farmers' income vis-à-vis its role in the five-trillion-dollar economy. Sh Atul Chaturvedi, Secretary, Animal Husbandry and Dairying, Govt of India presented the awards in 17 categories.
Prior to this, Sakhi had received the Best Governance Mechanism – North Region Award at the ET-Samunnati FPO Summit & Awards 2019 on October 18, 2019 in New Delhi.