Sakhi Mahila Milk Producer Company, Alwar gets awarded in the "Best Governance Mechanism" category in North Zone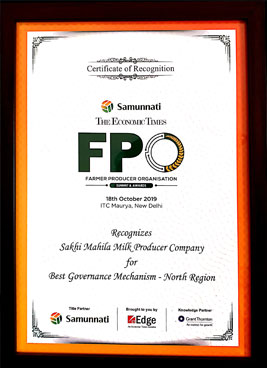 SMMPC's certificate of excellence for best governance
Sakhi Mahila Milk Producer Company Ltd. (SMMPC) was incorporated in March 2016 and commenced operations from November of the same year. Within a short span of time, the company reached sizeable volumes and achieved significant turnover; in fact, it broke even in the second year of operations. As of September 2019, SMMPC has 16, 120 women members, 323 functional milk pooling points (MPP) in 300 villages across Alwar, Bharatpur and Jhunjhunu districts of Rajasthan, and collects around 70,000 litres of milk daily.
SMMPC is governed by a Board consisting of 11 directors, including one chief executive, eight producer directors and two expert directors. Financial and administrative powers are delegated to the chief executive of the MPC for carrying out business activities. The chief executive director also has adequate freedom to take decisions pertaining to the day-to-day function of the company. Producer-member directors come from different regions and classes, thereby ensuring a fair representation of small, medium and large milk producers on the Board. SMMPC deals with issues such as transparency, information disclosure, grievance redressal and monitoring with utmost importance so as to ensure good governance.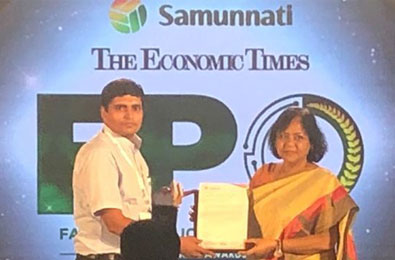 Award received by Dharmendra Chaudhary, CEO - Sakhi Mahila Milk Producer Company Ltd
Apart from milk business, SMPCC also provides productivity enhancement Services to its members, including artificial insemination for cattle breed improvement, ration balancing programme, cattle feed and mineral mixture, etc. The company also organises infertility management camps and silage demonstrations for the farmers.
SSMPC was awarded the 'Best Governance Mechanism – North Region' award at the recently-concluded Samunnati and The Economic Times Farmer Producer Organisations (FPO) Summit & Awards. This day-long event, held in New Delhi on October 18, 2019 brought India's agrarian heroes to the fore.
The summit saw experts from government and industry bodies delve into the many policy changes and innovations needed to attain sustainability and reap optimal benefits for farmer shareholders, analyse existing industry FPO models, and provide financial solutions to farmers and arbitrators. More than 250 delegates from across the industry and government ecosystem together scripted a success formula to take Indian agriculture and its farmers on to a sustainable growth path. Some of the eminent speakers at the event included Dr. Ashok Dalwai, chairperson & CEO, Committee for Doubling Farmer's Income & National Rainfed Area Authority; Neelkamal Darbari, IAS, MD, Small Farmers' Agribusiness Consortium (SFAC); and Anil Kumar SG, Founder and CEO, Samunnati.
The first-of-its-kind Samunnati and The Economic Times FPO Summit and Awards provided a platform for FPOs and key stakeholders to celebrate the community's successes in a gala awards ceremony that rewarded the performance of the strongest FPOs and its enablers from across the country, thus creating a gold standard of excellence that all can aspire to emulate.
Watch SSMPC being awarded the 'Best Governance Mechanism – North Region' award at the recently-concluded Samunnati and The Economic Times Farmer Producer Organisations Summit & Awards on October 18, 2019, at New Delhi