The Tata Trusts have established a network of cancer care centres in Assam through the Assam Cancer Care Foundation (ACCF), which is a joint partnership with the state government. On 4 February 2022, which marks World Cancer Day, ACCF conducted several activities to build awareness of cancer in several districts and let people know about the facilities that have come up.
Dibrugarh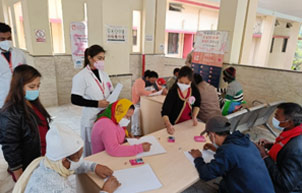 Drawing competition organized among the cancer survivors at ACCF Day Care Centre, Dibrugarh
In Dibrugarh, the ACCF team organised therapy sessions and drawing competitions for cancer patients at the Assam Medical College and Hospital. The therapy sessions covered laughing therapy, physical exercises, yoga and meditation, and were attended by 38 patients.
Radio was leveraged as a mass media platform to connect with the community. Dr Nabajyoti Chaudhury (Medical Director & Unit Head of Dibrugarh ACCF) spoke about common cancers such as Oral, Breast and Cervical Cancer. The talks were aired on All India Radio (AIR) Dibrugarh, Gyanmalini Community Radio Station and Brahmaputra Community Radio Station. All India Radio is tuned into by more than 2,000 people every day in Dibrugarh district.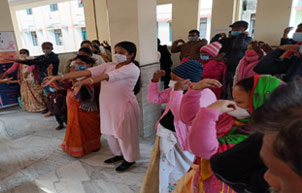 Therapy session at ACCF Dibrugarh Palliative unit
Brahmaputra Community Radio Station and Gyanmalini Community Radio Stations have listeners from the populations residing on the riverbanks of the Brahmaputra River, mainly Dibrugarh, Lakhimpur and Dhemaji.
The team also held special orientations for dental surgeons working in the AMCH Dental College as well as private practitioners. The sessions were held by Dr Chaudhury, Dr Sanjib Kakoti (Principal, AMCH), Dr Deepanjal Saikia (Associate Professor, AMCH Dental College) and Dr Rohan Dey (Head and Neck Oncologist, ACCF Dibrugarh). As many as 58 dental surgeons participated.
Darrang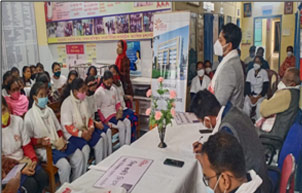 Training for NHM nurses on oral, breast and cervical cancer screening at Darrang
In Darrang, ACCF collaborated with Deomornoi SD to organise a cancer awareness rally. They also conducted a community meeting along with NCD screening, and informed the community about the upcoming ACCF Hospital in the area.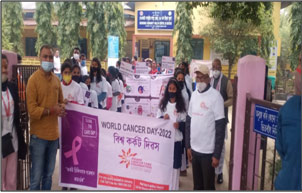 Awareness rally organised at Darrang
More than 60 people participated in a 2 km-long health rally that included ASHA workers and students. Banners and play-cards with cancer prevention related information were displayed.
The community awareness meeting was attended by over 80 people, including beneficiaries of the NCD screening camp and health workers. The members of the hospital management committee presided over the meeting. The talks covered topics such as emerging cancer incidences in Assam, the need to reduce tobacco consumption, and why women should get screening for breast and cervical cancers.
Silchar
Awareness rally at Silchar along with NHM, Silchar Jorhat Medical College and Hospital and NGOs
The Silchar team conducted two rallies to increase awareness about ACCF cancer care initiatives in Cachar town area. Front-line workers like ASHA and Urban PHC ANMs, along with members of NGOs like Lions Club, Rotary Club and Seva Kendra participated in the Cancer Day Rally. It was inaugurated by Joint Director of Health Services - Cachar, Dr Ashutosh Barman ADC(Health), along with other key medical personnel. The second rally was flagged off by Principal of Silchar Medical College, Dr Babul Bezbaruah, and over 100 people participated. Senior hospital personnel supported the rally and leaflets on cancer were distributed to the public.
Barpeta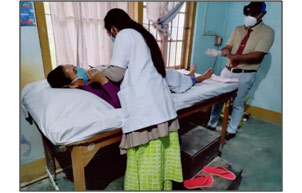 Cervical cancer screening at Amrikhowa PHC, Barpeta
The ACCF team conducted a special programme to felicitate cancer survivors. The objective was to motivate and inspire other patients.
The programme was held at the Amrikhowa MPHC in Barpeta. Over 85 people participated in cancer awareness cancer awareness sessions and 15 cancer survivors were lauded.
Lakhimpur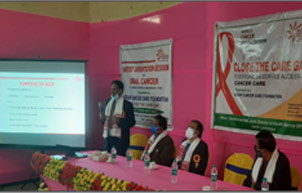 Awareness session at North Lakhimpur in presence of JDHS, President Dental Association, NHM frontline workers
A seminar on cancer awareness was held in Lakhimpur, covering early detection, treatment and prevention of cancer. The chief guest was Dr Anup Kumar Das, Principal and Chief Medical Superintendent of Lakhimpur Medial College. Attendees included members of Dental Association, members of Lions Club, DPMU Unit, National Health Mission, district health officials and frontline workers. Participants were made aware about the upcoming cancer facility at the ACCF Lakhimpur Centre. Members of the dental college were informed about the e-learning course run by ACCF.
Kokrajhar
To build awareness about common cancers, the Kokrajhar team conducted a seminar in Serfanguri. The session focused on the role of Village Defense Personnel (a wing of the police) in the fight against cancer. Over 100 VDP participants from 65 villages attended. A session on oral cancers was conducted to sensitise and train local dentists.
Jorhat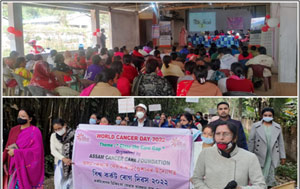 Awareness rally organized along with Jorhat Medical College and Hospital, NHM and organized sensitization session with ASHA, ANM and other staff at different blocks in Jorhat
A community meeting with a rally was the focus on World Cancer Day. An audio visual presentation and distribution of IECs among participants helped build awareness about common cancers, and the services available in the Jorhat Medical College.
Diphu
The ACCF team of Karbi Anglong organised a 5-km long walkathon for creating awareness among the public on cancer and the ACCF facility in Diphu.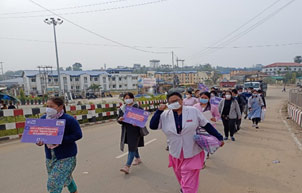 A walkathon organized at Diphu in collaboration with Diphu Medical College staff
About 35 people participated, including local youth and ACCF staff. Leaflets with messages about cancer and preventive measures were distributed among the public. The rally also helped build awareness of the ACCF facility in Diphu.
Another activity was the sensitisation session on cancer for the nursing students at GNM training centre.