Establishing a pan-India network in art conservation under this initiative, our partners are engaged in setting up conservation centres, training conservators in specific materials, and conducting field surveys for smaller collections
Establishing the conservation centre at MAP
The Museum of Art & Photography (MAP), Bengaluru, was all set to open its doors to the public in December 2020. While the pandemic has of course delayed these plans, MAP is still striving to keep its promised deadline, albeit with a few changes – instead of an on-ground public launch, they will be officially opening digitally.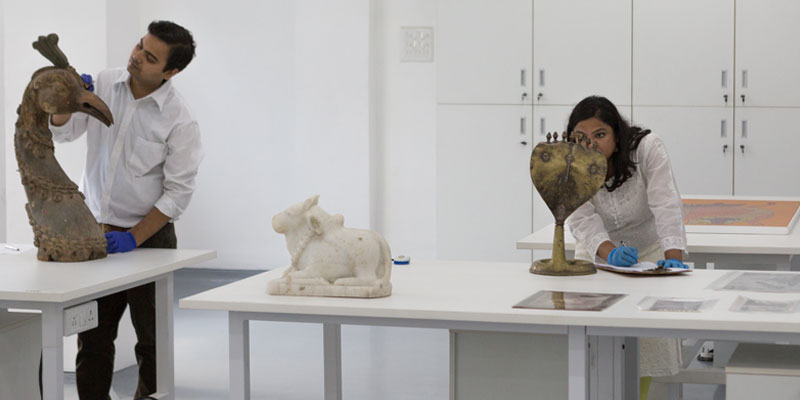 A key aspect of a digital launch is the start of a digitising process that will allow most objects in its 20,000-strong collection to be viewed from its new website. Viewing will now be mediated virtually, but this still involves all the work necessary to exhibit these works. Each object will need to be taken out of storage, dusted and cleaned, checked for damage or signs of deterioration, if any, and made ready for photographing. The conservation team will be responsible for ensuring international standards of conservation and preservation as they prepare objects for display in time for the digital launch of MAP.
Supporting the Kolkata Institute of Art Conservation
In 2018, Kolkata Centre for Creativity, a unit of Anamika Kala Sangam Trust (est. 1986), was inaugurated to propagate the vision of "build(ing) a culture through art and craft with a global network of institutes, governments and people public partnerships, using research, documentation, conservation, display and public engagement as enablers". The multi-storeyed Kolkata Centre for Creativity houses, amongst various other services like exhibition halls, amphitheatre, dance studio, a café and library, the Kolkata Institute of Art Conservation (KIAC) that was established with the support of Tata Trusts under its Art Conservation Initiative.
Anamika Kala Sangam Trust (AKST) is the zonal partner for the eastern region, under the Tata Trusts Art Conservation Initiative, with its outreach in the states neighbouring West Bengal. Located in Kolkata, a city with a strong literary and artistic heritage, the establishment of a full-fledged conservation lab at KIAC is a welcome step towards creating a hub for art conservation. Moreover, its proximity and cultural ties to the north east region will aid KIAC in becoming a centre of pedagogy and learning that can assist collections and institutes in the neighbouring states in better preserving their collections through field surveys; and offer training opportunities to practicing conservators through the annual material workshops conducted under the Art Conservation Initiative.