At Tata Trusts, we strongly believe in establishing a data culture and bottom-up planning process as bedrocks of all developmental planning in the country. As data-driven governance system providers, we have been working with governments across different levels and beneficiary communities in our project areas to establish enhanced data collection systems and framework for microplanning, and therefore push towards inclusive, evidence-based decision making. Our efforts have also included training and capacity-building support for local governments, both in rural and urban geographies. Technology and data together can help governments and communities rethink problem statements and use innovation as a driving force to achieve more efficient solutions to social development problems.
Our work covers projects designed to improve rural and urban decision making systems. Our DELTA framework deployed in five districts (Chandrapur, Noamundi, Balasore, Kolar and Vijayawada) leverages an in-house data collection app and data visualisation and analysis dashboard to make village development plans inclusive and better targeted. We have partnered with Tata Steel Rural Development Society to create a unique social development corridor between Jamshedpur (Jharkhand) and Kalinganagar (Odisha), covering 472 villages.
As part of our urban engagements, we have been instrumental in developing the DataSmart Cities Strategy document and the Data Maturity Assessment Framework and Methodology documents, which were released officially by the Ministry of Housing and Urban Affairs at the Second Apex Conference for Smart City CEOs on February 26, 2019. As part of the initiative, the Trusts deputed India's first CDO in Pune Municipal Corporation, the success of which led to the nomination of 100 CDOs under the Smart City Mission.
NITI Aayog's 'Transformation of Aspirational Districts' (TAD) programme was designed to provide impetus for inclusive development in the 115 Aspirational Districts. The districts are ranked through competitive benchmarking against their performance across 49 key indicators, the data for which is validated against third-party sampled household and institutional surveys. Tata Trusts partnered with NITI Aayog for the TAD programme, to support periodic survey and data validation exercises in 85 districts (out of 115), covering data along five core areas, namely, health and nutrition, education, agriculture, financial inclusion, and basic infrastructure, through predefined indicators. The project also aims at providing policy-level insights to NITI Aayog, to improve development trajectories of these districts and also to supplement district-level database where data may not be readily available at regular intervals.
We are working in partnership with the Centre for Budgetary Governance and Accountability (CBGA) to increase transparency and accountability in governance through rigorous analysis of policies and budgets, and to foster people's participation in the budgetary process. The project currently covers five select districts which are Krishna in Andhra Pradesh, East Singhbhum in Jharkhand, Balasore and Bolangir in Orissa, and Chandrapur in Maharashtra.
The Digital Education Guarantee Project is an initiative to address the issues at the crossroads of education and migration. As a pilot with Someshwar Cooperative Sugar Factory in Baramati block of Pune district, we are setting up mechanisms to identify migrant children and bridge the gaps of communication and coordination within concerned government departments.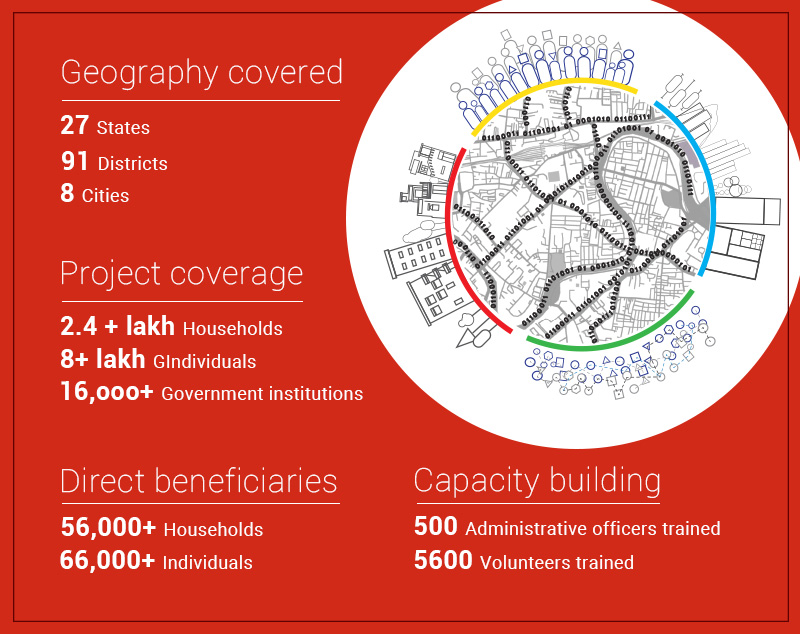 Recent publications:
Reports
Urban caselet series
Reports