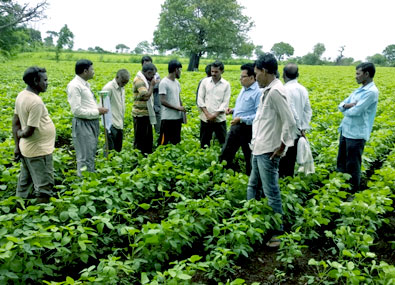 Soybean farming demo plot visit conducted in Sawanga village of Ner cluster to guide farmers on the use of pheromone trap for controlli
1. Sustainable Agriculture: The main focus of the Trusts' intervention in Vidarbha is to promote sustainable agricultural practices. At the same time, they aim to increase the adoption of validated Packages of Practices (PoPs) for crops such as red gram, cotton, soya bean and gram in order to reduce the cost of cultivation and to increase productivity under rain-fed conditions. The project has covered 11,418 households in 237 villages in three districts of Vidarbha till date.
The key interventions that allow maximum adoption include Integrated Pest Management (IPM) and Integrated Nutrient Management (INM) techniques (pest scouting, application of recommended pesticides, proper dose and method for pesticide application, balanced use of fertilisers, foliar application of fertilisers), and crop diversification to improve soil health. These interventions run on a unique model where village volunteers known as 'Krishidoots' form a link between the Trusts' inputs and its dissemination and adoption by farmers. The SBI team partners with the local agriculture university – Dr. Panjabrao Deshmukh Krishi Vidyapeeth – for standard geography-specific recommendations. Maximum reach out is also made possible through the use of the mKrishi portal, where currently, 1.7 lakh farmers are registered to receive mobile-based agro advisory on a regular basis.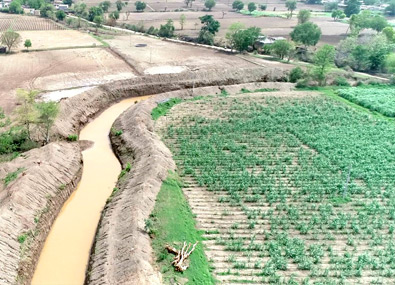 Nala deepening and widening completed in Kegaon village of Kelapur cluster in Yavatmal district under Jalyukt Shivar Abhiyan
2. Soil and Water Conservation:
While PoPs and technical inputs can enhance agricultural incomes, water is critical to increased yield and productivity. SBI's aim is to regenerate natural resources and productivity through recharging ground water (improving the soil's moisture content through soil and water conservation). The Trusts also plan to utilise available funds from the Government of Maharashtra (GoM) to install sprinkler irrigation systems as well as water-lifting pump-sets to complement the irrigation potential of the rainwater harvesting project. This will help to streamline the utilisation of water during critical dry spells, increase the area under irrigation and cultivation, reduce water-logging, decrease damages due to high runoff, and increase cropping intensity with an increased emphasis on rabi crops such as gram and wheat, as also vegetables such as cucumber, brinjal, tomato, chilli, and fruit plants. Water-harvesting structures such as farm ponds, circular recharge pits, small earthen dams, check dams, etc., have been constructed across select clusters in the SBI geography. The Trusts have been able to make a striking difference to the farmers by making water available for protective irrigation, thereby enabling the farmers to grow a second crop and add to their existing income.
Recently, SBI has also been implementing "Jalyukt Shivar Abhiyaan", GoM's flagship programme, in a bid to make Maharashtra a drought-free state by 2019. The project involves deepening and widening of streams, construction of cement and earthen-stop dams, work on nallahs and digging farm ponds; it aims to make 5000 villages free of water scarcity every year.
In addition, the SBI team implements the project for the rejuvenation of the Ex. Malgujari Tanks in Eastern Vidarbha, as well as the Kasalganga Stream rejuvenation project in Solapur district with the support of the Tata Consultancy Services Foundation. The project involves desilting of the Ex. Malgujari tanks and deepening and widening of the Kasalganga stream for improved and increased water storage capacity of the these structures respectively.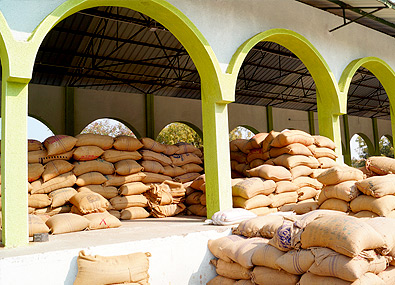 Procurement and storage of red gram
3. Agricultural Marketing:
SBI engages in end-to-end linkage approach with the farmers by increasing both agricultural produce and its value through various marketing initiatives. This helps marginal and distressed farmers earn a higher income through value addition and marketing.
Farmer Produce Companies are established in each district across the working clusters to initiate the procurement of various agricultural inputs on a timely basis. These companies also work with government agencies to work out various beneficial schemes, make agricultural equipment available to farmers and help them benefit from water conservation schemes.
SBI team facilitates the marketing of agricultural produce and links these companies with big brands where the producers directly benefit. The Trusts are also actively promoting collective marketing. Field visits are continuously conducted in all the villages to emphasise its benefits — reduced cost of transportation, saving of time, more bargaining power and maximisation of net profits.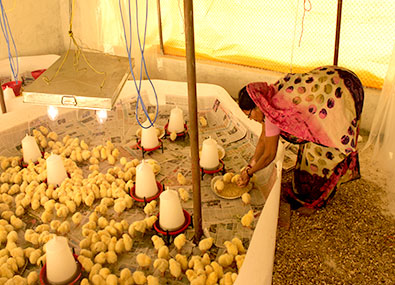 Chick feeding demo conducted in Baru village of Dharni cluster in Amravati district
4. Small-Holder Poultry:
The poultry project, operational in the remote, tribal block of Dharni, situated in Melghat region of Amravati district in Vidarbha, seeks to establish business systems for growth of small-holder poultry (Commercial Broiler Poultry Business). This includes creating a demonstration model with women from tribal and other marginalised communities in Amaravati, Yavatmal and Chandrapur districts, and by promoting producers' collectives as an integrated business entity with unifying input-output market for economies of scale.
Currently, the Trusts have a total coverage of nine blocks in Chandrapur, Amravati and Yavatmal districts of Vidarbha which are implemented by the National Smallholder Poultry Development (NSPDT), Sipna Agricity Producer Company Limited and SBI Poultry team respectively. The objective is to enable poor women in rural areas to start and run successful poultry enterprises as a means of sustainable, supportive livelihood. The model will translate the small-scale family labour unit's farm-gate competitiveness to enterprise competitiveness by building robust input-output linkages and a farmer-driven institutional support architecture.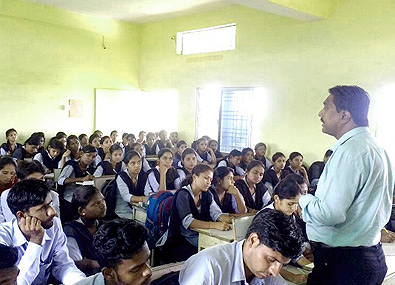 Mental health awareness programme conducted in Mahatma Jyotiba College of Social Work in Yavatmal district
5. Vidarbha Psychosocial Support and Care Programme:
The aim of the programme is to increase distressed farmers' access to mental health services. This programme was piloted in 64 villages of Yavatmal and Ghatanji talukas in Yavatmal district. Its focus is on linking government welfare schemes, non-governmental organisations and public health institutes so as to enable a multi-sectorial response to agrarian distress, while at the same time identifying people who suffer from distress/disorders, providing psychosocial support, treatment and care. Krishidoots, who are already present in the villages, also act as gatekeepers to tap the neediest.
The programme also aims to increase awareness and education to promote positive mental health and wellbeing, and to sensitise and train counsellors/health workers/community groups in various aspects of mental health care provisions. An assessment of study outcomes suggests that the programme is ready to be upscaled for the larger benefit of the agrarian community.
Milk Collection Centre in Wadgaon village in Yavatmal district
6. Dairy:
Over the years of implementing various livelihood projects in Vidarbha with local partners and the government, SBI began to provide a gamut of livelihood options to a number of farming households in a bid to increase their incomes. The dairy initiative took off in Ghatanji taluka in Yavatmal district in 2016, with an aim to provide farmers with an alternate source of sustainable income through dairy. Tata Trusts conducted artificial insemination camps and workshops on animal health care and nutrition. It also educated farmers about balancing rations, as well as the latest technology in dairy farming, in addition to supporting mobilisation and setting up dairy interest groups.
The Trusts collaborated with the International Livestock Research Institute for a joint venture with an aim of providing farmers with feed which increased milk production and improved the animals' health. It also created a transparent, secure and quick mode of payment to the farmers. Today, farmers are getting more involved in the dairy business as assured markets, credit linkages, veterinary services and Dairy Interest Groups are being nurtured to support dairying as an equally rewarding livelihood source for rural households.
Since the programme's inception, 2.48 litres of milk have been marketed with a turnover of over Rs84 lakhs. The Induja Milk Producer Company functions with a capacity of 2,000 litres per day with 4 milk pooling centres. The Trusts, in collaboration with the National Dairy Development Board – Dairy Services, plans to up-scale and expand its operations to 200 villages in 10 tehsils, reaching out to 8,000 households. An estimated 40,000 litres of milk will be procured with the support of 200 milk pooling centres, one per village, using five bulk milk coolers, each with a capacity of 10,000 litres. Financial allocation will be made through "Dairy Health and Nutrition India Initiative" (DHANII), which is a Section 8 company of Tata Trusts.