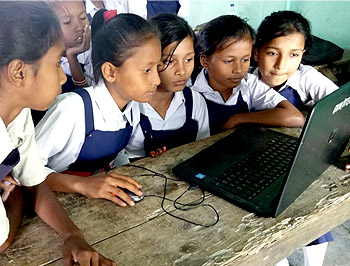 Assam: The Integrated Approach to Technology in Education (ITE) programme in Assam was piloted in 10 learning centres with about 150 school-going children in 2014. Within a year, the programme reached 50 government schools in the districts of Nagaon, Nalbari, Kamrup (rural) and Baksa. Currently, 3,962 children create projects related to their textbook topics across 121 government schools and madrasas in the four districts. In 2015, in collaboration with Rashtriya Madhyamik Shiksha Abhiyan ITE began in 14 model schools, wherein 41 teachers were trained on the ITE approach. Now the 14 model schools have gradually been promoted as 'resource hubs' for mentoring ITE support staff in at least five schools from nearby catchment areas. In 2017, 36 teachers and six DIET faculty attended the Tata Institute of Social Sciences certified course on 'ICT in Education for School Teachers'. The 36 government teachers trained about 540 teachers from neighbouring schools and mentored each teacher through monthly meetings and regular online support in a scale up model. Besides, ITE summer and winter camps are very popular in these areas and students look forward to learn new applications like Scratch and turtle logo and create authentic projects.


Gujarat:
The ITE intervention in Gujarat began in the year 2017. The initial effort went into getting the infrastructure assessment done and thereafter developing it to a level at which the programme could be initiated. The aim is to initiate it in 19 learning centres of Okhamandal block of Devbhoomi Dwarka district. Layered with the education initiative of Kharash Vistarotthan Yojana, the intervention focuses on designing lesson plans in science and mathematics. Currently around 35 to 40 children are engaged in creating curriculum-based projects in schools where the programme has been initiated. The team aims to introduce ITE among 800 to 1,000 children across the 20 schools.




West Bengal:
The ITE intervention first began in West Bengal with a pilot at five learning centres in Murshidabad in 2012. Since then, the intervention has grown in the state, reaching 64 government schools, 36 independent learning centres and 14 state-run madrasas. It is spread across five districts namely Hooghly, Howrah, Kolkata, Uttar Dinajpur and Birbhum. Since inception to March 2018, about 10,000 children have created projects related to their academic topics. In 2017, 36 government teachers completed the course on 'ICT in Education for School Teachers', which is certified by Tata Institute of Social Sciences. These 36 master trainers (certified teachers) trained about 430 teachers in government schools in their neighbourhood. The next session of training for the certificate course is ongoing with a batch of 28 madrasa teachers. In 2018, the West Bengal Madrasa Board and Sarva Shiksha Mission, West Bengal, invited Tata Trusts to scale up the intervention in the state.
Uttar Pradesh:
The ITE programme in Uttar Pradesh started in 2013. In the five years since the programme was initiated, ITE has reached 20 government schools (both day and residential schools) and 22 madrasas across three districts (Bahraich, Jaunpur and Varanasi). Around 80 teachers have designed lesson plans to implement ITE. Based on these lesson plans, 5,000 children in six blocks (Kaisarganj, Risia, Chitaura, Bahraich, Jaunpur and Varanasi) have created their projects in various school subjects. In 2017, a summer camp was organised across six centres with 1,700 children of 15 villages to develop their digital literacy skills. Annual ITE exhibitions and camps are held to encourage children to work towards 21st century skills, wherein children present their work to a larger audience beyond classmates or school authority.
Uttarakhand:
The ITE programme started in Tehri Garhwal district of Uttarakhand in the academic year 2017-18. The initial effort was to enable lab readiness of schools and to get the state government on board to run the programme. Currently, it is being implemented in five government upper primary schools. Through this programme nine teachers have been trained in lesson planning. Around 150 children across Bahedi, Falenda and Dakwan Gaon blocks have created projects in academic subject-related topics. In the next academic year, there are plans to expand ITE in additional upper primary schools in Tehri Garhwal in collaboration with the education department.



Odisha:
The ITE intervention in Odisha is layered with the South Odisha Initiative of Tata Trusts. The programme is spread over three districts covering six different blocks, mainly in Rayagada (Bissamcuttak and Muniguda blocks), Kalahandi (Lanjigarh and Thuamul Rampur blocks) and Kandhamal (Kotagarh block). It is being implemented in 20 government schools. Through this programme about 54 teachers have been trained to integrate technology into the curriculum. With the guidance of the teachers, 6,200 children have created projects related to their academic subjects. In the academic year 2017-18, 40 teachers were trained and 1,700 children created projects. As a showcase event of the yearlong effort of the children and teachers, an ITE mela was organised in December 2017. The event was attended by many government officials, including the District Education Officer, Block Education Officer and DIET faculties, to encourage the children.
Jharkhand:
The ITE initiative in Jharkhand is implemented in the district of Torpa. ITE is being implemented in four government schools, and nine teachers have been trained in the ITE approach, wherein they have practice in lesson planning of subjects. The Trusts provide a skilled team of seven facilitators who mentor these schools. In the academic year 2017-18, around 300 children created projects; a total of 600 children have created projects since inception. Each year an ITE mela is organised in the month of December.
Maharashtra:
The ITE intervention in Maharashtra started in the year 2016. The intervention is layered with the Rural Connectivity Initiative in Palghar and with Central India Initiative in Nandurbar. Nine schools in Palghar and nine schools in Nandurbar are implementing ITE. Twenty-seven teachers have been trained in lesson planning, and a total of 2,500 children have been creating projects related to their academic topics. In 2017-18, the ITE Mela was held in Palghar with around 300 children presenting their artefacts. It was attended by government officials, head teachers and children from other schools of the catchment area.