It's a story often heard in rural India. A big family, entirely dependent on agriculture, struggling to make ends meet on a farm with low fertility, scarce water sources and sparse rainfall.
Unfortunately, this was a sad reality for Padmabati and Dambru Arja, residents of Hatipadar village in Muniguda, Odisha.
Despite toiling day and night to grow seasonal vegetables, they only earned Rs40,000 a year. The farmer-couple's knowledge of agricultural practices was mostly traditional. With input costs rising beyond all rationale and productivity was sinking to new lows, the future looked bleak for the family.
The South Odisha Initiative of the Tata Trusts was launched in 2015 to enhance the annual income of 25,000 families like Padmabati's. The initiative began in five contiguous blocks, viz. Bissamcuttack, Muniguda, Lanjigarh, Thuamul Rampur and Kotagarh. In Muniguda block, the Trusts, through Chetna Organic Farmers Association (COFA) targeted to build the capacity of small-holding families in organic/sustainable practices through which they could reduce input costs, improve productivity, and improve their incomes at least twofold.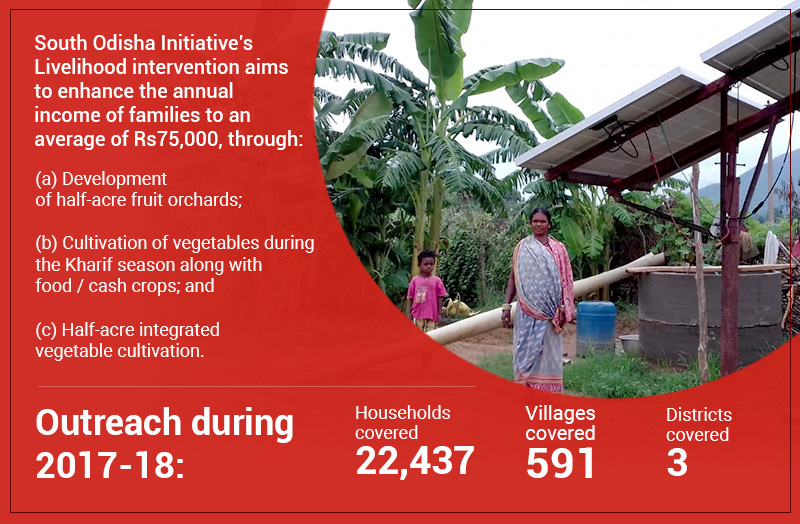 A major intervention in Padmabati's case was to provide assured irrigation to their land. In 2017, a ring well was excavated and a solar pump set was installed through the project's support and Padmabati's own contribution. This small intervention increased the single cropping season into three and ensured year-long cropping cycles that increased income for Padmabati's family.
Furthermore, Padmabati and her husband were extensively trained in water management practices and sustainable agriculture practices in seed and seedling treatment, maintaining space between plants and rows and natural pest control techniques.
Armed with new knowledge and having water available all year round, Padmabati's family dared to take up the recommended crop plan for round-the-year vegetable cultivation like pointed gourd, brinjal, tomato, little gourd, pea, cauliflower, leafy vegetable, cabbage, chilly, etc.
Today, Padmabati brims with joy and shares, "The first cycle of crops have yielded me a net income of Rs82,500." Padmabati's income has more than doubled, thereby creating avenues for decent living conditions. The future does not look so bleak anymore.
This story has been taken from the Sir Ratan Tata Trust and Allied Trusts Annual Report 2017-18