In keeping with the benevolent nature of Sir Ratan Tata and Lady Navajbai Tata and their inclination to help individuals in need of assistance, the Trusts have, since inception, laid great emphasis on its Individual Grants Programme. What characterizes this Programme is the continuous efforts expended by the Trusts to hone systems that ensure a comprehensive, systematic and most importantly, fair and humane approach to identify needy individuals.
The Individual Grant Programme provides financial assistance to individuals for:
Meeting medical expenses during critical illnesses.
Educational needs for higher education in India and assistance for education-related travel overseas.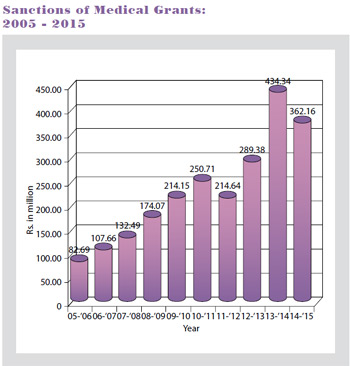 During 2014-15, the Trusts sanctioned Rs.362.16 million (US $ 5.84 million) towards medical grants, a 17 percent decrease over the amount sanctioned during 2013-14.
Medical
A medical emergency, for most families, causes tremendous emotional and financial stress. Escalating hospitalization bills and medicine costs have rendered decent medical attention beyond the realm of even the middle class population of the country. Though medical insurance is becoming increasingly popular in India, it does not cover the entire cost of treatment, especially for cases such as cancer, heart ailments, cochlear implants and kidney diseases, etc. Charitable trusts and benevolent individuals have been the only recourse for these families to help them overcome their financial burden.
The Trusts are utilizing their spreading network of medical professionals and social workers at various prominent government, municipal, private and charitable hospitals within the country. During the year, a new link was formed with Indorewala ENT Hospital, Nasik, bringing the total number of such linkages to 38. All new linkages established by the Trusts are valid for a specific time period, post which a review is undertaken to decide on further action.
Reg. no.
No. of
No
Rs
%
applications sanctioned in million*
Heart
532
280
37.18
10.26
Kidney
272
83
10.32
2.85
Cancer
765
381
91.79
25.35
Burns
27
8
2.68
0.74
Tuberculosis
13
9
0.79
0.22
Others
2,539
1,301
198.73
54.87
Cochlear Implant
134
89
20.67
5.71
Total
4,282
2,151
362.16
100.00
* The amount mentioned is for grants sanctioned and may vary from actual disbursals.