Restructuring thought and programmes during a pandemic
A popular cartoon that circulated swiftly as the coronavirus pandemic sped around the planet, showed an interviewer in the future, looking at a blank year in a resume, ask a prospective employee what he was doing in 2020. Washing my hands, answers the interviewee. Indeed, we all were, as obsessively as Leonardo DiCaprio's character in Martin Scorsese's 2005 film Aviator, an obsessive compulsive in the film, but now seemingly the 'new normal'. But was it? As we saw subsequently in our country, millions could not wash their hands as they were supposed to, and the invisibility of a certain demographic, the inequity of distribution of food and the stripping of dignity of so many forced to be on the move, was, in a matter of months brought so starkly to the fore, that a generation saw scenes played out daily that shocked to the core.
As the crisis in the public health system unfolded simultaneously with a humanitarian crisis, everything else took a backseat. This newsletter considers how the arts and practitioners were affected, how programmes went awry and had to be restructured and what implications it had for the year ahead.
While craft could garner immediate support for artisans and many organisations went online with stock, it showed that it was easier for an artisan to gather support than practitioners in the performing arts. Performing arts, with no object to offer and having the right to perform suspended, so to speak, faced a dire situation. With venues shut and community gatherings now unmentionable, inequalities within the ecosystem came to the fore. Many came online with performances, free or behind pay walls, but thousands were left out of digital access, either due to economic reasons or connectivity or being in a marginalised art form that never did have a digital presence anyway.
Foundations like the Sumanasa Foundation and TM Krishna did a stellar job of identifying these practitioners, by art form, and allowing for people to help them directly with monthly support of families. Jayachandran Palazhy of the contemporary dance company Attakkalari, started online sessions for older people: Mature Movers were routines that encouraged people to stay active within the confines of their homes. Others like Astad Deboo reached out to groups of contemporary dancers from Manipur and the hearing-impaired dancers he's worked with for years, who he knew would not know whom to approach or be too dignified to ask, but whose organisations needed urgent support. Deboo also edited a new work, 'Boundaries', with his regular dancers, now all in their homes, working with a corner of a room as a backdrop, each recording from a common angle. This was a way many addressed a physical ensemble, by coming together virtually.
The many questions that come up don't have ready answers but must be recorded and addressed in future programming and not forgotten once this is over.
How do we build an inclusive platform, not just informative as is the case of several that currently exist, but one that a musician/dancer can access regularly and in times of crisis to sustain himself? So far, the digital domain has been the sanctum of academics and archivists, and funding for digitisation rarely has seen the full potential of the process – access to all. When will the art world build that inclusiveness that allows the practitioner direct access to an audience? Not just the maestros and event hosts but the agency to perform put in the hands of the marginalised performer himself?
In crises like these, do we prioritise support for daily existence over production grants, survival of institutions over programming for a year? While proclamations that art must be produced regardless were heard, how does one balance those requests when mere survival is in question? This question is more keenly felt by foundations and trusts – could art production wait? The artists and art organisations' imminent quotidian survival were more immediate concerns.
How will venues look in a post-Covid world? This would include any public venue for the arts, be it museums, exhibitions, festivals, theatres, concert, and cinema halls. How long will this air of suspicion keep audiences at bay? Will organisations survive till then? Will certain art forms return to a pre proscenium format? What is the sustainability in that? How will intellectual property rights for smaller artists be protected if they go directly to a digital platform? What are art laws in the digital space? How will future travel affect festival attendance? How will ticket sales and footfalls be affected with reduced seating, thereby reducing revenue streams for institutions drastically?
One could keep adding to the ruminations, but I will pause here to highlight a few of our programmes and how the Covid-19 playout affected them.
1) The Ladies of Nizamuddin
The Humayun's tomb conservation project opened Nila Gumbad to the public last September. Supported by the Trusts, the Aga Khan Trust for Culture (AKTC) worked at clearing encroachments for years, restoring the dome and the remnants of the blue tiles extant on this structure, considered to be one of the oldest tombs on the site. It's conjectured that it even pre-dates Humayun's tomb. While this ended direct support in conservation at the site, the partnership between Tata Trusts and AKTC continues with the permanent exhibition being set up at the upcoming site museum at Humayun's tomb and in the Specification Manual for Built Heritage, where research and data collection is underway.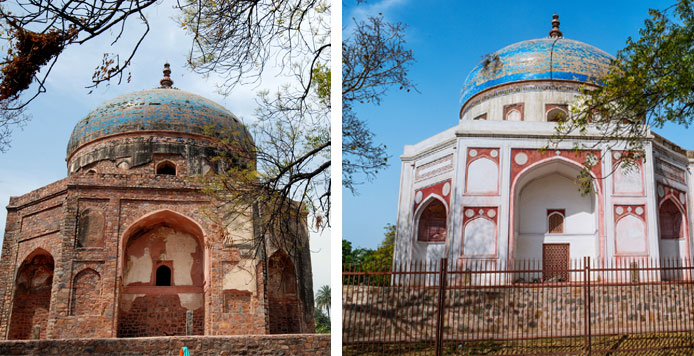 While accolades have poured in for the monuments, with UNESCO awards and increased footfall, it is across the road at the Nizamuddin Basti where the association between the Trusts and Aga Khan Foundation (AKF) continued in many other ways, highlighting how conservation of a public monument must connect with the community to make it truly 'community-owned' and therefore establish grounds for sustained pride. Working with health and education, addressing water and sanitation issues has, over the years, converted rubbish dumps into gardens; a primary health centre has been set up to provide effective care and maintain patient records; established public toilets that are maintained by the community and are spotlessly clean, and schools that open their doors to women literacy programmes after school hours are over. In the centre of it all, the Nizammuddin Dargah, the mausoleum of the Sufi saint Khwaja Nizamuddin Auliya thrives, attracting the cosmopolitan crowds that it has done over the centuries.
In the midst of this community, at the start of the Covid-19 crisis, the Tablighi Jammat's congregation at the Markaz that tested several attendees positive for the virus, threw suspicion on the entire basti in the media storm that surrounded the issue. As reported in the Economic Times, "It was then that the Delhi government health officials and World Health Organization roped in a trusted group of 40 health workers –– all female residents of the basti, fondly called Sehat aapas who work with the Aga Khan Foundation and are funded by the Tata Trusts, to gain the confidence of the basti residents, and get them to agree to declare their health conditions and travel histories."
Not a single positive case was found in the community.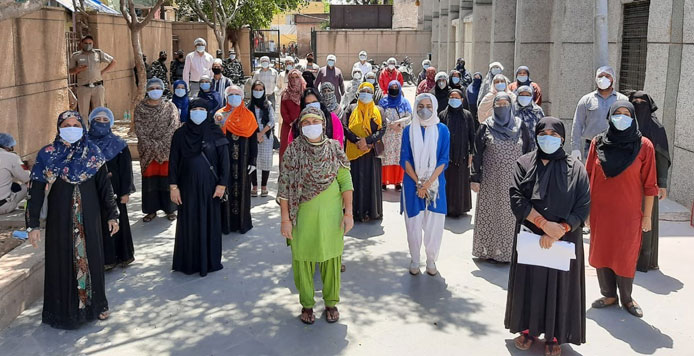 Ratish Nanda, who heads the Aga Khan Trust for Culture, said, "It was obviously not clear to many that the Tablighi Jamaat has no relationship with the Dargah. In fact, their belief system is on opposing poles from the Sufi traditions of the Dargah. Over six weeks after the Tablighi Jamaat event, there is still not a single case reported in the basti."
The kiosk at Humayun's tomb that sells craft items under the brand Insha-e-Noor is another initiative with the ladies of Nizamuddin at the forefront. A livelihood initiative started in 2008 by AKF, it has made women first-time earners with a turnover of over Rs20 lakhs per year. Products like notebooks, linen with aari embroidery or dupattas with crochet are some of the products currently worked on.
2) Inspire India
In previous newsletters we have written about the Inspire India programme that is being conducted by the Shankar Mahadevan Academy with the support of the Trusts. An art pedagogy programme providing music instruction in the community, this programme was severely affected for several reasons. Currently, with 1000+ students at the Sion centre, 300+ students in Govandi and 250+ students in Chembur, the lockdown removed access to community centres. As Dharavi, where many of the students live, became a hotspot, many other problems surfaced. While community classrooms have teachers that access the online modules provided for by the Shankar Mahadevan Academy, the project co-ordinators now had to look at how the classes could be converted to Zoom classes. Many of the students did not have data packages on their phones or possess smartphones, or the internet connectivity in their area was dodgy. Currently, the budget is being re-worked to see if data packages can be given to the students, who have sent in pleas for online classes and brainstorming has started to see how to stagger the numbers if physical attendance can start in a few months' time. A programme embedded in communities where social distancing is challenging to say the least, in these times when venues become contested spaces, brings the inequity in our social structures even more starkly to the fore.
3) The 1947 Partition Archives
Set to launch this year, the 1947 Partition Archives helmed by Dr Guneeta Singh Bhalla, with an online audience of over a million, is a project that will stream over 7000+ oral histories over time, at library sites in three Universities in India. Trained librarians would allow scholars and researchers access to fast disappearing stories about a period of our history that has seen little in-depth research, to gain an understanding of why civilians turn to violence on an unprecedented scale, and the trauma of migration and post-traumatic stress that carried through lifetimes. In time, this could connect with other archives that have seen internal violence and mass migration.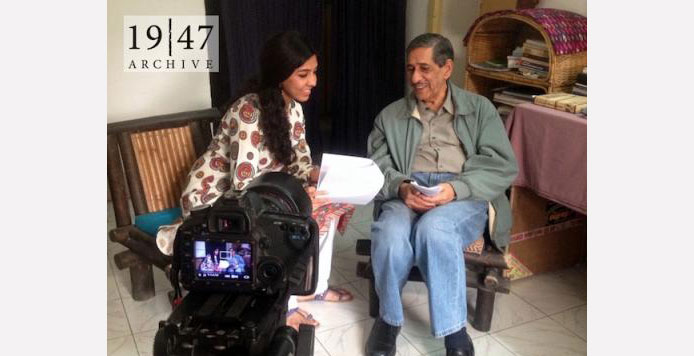 It was with much anxiety that we followed Guneeta's journey with Sars-Cov2 as she became a Covid-19 patient and had a harrowing time for over more than a month till she was declared a recovered patient. It has made her introspect into the structure and timeline of the project and she is working on revised budgets as launches are delayed and direct virtual access must be engineered. Till then they have launched a series of Facebook live sessions around the archives, the first of which can be accessed here.
As a Trust designed programme addressing the infrastructure and jobs in the art conservation sector, we had to recalibrate several aspects of the programme very quickly. In mid-March the decision was taken to postpone the launch of the Master's in Art Conservation as it became obvious that much of the vital preparation that would have taken place in April and May prior to the academic year, would not be feasible. Further, all workshops in material technology would have to be deferred to the following year, as travel looked a dubious proposition for the entire year. To maintain the morale up of the 15 conservators on the programme across 5 institutes, reading lists were drawn up and interactive sessions scheduled weekly with our Academic Consultant Anupam Sah, strengthening knowledge in materials and techniques engaged with over the past year. A further weekly session saw discussions on objects they are working on – while the labs remain shut, we hope some can resume work in July. This year, we look to conduct field surveys to smaller collections to train in collection care and preventive measures as and when lockdowns are lifted. These being local, travel issues will be minimal and due protection and care will be adhered to.
As we look to the year ahead, we look at time gained, not time lost. Time gained in better understanding the gaps in infrastructure that make inclusion in art practices still fall far short of expectations, of the economic exclusion within peer groups and art forms. Time gained in reading again, diving deeper into knowledge that can be applied. Time gained in creativity and imagination, so the rest of the decade can see the explosion of expression in newer ways, and hopefully, include the many who have been left out in the past century.
— Deepika Sorabjee