Although literacy levels are improving, there's not enough learning happening. This calls for urgent attention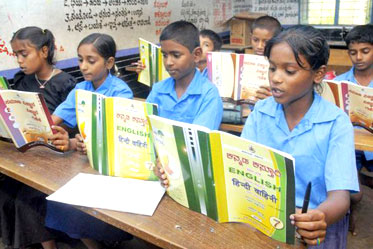 This year, marks the 50th year of International Literacy Day. In 1966, UNESCO declared September 8 as International Literacy Day to "mobilize the international community and to promote literacy as an instrument to empower individuals, communities and societies".
At Independence in 1947, India had a literacy rate of 12 per cent, which stands today at 74 per cent, against the world average of 84 per cent. The increase in India's literacy rate is significant, though we continue to have the largest number of non-literates in the world. As we reach close to universalisation of access to primary education, with parents in urban and rural areas alike acknowledging the role of education and schooling, we are faced with the challenge of a large number of school-going children attending school, but not learning.
Low learning levels
Multiple large-scale studies, ranging from the National Assessment Survey by the National Council for Education Research and Training (NCERT) and the Student Learning Study (2014) by the Education Initiative to the Annual Survey of Education (ASER) underline low levels of learning among children. Learning to read with understanding and writing to express oneself are foundational skills that every child needs to master for their own intrinsic value as well as for learning other subjects and developing higher order, critical thinking skills. Hence, the importance of strong literacy skills cannot be over-emphasised.
However, studies in the past decade establish that rote learning is still the norm and children are struggling to comprehend what they read or move beyond mere reproduction of content from textbooks when they write.
Why are our schools failing to equip children with foundational literacy at the end of primary schooling? We must remember that a large percentage of children studying in primary schools today are first-generation learners, coming from non-literate homes with no pre-school education.
Globally, it is well established that children growing up in literacy-rich environments, with access to books and other forms of print, and exposure to adults using functional literacy skills, form concepts of print from a very young age, well before they enter school at the age of 6. The pre-school years of 3 to 5 are, therefore, critical in supporting children's engagement with print.
In the absence of developmentally appropriate pre-school experiences, it becomes even more critical for classes 1 and 2 to provide multiple opportunities for children to explore and engage with socially relevant literacy activities. Children need opportunities, space and encouragement for scribbling, drawing, listening to stories, and accessing a range of print material including high quality children's literature in the language classrooms.
The language factor
Another critical issue is 'language'. Most children in class 1 enter school with a good command over his or her home language, but not necessarily the language used in the school. In fact, a large number of children face an alien language as the medium of instruction in school. If we build on a child's ability to understand, express and play with oral language, entry into the world of written language can be far smoother. For this, our classrooms need to see children's home language as a tremendous resource in the classroom and accept, respect and build on the oral language proficiency that every six-year-old has.
If we want all children from diverse, often non-literate homes and communities to be adequately supported in literacy learning, the role of the teacher becomes central. Reading is a complex process and involves a number of inter-related skills ranging from letter-sound correspondence to meaning-making and text interpretation.
Considering how important it is to build sound literacy skills in children in the early years, it is startling that pre-service teacher education programmes specially designed for primary school teachers offer no course on literacy instruction. In the absence of exposure and understanding of the reading process and its acquisition, and what research on reading through the past two decades tells us, it should not come as a surprise that literacy instruction in Indian classrooms remains outdated, rote-based, and sequential teaching of aksharas and matras for teaching reading, and extensive copying in the name of writing.
Literacy instruction, thus, tends to be extremely mechanical with little or no scope for meaning-making and expression.
Understanding the issue
Government and civil society players are slowly recognising the need for literacy instruction in the early years of schooling to receive due attention. Padhe Bharat Badhe Bharat (meaning, read India grow India), a document put out by the ministry of human resource development (MHRD), puts early reading and writing with comprehension as one of the central national goals of the Sarva Shiksha Abhiyan, encouraging States to come up with comprehensive plans. The document recommends assigning two-and-a-half hours out of the four hours of instructional time in schools for language and literacy learning in classes 1 and 2. What requires significant attention and resources is equipping teachers, teacher educators and education administrators to develop a sound understanding of the classroom environment, ensuring all schools have a functional library or reading corner, equipped with carefully selected children's literature, and a progressive pedagogic approach to the teaching of literacy that focuses on meaning-making and expression. Tata Trust's work in over 1,000 elementary schools in eight States gives us reason to believe that focused interventions on early literacy with adequate focus on teacher capacity, appropriate curricular resources, easy access to storybooks in different languages and appropriate assessment practices enable us to build confident learners and readers in some of the most challenging geographies of the country.
Reading and dyslexia expert, Luisa Moats, once said, "Teaching reading is rocket science." It is time we recognise that building foundational literacy and critical thinking skills for all learners is a matter of national importance. It deserves every academic, financial and administrative resource it takes to transform reading pedagogy in the early years.
The writer heads the education portfolio of Tata Trusts
This article first appeared in The Hindu Business Line