May 2018
Weaving big dreams
Having honed his skills at the Handloom School in Maheshwar, Harun Ansari has set up his own weaving business and is now competing in the high-end markets that promise high returns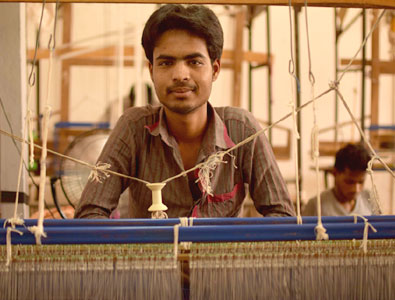 Harun now weaves on multi-treadle looms with ease after his training at The Handloom School in Maheshwar
Twenty-one year old Harun Ansari from Maheshwar in Madhya Pradesh started weaving at the age of 14. His father being a traditional Maheshwari weaver, Harun realised that handloom weaving came to him fairly easily. When Harun was 15, his otherwise well-to-do family entered a rough phase.They have a son and two daughters who are both married.

His father had contracted a yet undiagnosed recurring health issue, which was taking a major toll on the family's financial position. Harun decided to drop out of school and take the reins of the situation. He and his brother took over their father's business and began weaving for master weavers. "The work was not very remunerative, and the fact that both of us were still inexperienced at handloom (despite having an obvious talent for the vocation), made matters worse," recalls Harun. The result was a low household income, which was barely able to cover their father's treatment expenses.

In 2015, Harun joined The Handloom School, an initiative by Tata Trusts and Women Weave Charitable Trust. At the school, everyone found him to be a quiet but an attentive student; someone who is eager to soak in every ounce of information that he could glean from his classes, weaving sessions, and the surroundings. Soon after completing his training, tragedy struck and he got to know that his father was diagnosed with cancer. He took the onus of taking care of his father. The knowledge he had gained at The Handloom School had served to increase his competence manifold. Harun could now weave on multi-treadle looms with ease, his grasp of the English language had improved drastically, he was technology savvy, and had familiarity with modern design and fashion trends to go with his knowledge of the aesthetics of traditional weaving techniques. Most importantly, he had developed a newfound respect for his vocation and had a more optimistic assessment of his future.

Gradually, moving away from weaving for master weavers, Harun started leveraging his skills to compete in more rewarding high-end markets. Starting with weaving orders generated by The Handloom School from up-market clients, he now has the confidence to interface with international clients and handles much of his client communication and his business independently. Talking about his training, an ambitious Harun says, "The course has not only expanded my outlook towards handloom weaving, but has also made me a more complete weaver, since I can now absorb certain aspects of weaving, like reed-filling, which is typically outsourced to 'experts' in Maheshwar." Harun's annual income in 2016 was above Rs.2,00,000, and he is proud of the fact that he and his brother are capable of bearing all the expenses of their father's treatment.

Having setup his own business, Harun now actively sources orders for himself, while also working on orders generated by the school on behalf of its graduates. He dreams of taking his business to great heights and provide meaningful employment to other young weavers in Maheshwar.
This story has been taken from the Sir Ratan Tata Trust and Allied Trusts Annual Report 2016-17.