November 2018
There's magic in these bookish spaces!
Children in Jharkhand are befriending books, thanks to the Trusts' initiative of developing libraries across schools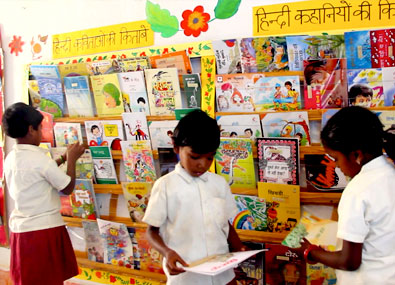 Tata Trusts' efforts have helped children to have easy access to books
Libraries play a huge role in inculcating the practice of reading and writing among children. Despite the mandate of having a library, there were hardly any libraries in the schools of Jharkhand's Khunti district. Among the schools that had libraries, there was no dedicated library period in the timetable. Books were kept in closed cupboards and the teachers were hesitant in giving them out to students due to the fear of losing them.
With an objective to develop the students' language skills, the Collectives for Integrated Livelihood Initiatives and Tata Trusts devised a plan to set up libraries in these schools. The understanding on children's libraries was developed through Library Educator's Course of the Trusts' Parag Initiative. Children from marginalised sections, specially hailing from the Munda tribe, had very less exposure to language and mostly practised a culture of silence. Library books seemed to be the best resource to help them build their imagination and instill the confidence to explore a whole new world.
It was quite a challenge to bring this idea into action. Convincing the teachers to develop a vibrant library was initially difficult. Therefore, the project team developed a few libraries using locally available resources and with some investment on books and seating arrangements. Gradually, the teachers were convinced about the importance of having libraries and they began incorporating a library period in the school routine.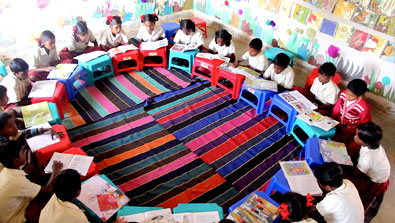 Children engrossed in reading books in a vibrant library
The team conducted library sessions and activities like read aloud, dumb charades, storytelling, etc. These activities attracted the students towards books. As a result, the number of children taking and reading books increased day-by-day. It was exciting for them to handle books, interpret pictures and discuss among themselves. The success stories from these experiences were shared with other teachers, owing to which they began developing libraries in their schools. With the help of these intensive efforts, today, over 300 schools of the district have a functional library and a dedicated library period.
Involving the community to participate was a key aspect of this initiative. The community was made aware of the importance of education and was asked to extend its support in providing quality education to children. The community members, in their discussions with the team, came up with ideas like cleaning the rooms, making decorative items, book shelves using bamboo, book bags made out of gunny bags and making modhas (stools made of straw) for sitting. The idea of community participation was put into practice across schools and it resulted in great success. People in the area are happy and feel proud about helping children develop their libraries. The School Management Committee members now narrate stories to children during their meetings. Students take books for their parents or siblings and read aloud to them.
The Trusts' initiative has helped in taking innovative ideas to the children in the remotest areas of Khunti district. The team is now working towards making more books available to the children. The culture of reading has been developed, and it will only grow bigger from here.
Story credit: Divya Tirkey
This story was first published in Teacher Plus — http://www.teacherplus.org/theres-magic-in-these-bookish-spaces/