December 2015
The music of hope
Tata Trusts efforts to preserve, sustain and revitalise musical traditions have ensured that the number of artists practicing folk music as their primary occupation has gone up significantly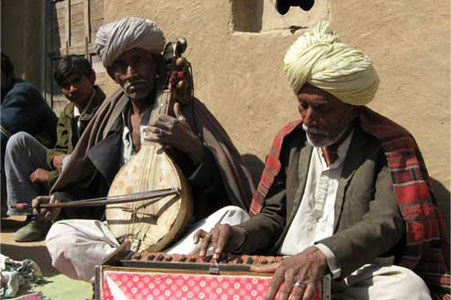 The music of Kutch is derived from the music of the pastoral tribes who migrated into the area from places such as Sind, Pakistan, Africa, Central Asia and Europe, over the past thousand years or more. Today, it can be broadly categorised as classical, folk and Sufi music. There are roughly 40 different types under the folk music category. The instruments used – bharindo, manjira, morchang, jodiapawa, ravanhattho, etc – bear no resemblance today to the original instruments they evolved from. Their use, over the centuries, has given Kutchi music an amazing complexity and depth.
However, today, Kutchi folk music has declined sharply. Partly, it is because the Partition split the Sindhi community in half. More importantly, it is because there has been a sharp decrease in the demand for traditional music. Diminishing demand forced traditional musicians to turn to other professions to sustain themselves. It was a vicious cycle.
There was an urgent need to not only arrest the decline of traditional folk forms but to reinvigorate them. This was when the Kutch Mahila Vikas Sangathan (KMVS) stepped up. Since 2012, Tata Trusts has partnered with KMVS, Gujarat, in order to preserve, sustain and revitalise the musical traditions of Kutch by forming Soorvani Sangathanas (organisations of folk music artisans) and promoting the subsistence of the artists.
Soorvani has five zonal arms — Kanthi (Mandvi and Mundra), Vagad (Rapar and Bhachau), Sindhi (Nakhtrana Abdasa and Lakhpat), Middle (Anjar and Bhuj), and Panchamm (Central Bhuj) — that ensure capacity building and networking in their respective zones. The project has enabled artisans gain exposure, perform at state and national levels and create an awareness of their art. It has also striven to involve the younger generation in the process, by organising local sangeet reyans and conducting exposure visits to renowned organisations.
In order to transfer knowledge and build the capacity of younger artists, the project developed a curriculum, and had initial discussions with Waai (one of the rarest Indian music genres) artists to initiate Soorshala (based on the guru-shishya parampara) in their own villages. Interim reviews show that annual performances per artist have increased from two to eight, while average remuneration has more than doubled. Baseline studies showed that average remuneration per artist per performance was Rs250-500. By March 2015, the average pay per performance had risen to Rs2,250. The project has generated a cumulative income of Rs18million for the 358 artists in the collective formed by KMVS, which gave them an annual income of Rs16,750 each. Similarly, the number of artists practicing folk music as their primary occupation has gone up from 46 to 176.
Ismailbhai Para, one of Kutch's most knowledgeable Sufi singers, boasts a long lineage in the art. A native of Chubhadak village in Bhuj block, Ismailbhai has been singing for 25 years, 12 of which has seen him associated with the KMVS. Ever since Soorvani began organising performances, Ismailbhai has played a significant role. He continues to share his knowledge of music with other performers "to spread the music of Kutch far and wide, to help the new younger generation move ahead, and make the name of Kutch bright. Only then will the music of Soorvani flourish, spread, entertain and educate." When there are performances, he explains harmony, rhythm and melody to the other performers. Ismailbhai is a very good artiste but with the beginning of Soorvani, he dreams about teaching and encouraging other performers.
One of the major achievements of the project is the archiving of the Sindh music tradition of Kutch; this is of great interest for music connoisseurs and tourists and allows them a thought-provoking glimpse into the history of Kutch folk music.