February 2019
The guardians of India's reel heritage
The Tata Trusts in partnership with the Film Heritage Foundation, are securing the past and the future of India's cinematic heritage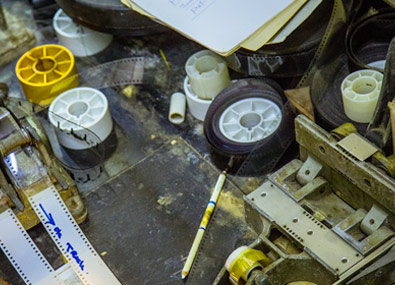 A Film Preservation & Restoration Workshop India black and white film processing class in progress at AVM Cine Lab
There is no doubt about the legacy of Indian cinema and the booming industry it has fostered since the arrival of cinema in Bombay in 1896. While the industry is the largest global producer of films today, its footprints are lost with no long-term vision to preserve and restore Indian cinema via celluloid (or digital) restoration projects. The National Film Archives of India, set up in 1964, was given the responsibility of safeguarding the heritage of India cinema. It is the largest repository of film reels in India — but there are no figures that can tell us how much film print, and therefore our cinematic heritage, we have already lost because of neglect and unawareness. With no trained technicians in the field of film preservation, little understanding of the processes and investments required, India is in dire need of focused intervention in order to create facilities for film preservation and the capacity to train technicians who can lead this work.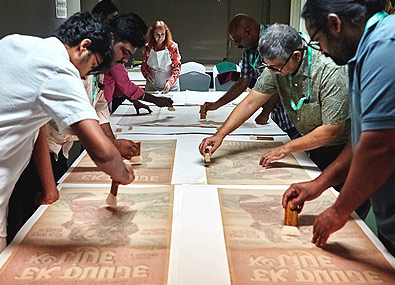 Trainers and technicians from across the globe, who are experts in their fields, make up the core faculty of Film Preservation & Restoration Workshop India workshops
Laying the groundwork
In 2017, the Tata Trusts partnered with the Film Heritage Foundation (FHF), a Mumbai-based organisation that works to preserve cinema by designing and conducting training workshops in film preservation and restoration. Having completed two successful workshops in 2015 and 2016 at Mumbai and Pune respectively, the Trusts partnered with them to support three annual workshops, two of which have been successfully organised in 2017 and 2018 at Prasad Labs, Chennai, and ICCR, Kolkata, respectively.
The Film Preservation & Restoration Workshop India (FPRWI) are designed in partnership with the International Federation of Film Archives — a global community of institutes and individuals dedicated towards preserving film as art and as historical documents. One of the components of the Trusts' support to these workshops is to offer scholarships to deserving candidates, as well as support two fellows for a period of one year to engage long term with FHF. In 2017 the Trusts offered 30 scholarships out of a total number of 51 participants, and in 2018 the Trusts offered 26 scholarships out of a total number of 57 participants.
Ananya Chakraborty, a participant from the FPRWI 2018 and a recipient of the Tata Trusts scholarship, says, "Quality training opportunities in film preservation and archiving are rare. FPRWI is a great initiative in that regard."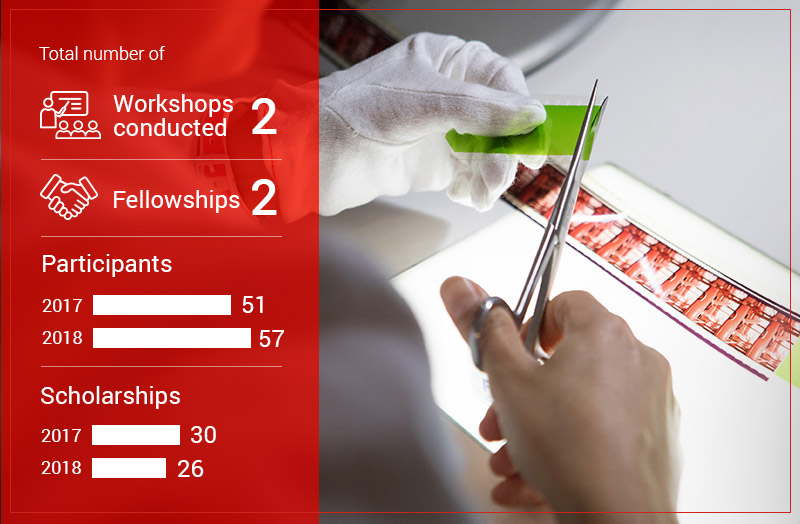 Setting the schedule
The workshops have a seven-day intensive schedule designed to introduce the participants to key theoretical concepts in understanding the various aspects of film (print and digital), sound, photo and paper preservation. There are classes on cataloging, archiving and workflow management that are necessary documentation skills required by any media conservator. All students must participate in practical classes as well, which teaches them the basics in film handling and repair; identification of different types of film, photo and paper prints; sound preservation tools; digitising film; and understanding digital film restoration, curation, archiving and cataloging exercises.

Trainers and technicians from across the globe, who are experts in their fields, make up the core faculty of these workshops, thereby enabling an environment where they not only teach via illustrating best practices but they also get the opportunity to learn and provide solutions to unique challenges faced by their Indian peers. "The faculty comprises of professionals who are among the best in the world. I have learnt a great deal in the workshop and it has given me more clarity on how I want to associate myself to the cause of cinematic and cultural heritage," adds Ananya.

The participants are selected on the basis of their working knowledge and experience in the field, and stress is put on sending out the call of applications to state archives and government-run institutions that are engaged in film preservation and archiving work. Thus, this year, the workshops saw a number of participants from the Odisha and West Bengal state archives, apart from participants from National Film Archives of India and other private-run institutes and independent archivists.

Charting the way forward
After having completed four successful intensive workshops, FHF, in partnership with the Tata Trusts, is gearing towards the fifth annual workshop to be held in the autumn of 2019. Each year, the workshop model is modified to include feedback from the faculty and the students. These workshops have generated interest and awareness within the small community of conservators and archivists, and the rather large film and media industry as well. FHF's endeavour, via conducting these workshops, is to create a more extensive curriculum / syllabus for film preservation and allied subjects that can run as a long-term post graduate course at a dedicated training centre. The workshops have generated an interest in the field of film preservation and created awareness towards its possibilities – not just in terms of preserving our cinematic heritage, but also as an opportunity of opening up a totally new job sector in the market, viz, trained technicians who have learnt from the best globally and are part of a larger network of individuals dedicated to preserving film.

In terms of short-term outcomes, these workshops have given necessary tools to interested participants and helped guide their future roles as film conservators and archivists. Students have gone on to train further at reputed institutes like the George Eastman Museum, Hochschule fur Technik und Wirtschaft, Germany, and others. State-run archives are now better equipped to care for their collections with their custodians being trained via scholarships at the workshops.

Aparna Subramaniam, a participant from the 2017 and 2019 workshops and a recipient of the Tata Trusts scholarships for both workshops, elaborates, "The workshops have helped facilitate a platform for people who are working in the field to come together and discuss issues around archiving and film preservation…Because I received the Tata Trusts scholarships, for two consecutive workshops (2017 and 2018), I was able to attend these trainings, and I am now applying for courses abroad at NYU, Pratt Institute and UCLA in the fields of library sciences and moving image archiving."