April 2016
Community to the rescue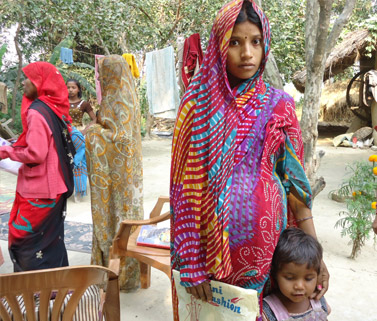 Sheela, a beneficiary of Tata Trusts' maternal and neonatal interventions, with her daughter in Uttar Pradesh
Tata Trusts is supporting and handholding a major Community Health Programme in Eastern UP. The programme targets some of the poorest households whose members belong to Scheduled Castes and Scheduled Tribes, and attempts to plug the many structural failures in the health system, particularly in reference to maternal and infant health.
Sheela was identified as having a High Risk Pregnancy by the Community Health Worker (CHW) in her district. This was her third pregnancy and she was registered for antenatal services at the nurse's desk. She was found to be anemic and was given iron tablets by the CHW to help alleviate it.

Despite this, when the leader of the local women's collective (Nari Sangh) visited her in her fifth month of gestation, she was found to be very weak. The Nari Sangh leader, in consultation with the CHW referred Sheela for a second antenatal checkup at the Village Health and Nutrition Day (VHND). This was recently activated in Sheela's village thanks to the efforts of the Nari Sangh and takes place every month at an anganwadi centre. The VHND is a common platform to provide essential health and nutrition services, especially for maternal, child and adolescent health. On a VHND, a nurse who examined Sheela, found her severely anemic and referred her to a tertiary healthcare facility. While Sheela's husband was initially reluctant about visiting a health facility, the Nari Sangh leader convinced him that it is the right step for Sheela's health.

At the tertiary healthcare facility, Sheela was found to be severely anemic with a low hemoglobin level of 4 gms per deciliter, she received therapeutic treatment and was prescribed medication and counselled for dietary care for the rest of her pregnancy. Hailing from a severely impoverished background and a callous, Sheela's family would find her expenditures difficult to meet. Perceiving this, the Nari Sangh decided to mobilise support to Sheela, so that she could easily conform to her additional nutritional requirements. Women from relatively better off backgrounds in the Nari Sangh regularly provided milk, green vegetables and salads to Sheela. The CHW ensured that Sheela was getting her antenatal checkups done and that she was taking her medication regularly. She also prepared a birth microplan for Sheela and saw to it that Sheela could access the Government's ambulance meant for intranatal care.

During her delivery, Sheela was found moderately anemic with a hemoglobin level at 9.8 gms per deciliter. She was not in any danger and delivered an underweight, but otherwise healthy baby weighing 2 kgs. The CHW counselled her on the importance of exclusive breast feeding and also educated her on adequate weaning feeds on subsequent visits. Today, Sheela and her child are both healthy and doing well, thanks to the efforts of the Trusts' Community Health Programme in Eastern UP.