June 20, 2017
Tata Trusts' 'Tech4Transformation' Conclave to deliberate role of technology in transforming lives
7.6% growth can be accelerated with social sector focus on education, health, nutrition using technology, says Amitabh Kant
Tata Trusts' Tech4Transformation conclave brought together industry experts like Rajan Anandan, Anousheh Ansari to advance and effect outcome-based change through technology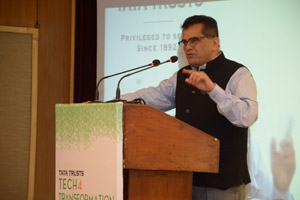 Amitabh Kant, CEO, NITI Aayog – addressing at Tata Trusts' Tech4Transofrmation conclave, one of a kind event to initiate and engage conversations around accelerating societal change through technology in India
New Delhi, India: Tata Trusts, commemorating its 125th year as India's oldest philanthropic organization, hosted its first ever technology conclave 'Tech4Transformation' that brought together stakeholders from government, academia, private sector organizations, foundations and civil society representatives, in New Delhi today, to discuss the significant momentum that technology can lend to social transformation.
Mr. Amitabh Kant, CEO, Niti Aayog, in the keynote address, highlighted the impact of technology and innovation on social development, saying, "The government has moved away from inputs and outputs to outcomes. Therefore, outcome based monitoring using technology has become critical for the administration. India is changing rapidly and to my mind, two things are critical for it to do so. One is how to use technology in a big way to improve the quality of implementation on ground. And the second is finding the right partners to transform India; private partners and other organisations, such as Tata Trusts, have been doing very good work for societal development."
Speaking at the conclave, Mr. Prabhat Pani, Head – Partnerships and Technology, Tata Trusts, said, "Technology and innovation are at the core of all our philanthropic efforts with a view to enable, empower and educate within the existing rural ecosystem of India. In line with the Government of India's 'Digital India', 'Make in India', 'Startup India', & 'Smart Cities Mission', our programmes have technology embedded to fast track socio-economic change, strengthen systems and ultimately, ensure ease in governance. This Conclave is aligned with our effort to convene serious discussions with key stakeholders in driving societal change."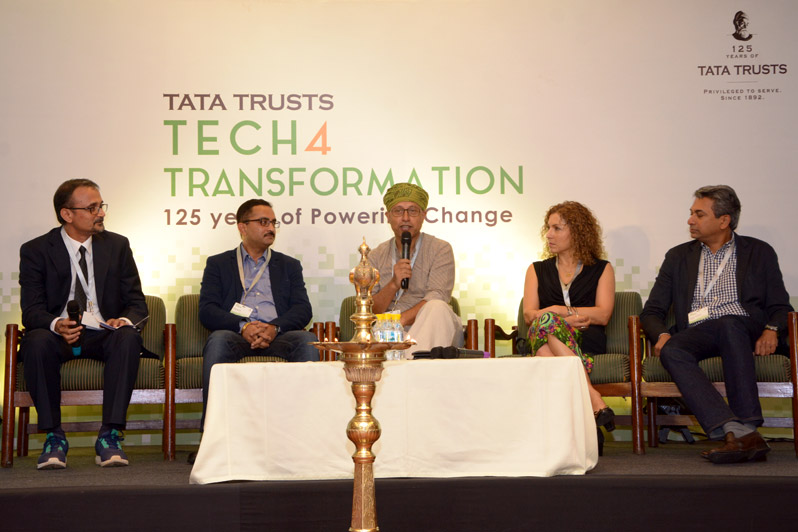 L-R: Raman Kalyanakrishnan, Head Strategy & Innovations, Tata Trusts; Vineet Singh, Chief Business Officer, MobiQuick; Osama Manzar, Founder & Director, Digital Empowerment Foundation; Anousheh Ansari, Co-Founder & Chairman, Prodea Systems and First Female Private Space Explorer & First Space Ambassador; Rajan Anandan, VP, South East Asia and India, Google at the first ever Tech4Transformation conclave to initiative and engage conversations around accelerating societal change through technology in India
There were three interesting panel discussions with speakers from government, private organizations and development organizations The first session on 'Taking the benefits of the internet to the hinterlands of India', which was moderated by Mr. Raman Kalyanakrishnan, Head-Strategy and Digital Initiatives at Tata Trusts, included Mr. Vineet K Singh, Chief Business Officer, MobiKwik; Mr. Rajan Anandan, VP, South East Asia and India, Google; Ms. Anousheh Ansari, Co-Founder and Chairperson, Prodea Systems; and Mr. Osama Manzar, Founder & Director, Digital Empowerment Foundation. Discussions revolved around how internet access can fast-track social change, empower communities and provide the required thrust in India's growth story.
The subsequent panel discussed how India's progress can be expedited by embracing data. Moderated by Mr. Prabhat Pani, Head – Partnerships and Technology, Tata Trusts, the panel was titled, 'Asymmetry of information leads to asymmetry of opportunity'. The key speakers included Professor Jagan Shah, Director, National Institute of Urban Affairs; Dr. CS Pramesh, Professor and Chief, Thoracic Surgery, Department of Surgical Oncology, Tata Memorial Hospital; Mr. Saurabh Kumar, Additional Private Secretary, Ministry of Electronics and Information Technology; and Ms. Prukalpa Sankar, Co-Founder, Social Cops. The panel mulled the importance of smart data to achieve the goal of Smart Cities/Smart Villages, bring in governance and strengthen systems so that the benefits of government programmes reach the desired target groups.
The concluding panel discussion, moderated by Ms. Nayantara Sabavala, Director- Program Design, Tata Trusts, discussed technology's role in extending education to remote areas. The theme for the session was 'Reach and Teach - Can technology help in learning more, learning better?', and the panel Mr. Aanand Srinivas, Content Head, Khan Academy India; Ms. Shubhra Chatterjee, Director, Vikramshila; and Ms. Padma Sarangapani, Professor of Education and Project Director, CLIx, TISS. The panel discussion involved comparison of key reform models, best practices in digital content, technology's role in transforming school education and personalised learning.
Tata Trusts, since their inception, has focused on fostering innovation and employing technology to benefit communities through initiatives like Internet Saathi, CLIx and ICT in Education. Tata Trusts believes digital technology has great potential to enable and accelerate education, healthcare and financial services to address many of India's social problems.
About Tata Trusts:
Tata Trusts is amongst India's oldest, non-sectarian philanthropic organizations that work in several areas of community development. Since its inception, Tata Trusts has played a pioneering role in transforming traditional ideas of philanthropy to make impactful sustainable change in the lives of the communities served. Through direct implementation, co-partnership strategies and grant making, the Trusts support and drive innovation in the areas of education; healthcare and nutrition; rural livelihoods; natural resources management; enhancing civil society and governance and media, arts, crafts and culture. Tata Trusts continues to be guided by the principles of its Founder, Jamsetji Tata, and through his vision of proactive philanthropy, the Trusts catalyze societal development while ensuring that initiatives and interventions have a contemporary relevance to the nation. For more information please visit http://tatatrusts.org/.
Social Media
Twitter: @tatatrusts
Facebook: Tata Trusts
Instagram: tata_trusts
Contact – Tata Trusts
Nikita Crasta
Rediffusion / Edelman, Mumbai
Email: Nikita.Crasta@edelman.com
Mobile: +91 9821071527