August 2016
The best possible start
Nutrition during the first 1,000 days of a baby's life has an impact on health throughout life. New and expectant mothers in urban and rural areas of India learn this important fact during awareness campaigns held during the International Breastfeeding Week
A growing body of research underlines the crucial importance of nutrition in the first 1,000 days of a child's life. The nutrition provided in the period between conception and the child's second birthday is critical for optimum cognitive and physical development of the child. Tata Trusts recognises the importance of the 1,000-day window and utilises it to prevent under-nutrition among infants. It works with partners in geographies with high malnutrition to strengthen existing Government programmes such as the Integrated Child Development Services Scheme.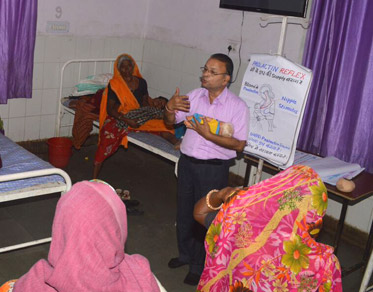 Breastfeeding awareness session underway in Aklera in Jhalwar district in Rajasthan

Interventions in rural areas
In Rajasthan, a unique public-private partnership among Tata Trusts, the Government of Rajasthan and Antara Foundation, 'Program Akshada', targets improved maternal and child health in the state. During the International Breastfeeding Week, Antara Foundation conducted breastfeeding awareness drives in a community health centre (CHC) in Aklera in Jhalawar district. The CHC caters to a population of 50,000 and sees approximately 300 deliveries a month.
Training was conducted for both frontline health workers and pregnant women. Health workers were given training on how to conduct counseling sessions on breastfeeding for both pregnant and lactating women, and on the different positions. "The session was very informative and interesting. It was a great learning experience about effective counselling," says Ms Tarannum, a staff nurse at the Aklera CHC.
Another session for young mothers and mothers-to-be concentrated on the importance of breastfeeding within an hour of birth, various techniques and the need for regular feedings. Mothers were counselled on the importance of being stress-free for better lactation. Maaya Bai of Kelukhedi village who participated in the sessions said, "I never knew that a mother needs to feed her baby at least 8-10 times a day. I always thought that the baby only needs to be fed when he starts crying."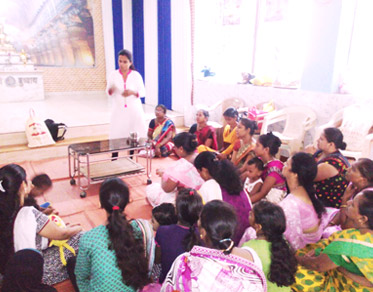 A Community Organiser leads a session on the importance of breastfeeding in Santa Cruz East in Mumbai

Interventions in urban areas
Through its Urban Nutrition Initiative, Tata Trusts has partnered with Committed Communities Development Trust, a Mumbai-based NGO, to implement a programme across anganwadis in Mumbai, Thane, Nagpur and Nashik. The programme will cover 733 anganwadis and reach out to 256,000 children (0-2 years) and 80,630 pregnant and lactating mothers.
The programme envisages designating a Community Organiser for every five anganwadis. The Community Organiser will conduct home visits to identify newborns, monitor their growth, link them to government schemes, and refer them to health facilities and nutrition rehabilitation centres. The Community Organiser will also identify and refer high-risk pregnant women and severe acute malnutrition and moderate acute malnutrition children to appropriate government services.
At an awareness camp organised during the International Breastfeeding Week 2015, eight-months-pregnant Prarthana Shirsath learnt about the importance of breastfeeding within the first hour of birth so that the baby receives colostrum, the antibodies-rich fluid produced immediately after birth. A misconception that it was not possible to breastfeed after a C-section delivery was also cleared by Shilpa Jagtap, the Community Organiser who facilitated the session.
"After two months, Prarthana delivered a healthy baby boy through C-section. With her newfound knowledge, she fed her baby colostrum. Prarthana was happy that she fulfilled what she thought was her first responsibility towards her son after his birth," says Shilpa, who adds that the child was exclusively breastfed for six months before being started on complementary feeds and is maintaining a healthy weight.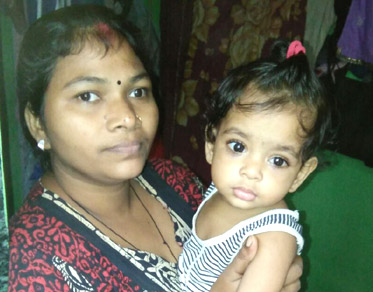 Riya Pal exclusive breastfed her baby for six months after guidance from a Community Organiser. The baby reached a healthy weight and was started on appropriate complementary foods
Another Community Organiser, Vandana Shinde, narrates Riya Pal's story. While conducting a household survey, Vandana met Riya and her two-month-old baby. "While filling the intervention form, I learnt that Riya had stopped breastfeeding and had started the baby on other milk. Riya told me that she doesn't lactate enough and prefers to use other milk to satiate the baby's hunger," says Vandana. Asking Riya to demonstrate her breastfeeding technique, Vandana discovered that the posture was incorrect, the latch was poor and that the areola was not completely in the child's mouth. In addition, the mother was bending towards the child, which made suckling difficult for the baby. She then demonstrated the correct latching technique and posture. "Riya carefully observed me and repeated the technique while feeding the baby. She eventually gained confidence and promised to follow it regularly," adds Vandana.
When Vandana enquired about the baby at the next follow-up visit, Riya happily replied that she had stopped other milk and was exclusively breastfeeding. The child reached a healthy weight and was eventually started on complementary feeds at six months of age.
Contemporary research has confirmed that breastfed infants are more likely to have better physical and mental health, well into adulthood. Breastfeeding also has far-reaching health benefits for the mother — it reduces risk of ovarian and breast cancer. A study found that improved breastfeeding practices can save more than US$300 million in healthcare costs.
Trusts ensures that its youngest beneficiaries have the healthiest possible start to their lives by working with a large portfolio of organisations in challenging districts to implement its nutrition initiative for infants and young children.