May 2016
High on output
Sinkibai's income has gone up ten-fold and she plans to earn more, thanks to adopting commercial cultivation of vegetables and Package of Practices, suggested by experts from Collectives for Integrated Livelihood Initiatives
Facilitating farmers to transit from traditional field crops to higher value vegetable cultivation in the various programme clusters has been one of the priority areas of engagement for Collectives for Integrated Livelihood Initiatives (CInI), an Associate Organisation of the Trusts. As part of this, CInI has been working intensively with a group of 110 farmers from 11 villages in Dhadgao, a remote block in Nandurbar district, Maharashtra, since the rabi season of 2014. Cultivation of vegetables on a commercial scale is a new concept for the farmers, who were otherwise only engaged in small homestead-level cultivation of few vegetable plants, through which they were barely able to manage the requirements of their families.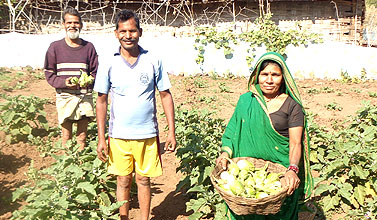 Sinkibai with her sweet fruits of hard labour
CInI motivated members of self-help groups to establish a group-level nursery, so that quality saplings could be grown and made available to the members. The area is rain-fed and hilly, and the farmers face water scarcity after the monsoons. Consequently, to overcome water scarcity conditions, which would hamper cultivation of vegetables, the innovative 'pit method' for chilli cultivation was tried out with a few farmers initially, and then adopted for all vegetables. This method, along with the adoption of validated Package of Practices (PoP), was a great success — the average per plant production for chilli rose from 0.2 kg/plant to 1.5 kg/plant, that for tomato increased from 2 kg/plant to 6 kg/plant, and for brinjal the per plant production has now reached 6kg/plant, from 2-3kg/plant.
Sinkibai Paradke from Vijaylaxmi Mahila Bachat Gat — a SHG in Gaurya village —cultivated vegetables in the rabi season, for the very first time. Earlier, with the available water for irrigation, she used to grow maize in her field, which fetched her just Rs1,000. This year, she cultivated vegetables (tomato and brinjal) in 0.05 acre of land. She adopted all the PoPs for the crops as suggested by the agricultural experts from CInI. Her hard work bore fruit and she has been able to earn Rs11,500. Witnessing the results, Sinkibai is now confident and enthusiastically says, "This year I will cultivate vegetables on a larger piece of land and earn more!"
The experiences of these 110 farmers have helped establish a certain prototype and a proof of concept for diversification to vegetable crops and also for optimum utilisation of the available irrigation sources. On an average, the farmers have been able to earn an income of Rs8,000 to Rs9,000 from 0.10 acre of land brought under vegetable cultivation. This has inspired the farmers to increase the area under vegetable cultivation for the coming season and systematically follow the PoP, along with building market linkages.
Over the next five years, CInI envisages working with 66,000 tribal households across 330 village in 5 districts of Gujarat and Maharashtra, through its 'Agriculture Based Cluster Development Programme', enhancing incomes from an average of Rs35,000 in 2014 to Rs120,000 per annum per household.