May 2018
Sweeter results from improved jaggery
Farmers in Odisha significantly increase their jaggery production — thanks to improved farming practices!
Lokanath has set an example in his village by adopting the sustainable sugarcane initiative (SSI) method for cultivating crops

Many farmers in the villages of Odisha's Nayagarh district have been involved in sugarcane cultivation. Until a few years back, they followed conventional methods of growing the crop. The production as well as the price received for the produce was not sufficient to meet the farmers' needs. Identifying the scope of improving the farming practices and the produce, the Trusts, along with its NGO partner — NIRMAN, began intervention in the area. They motivated the farmers to adopt the organic, low cost, low water and seed input sustainable sugarcane initiative (SSI). To train the farmers on the SSI method, five Farmer Field Schools (FFS) were established in five villages of the district.

The Nandabar FFS is one of the five FFS established in the project intervention area. Two proactive farmers, Siba Swain and Jaykrushna Sahoo, of Nandabar village underwent trainings at the FFS and subsequently took the lead to promote SSI methods among the local farmers. The farmers got drawn towards the FFS.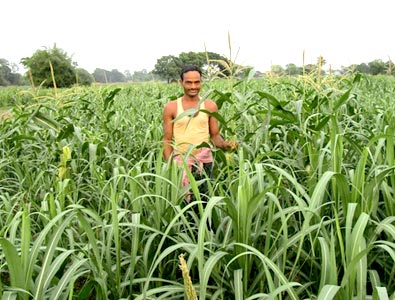 Villagers in Odisha have shown keenness in learning improved practices of farming
Considering their passion and commitment, Tata Trusts established a jaggery processing unit in their village under the Agro Service Centre. It caters to over 40 farmers in Nandabar and Karabar villages. In a year, around 150 tons of sugarcane was crushed at the processing unit, and it produced over 230 quintals of jaggery.

In 2017, the farmers visited places near Pune (Maharashtra) to learn more about the production of improved jaggery. Mr D Tekwade, proprietor of Nisarg Nutraceuticals (manufacturers, exporters and suppliers of sugrarcane products), provided technical trainings to them and soon visited their village to support them further. Following this, Nandabar FFS produced 10 quintals of improved jaggery and sold it in the nearby market. The product received a phenomenal market response and customers were willing to pay higher prices for the improved variety. Excited with the results, Siba says, "We are overwhelmed! We are now focussing on producing 100 percent improved jaggery in the coming year and scaling the business. I have voluntarily given my land for free (for five years) to the FFS. They plan to establish a processing plant there."

A nursery ensures a constant supply of healthy sugarcane seedlings to meet villagers' needs
With this intervention, many farmers in the district have grown their sugarcane production and emerged as role models for others. Lokanath Barik is one such farmer. The 45-year-old farmer has been a pioneer in adopting SSI practices. Initially, when most farmers around him were apprehensive to adopt the SSI method of sugarcane cultivation, he came forward and played an instrumental role in motivating them to implement it. Lokanath not only helped establish a FFS in his village, but also enthralled the trainees with good humour. This made participation and learning very interesting.
Using the SSI method of cultivating sugarcane, Lokanath produced nearly 25 quintals of jaggery in a year. He says, "I have gained knowledge about SSI and as a master trainer, I'm proud to provide technical assistance to other farmers. From my income, I have saved around Rs50,000 for my daughter's wedding. I am grateful to NIRMAN and Tata Trusts for promoting such an innovative idea which has improved lives of many people in the community."