December 2015
Schooling Karma
It wasn't long ago that seven-year-old Karma would run away from school during lunch break. He hated school. But today, with patient understanding and encouragement from learning facilitators from the School and Community-based Quality Improvement Programme, Karma is back in school and enjoying it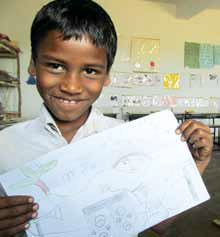 Seven-year-old Karma Munda hated school. His mother, a daily labourer working in others' fields, had dreamt of giving her children a good education, but Karma preferred to play truant. When his mother went to the fields to work, he stayed home; when she personally dropped him off at school, he would run away during the lunch break.

In August 2012, in a bid to improve the quality of learning in the government schools in Khunti district, Jharkhand, the Trusts operationalised the School and Community-based Quality Improvement Programme (SCQuIP) under the Central India Initiative. The programme is being implemented by CInI – the nodal agency for the Central India Initiative. In an attempt to increase the attendance in schools, learning facilitators began making regular home visits, explaining the importance of education to parents, and encouraging children to attend school.

Karma, studying in Class II at the time, remained recalcitrant, attending school for only seven days that month. In September 2012, the Learning Assistant, Ms Sheetal Kumari, regularly went to Karma's house, to personally bring him to school. Even though he hated the idea, Karma attended school for 12 days. However, as soon as she stopped doing that in October, Karma returned to his old ways – he attended school for only six days.

Karma belongs to a tribal community, and his mother is the single earning member of the household. She has no wherewithal to insist on her son's attendance, or even to ensure that he remained in school. Frustrated with his continued truancy, she gave up insisting that he attends school. His lack of attendance, and his disinterest in his studies posed a problem for the project facilitators as well. They had to find another way to spark his interest and break the cycle of truancy.

So the facilitators sat down to review Karma's case, deliberating on the tactics that had been deployed until then, and on how best to bring Karma back to school. As they looked through his records and school work, they realised that Karma had been very interested in drawing. They decided to use that to persuade him to attend school regularly. The Learning Facilitators and the Learning Assistant visited Karma's house, taking along with them some of his worksheets and his artwork. Seeing them, Karma's mother was voluble about their straitened circumstances, but Karma remained silent and even hostile. The visitors, however, made no mention of school or studies. Instead, the Learning Assistant held out Karma's pictures, expressing doubts that he had actually painted them since he had never attended school. An indignant Karma asserted his ownership over his work.

The ruse worked – with the ice broken, Karma was at least ready to speak to them instead of running away. The visitors continued to talk about his drawings, praising his skill and talent. They gave Karma some drawing sheets and colouring material, telling him that he could continue to draw pictures at home. Once he was done, he could bring them to the Learning Assistant at school, and she would be happy to give him more paper.

Before leaving, the visitors quietly told Karma's mother not to mention 'school' to Karma. It was also decided that when Karma came to the Learning Assistant to return his drawings, she would not mention it either. Instead, she would praise his drawings and present him with more paper and crayons; slowly, she could start giving him story books, maths worksheets, Hindi numbers, words and sentences, etc. By continuously monitoring his work and behaviour, they could plot their future course of action.

Three days later, early in the morning, Karma arrived at Ms Kumari's house with his paintings. Acting according to plan, she praised his work, and sent him off with more paper. Karma returned the same evening with more paintings. Then, nothing was heard of him for a couple of days. On the third day, of his own volition, Karma re-entered his classroom. Once again, the teacher was quite circumspect in her dealings with the boy. Giving him some class work, she told Karma that he could either complete it at school, or take it back home. Karma chose to stay back in school. Slowly, he began to attend school willingly.

Not always, but often. But he scrupulously completed all the work he was given. It was clear that Karma was making progress. In order to encourage him further, the facilitator and the team visited Karma with worksheets and drawings. They praised his involvement and efforts and promised that if he continued to apply himself, he would soon learn to read and write and perhaps even speak English.

Karma's story is that of a remarkable turnaround. The project team's unwillingness to give up on Karma, and their conviction that every child is capable of learning, even though the methods may have to be unconventional, has borne spectacular fruit. Karma had already increased his attendance from 26% in the previous months to 73% in November 2012. His attendance rates remained high, averaging around 80% in the next four months. Correspondingly, his involvement in class and his interest in studies continued to increase, and made a definite change to his grades - they have increased visibly, and in the annual examination in April 2013, Karma scored 73% in Hindi, 50% in Mathematics and 26% in English. Today, Karma is studying in Class IV and averages between 60-80% attendance. He is able to read books easily, can speak and understand Hindi, and can even construct sentences and paragraphs without help. He voluntarily takes books home to read. He is good at basic mathematics, and a willing helper at school. His amazing transformation and progress have cemented the project team's conviction that it is possible to improve the quality of learning in government schools.