September 2017
Porbandar toils to build toilets
Mission mode programme makes Gujarat's Porbandar district open defecation-free in record time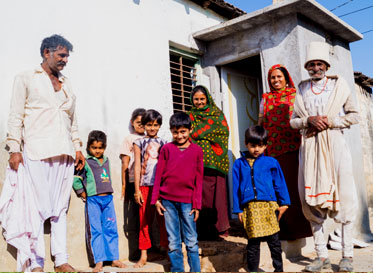 A family poses beside their newly constructed toilet
With the launch of the Swachh Bharat Abhiyan on October 2, the birth anniversary of Mahatma Gandhi, it was only appropriate that Gandhiji's home district of Porbandar in Gujarat sets an example in cleanliness and sanitation. Tata Water Mission (TWM), a dedicated programme under Tata Trusts to tackle water and sanitation crisis in the country, adopted a unique mission mode programme to make Porbandar open defecation-free (ODF) in record time. The mission was launched on September 10, 2016 and in just three weeks, 10,000 toilets were built across the 149 villages of Porbandar – in time to declare the district ODF on October 2, 2016.

Making of a mission
Studies revealed that members of more than 10,000 families in the villages of Porbandar defecated in the open. While building the large number of toilets in a limited time was a stiff challenge, the rocky ground of Porbandar made it tougher to do the digging for construction. This necessitated an innovative approach, and that's when TWM conceived a mission mode programme. It was a coordinated effort where all the relevant resources of the planning and implementing teams – human, technical and financial – converged and worked in tandem to achieve the goal of 'making the entire district ODF'.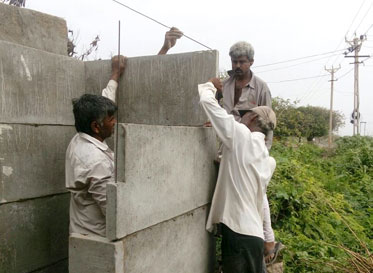 A prefabricated superstructure for a toilet being erected in a village
The crux of the mission mode work was to ensure quality in spite of the strict timelines; therefore, while time was compressed, quality of construction of Individual Household Latrines (IHHLs) was not compromised. This could be done only by making sure that the bottlenecks were removed at every stage.
The rollout
A state-level meeting under the chairpersonship of Commissioner - Rural Development was the starting point of the mission. The TWM team facilitated the setting up and working of a central team through coordination meetings and orientation workshops. TWM took the lead in demonstrating work by deploying its resources and coordinating with partners as well as local community institutions like self-help groups (SHGs) and NGOs; bridge finance was given to SHGs to start digging the pits; excavators were deployed to speed up the pit digging; erection of prefabricated superstructures was demonstrated – which made construction possible in less than two hours, against the total time of 2-3 days in case of conventional construction. TWM also kept a check on quality by deploying a team of 100 students for daily monitoring, follow-up and on-ground verification.
The rocky ground poses a tough challenge to lay the foundation for a toilet
Smart funding
An innovative 'revolving fund' concept was put in place to fast-track the initiative. Since government mechanisms did not ensure advance payment of funds, TWM deployed Rs. 8,000-Rs. 10,000 per household in the form of revolving funds to community-based institutions. An amount of Rs. 1 million was provided to 16 SHGs in Porbandar, which gave them the required liquidity for constructing around 100-150 IHHLs in their respective work areas. Meanwhile, a tripartite MoU was signed with the district authorities for getting reimbursements for the completed structures. The incentive received by SHGs was recovered in cycles, which enabled them to construct further IHHLs in their villages. The cycle continued and once a village received an ODF status, the SHG returned the revolving fund to TWM. With a revolving fund of Rs. 3,25,000, project work worth Rs. 10.8 million was executed effectively.

The way ahead
Tata Trusts, through its flagship programme, TWM, aims to create a healthy future for 10 million households across 70,000 villages of the nation, of which Gujarat alone has over 1,00,000 homes in 800 villages. The mission advocates a decentralised, demand-responsive and community-managed approach to achieve the goal. It also aims at promoting innovative, technology-enabled and economically sustainable solutions – key among them being partial funding for IHHLs under the government's MNREGS programme.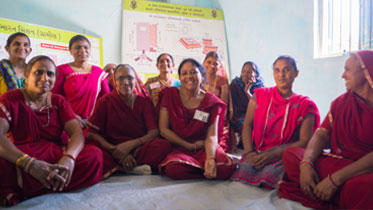 Self-help group members get together to discuss the technicalities of building toilets in their village
"Every home in our village now has its own toilet. Our womenfolk no longer need to walk to the outskirts of the village to relieve themselves. This project has not only given us health and hygiene, but has also given dignity to every resident of the village."
— Mr. Karabhai Bhimabhai Ratiya, Ratiya village, Porbandar