May 2018
Learning science with curiosity
Trained personnel in the mobile science lab that visits Sagarika Majhi's village Kenduguda in Odisha help her find satisfactory answers to her queries about malaria and mosquitoes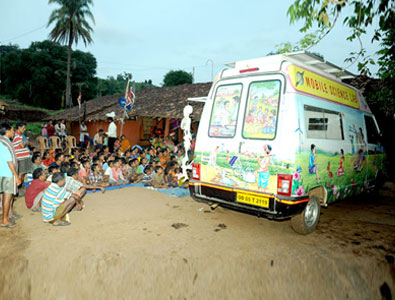 Mobile science labs bring about a change in social behaviour in the villages of Odisha by spreading awareness about malaria, diarrhoea, sanitation, nutrition, superstition and other such topics
During an evening video show on malaria, Sagarika Majhi, a tribal girl in Kenduguda village, asks what the difference is between a malaria-causing mosquito and an Aedes mosquito, and the reason why malaria is more prevalent in her area.

This query acts as an ice-breaker and then questions start pouring in from the villagers on many other issues affecting their health and wellbeing. A planned one-hour programme turns into a three-hour long engaging discussion as a gathering of 250 community members patiently watched the video played on a big screen in Kenduguda village of Lanjigarh block in Kalahandi district (Odisha).

The story of Kenduguda is just a case in point for all those villages the mobile science lab has visited to bring about a change in social behaviour, and to promote the scientific temper in the villagers and children on a variety of topics in education and health, including malaria, diarrhoea, sanitation, nutrition, and superstition. These visits are not only a source of great infotainment for the villagers, but also an opportunity to critically engage with some of the major issues affecting their daily lives and finding answers to many perplexing questions. This, in a way, helps create the much needed groundswell for building an environment of scientific temper and establishing an essential connect with the schools.

The mobile science labs are an integral component of the School and Community Science Programme — a co-funding endeavour of Tata Trusts and TCS Foundation. This is layered under the flagship programme of the South Odisha Initiative, with the objective of strengthening the ongoing elementary education intervention through a focused approach to facilitate hands-on learning in science amongst children in schools and to popularise science in the community.

As a matter of strategy, five multi-purpose mobile labs have been designed to cover all the secondary schools of the targeted blocks of Muniguda, Bissamcuttack, Th Rampur, Lanjigarh and Kotagarh in Rayagada, Kalahandi and Kandhamal districts. The labs are managed by a trained van manager and a driver-cum-support staff to organise and transact the planned sessions in schools in collaboration with the teachers of the school visited. Equipped with application, models, equipment, books, charts, etc., the van addresses the curricular needs of upper primary and secondary school science curriculum. Also, audio-visual apparatus like TV, projector, audio amplifier, etc. has been provided in each lab to make the interactions with students more stimulating.

So far, the mobile science labs have visited 110 schools in 60 villages. The programme will reach out to 25,000 students in 250 elementary and secondary schools almost every year, and converge with science materials supplied to schools and provide intensive training on science and mathematics with government school teachers.
This story has been taken from the Sir Dorabji Tata Trust and the Allied Trusts Annual Report 2016-17.