January 2018
Keeping traditions alive
For art and culture to flourish and maintain its prominence, there is a push required — a formal setup that not only drives people towards it, but also takes it to greater heights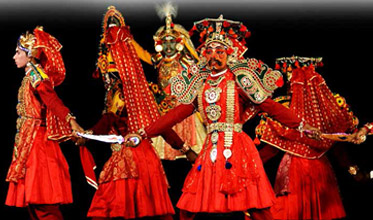 Students performing in the heritage theatre of Kattaikuttu
Kattaikuttu Gurukulam (KKG) in Tamil Nadu is a residential school based in Punjarasantankal village, and is supported by The Trusts through a grant for a period of three years, through the Transforming Culture Transforming Lives programme. In this school, children from marginalised families are trained in the traditions of their heritage theatre of Kattaikuttu. Quality education is imparted with a focus on critical thinking and comprehensive care, including basic personal hygiene, balanced nutrition, and dental care and counselling for a
more holistic upbringing.

To widen the aesthetic horizon of the students, an artistic programme has been developed under which free trainings are conducted to teach Kattaikuttu acting, singing, movement, music and make-up, in addition to workshops in other performing art forms. KKG has established the Kattaikuttu Young Professionals Company, the first ever mixed gender Kattaikuttu ensemble, through which the school has rebranded the art form as a powerful contemporary theatre. Students and apprentices acquire hands-on experience of performing for a critical audience. Sustainable employment has been created through the apprentice programme, which is a work-cum learning trajectory offering select KKG graduates the opportunity to develop their teaching, financial, planning and management skills.

According to the students, "KKG has not only trained us in different skills, but also instilled in us great confidence to face a wide range of audience. With our performances, we're glad to be able to keep our traditional art forms alive." With an emphasis on quality, equal access and equal rights for children and their families, KKG, in all its activities, seeks to reach out to a wider rural, urban and international audience.
This story has been taken from the SDTT annual report 2016-17.