February 2018
Innovation makes Okha different from all
When tough times last for long, innovation helps find a solution. Farmers in drought-ridden villages of Gujarat revive their livelihood by innovative practices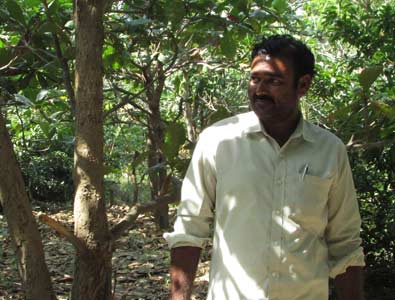 With his newfound confidence, Koliya is basking in the glory of his success
Satar Rahematullah Koliya lives with his children and mother in a farmland located in Varvala village of Okhamandal, a block in Gujarat's Dwarka district. He was introduced to farming at a young age by his father who, after benefitting from government schemes, had planted over 300 coconut trees in their 18-acre land. Taking forward the family occupation, Koliya realised that farming was more than just a means of living for him. He nurtured his passion for horticulture and a vision to develop a farm full of fruits – spreading sweetness all across. The initial results were encouraging. However, due to the changing weather conditions in the area, his dream seemed threatened.

Okhamandal is popularly described by the phrase – Okho sahu thi nokho – which means Okha is different from all. The difference is evident; this salinity prone area receives very little rainfall, which has led to drought in the region, with minimal possibility of growing cash crops for a sustainable livelihood. As a result, many farmers have had to migrate and explore other avenues of livelihood, thus hampering the social and economic condition of their families.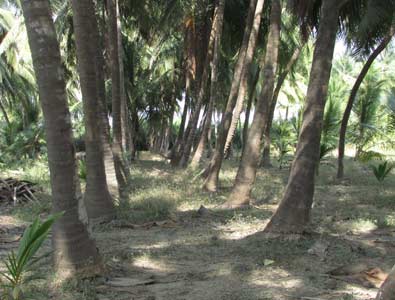 Koliya's coconut trees stand tall despite challenges posed by nature
To address the situation, Okhamandal Samrudh Gram Pariyojana intervened in the region, with the support of Tata Chemicals Society for Rural Development and Coastal Salinity Prevention Cell (an associate organisation of Tata Trusts), and reached out to the farmers in need. The project team spread awareness about better farming practices, helped the farmers procure saplings by providing financial support, and encouraged them to use innovative techniques to increase yield. Koliya was quick to learn and adapt; he planted 100
chikoo
saplings in 8 acres of land. His efforts began reaping fruits. Soon, he went on to expand the plantation area to grow additional fruits –
badam, gunda
and coconuts. Realising that water scarcity had hindered the growth of coconut trees planted by his father, Koliya chose a new variety of coconut tree and planted 30 saplings. The results have been delightful. The trees and their fruits are spreading freshness and sweetness far and wide – just what Koliya had dreamt of.
A true believer of innovation, Koliya has embraced changes for betterment and has been sharing his expertise in horticulture with his fellow farmers. Excited about his recently discovered leadership skills, Koliya shares, "Today, as 'mantri' of a Farmers' Group, I encourage farmers in my region to actively participate in exposure visits to other regions like Mangrol and Junagadh. Such visits help us learn different methods and innovative techniques that we can apply on our farmlands." Koliya plans to develop the group into a Farmers' Company which will help establish market linkage for them. With the positivity surrounding him, Koliya's vision is growing and his success is setting an example for all.