September 2017
Creating the resilience to dream
What will it take for the next generation of Indians to have the same set of opportunities as the privileged urban-born in our country?
"How would you like your children to be when they grow up", he asked.
"Like you", she said.
The man asking the question was R Venkataramanan, Managing Trustee of Tata Trusts; the woman, a farmer whose income had increased tenfold to Rs 2 lakh annually through her work in the self help groups (SHGs). Although her family's life had improved due food availability and more income, the quality of life on several counts had not changed: schools in her village were non-functional and healthcare non-existent. Her increased income therefore had not translated into better opportunities for her son.
Her statement–I want him to be like you–stayed with us. We were at PRADAN then and had been working with communities across India for over two decades. At that point, we asked ourselves: what will it take for the next generation of Indians, whoever they are and wherever they are, to have the same set of opportunities as the privileged urban-born?
Could we look beyond just providing jobs, training, and skills to a generation of men and women and instead focus on ensuring equal opportunities for their children at least?
It won't happen on its own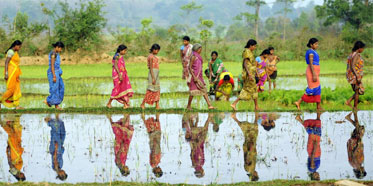 This photograph is under the Creative Commons License 2.0
Through our work in rural India for over two decades, we know that left to market forces–despite rapid economic growth and expanding government social spends–the inhabitants of the bottom 100,000 villages (of the 600,000 villages in our country), do not and will not have the same opportunities as citizens born in urban India or even other villages. Not at a systemic, mass level at least.
Sure, we have an A.P.J Abdul Kalam, who was able to get himself out of a deprived background and become DRDO chief and the President of India. But what about his friends, his brothers, relatives and neighbours? What are the chances that they got out? We never talk about those left behind.
Individual ascension can happen–with some education and a great deal of luck. But how do you take development to the entire village? How do you build basic resilience, so that our future generations can aspire to and achieve better lives?
An excerpt of an article written by Anirban Ghose and Anish Kumar, and published on India Development Review