June 2018
Cleaning water to make life better
Virabha and his fellow farmers in Gujarat now lead a life they hardly imagined before. The simple act of desilting their village pond has benefitted them in many ways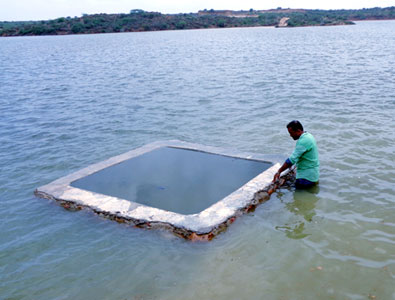 The residents of Samrasar consider Ratibut as a life-long blessing
Due to limited availability of water, Virabha Hamirbha Manek, a farmer in Samrasar, was forced to cultivate only kharif crop. Despite strenuous work to ensure quality and quantity of production, his efforts did not bear the desired results.

Samrasar village is located in Okhamandal taluka of Jamnagar district in Gujarat. Large tracts of land here are affected by salinity due to their geographical position — that of being surrounded by sea on three sides. People depend mainly on rainwater for irrigation as other sources of water are limited. The village has a pond called Ratibut. The water-storing capacity of the pond had reduced because of silt accumulation, due to which there were difficulties in obtaining water for household chores and irrigation. This also began affecting marine life. Therefore, it became necessary to desilt the pond.

It was during one of the cluster meetings that the villagers put forth the demand to desilt the pond. The Okhamandal Samruddhi Gram Pariyogana team took the consent of people who lived around the pond and the work of desilting the structure was initiated with the support of Tata Trusts and the community.

After desilting, the storage capacity of the pond increased. As a result, rainwater stored during the monsoon now lasts for about 15 months. The additional water is utilised for irrigation as well as for domestic purposes. The joy of Virabha and other farmers knows no bounds seeing the results of the pond desilting activity. "Our socio-economic status has improved a lot," says Virabha.

Crop production has increased after desilting and the water level in wells has also risen. Earlier, 0.15 to 0.20 quintals of groundnut were produced. More water available for irrigation has resulted in increased groundnut production — around 0.25 to 0.30 quintals.

Their improved financial condition has enabled farmers to provide better education to their children. Along with shouldering the responsibility of their families, the farmers are able to ensure a bright future for their children.
This story has been taken from the Sir Ratan Tata Trust and Allied Trusts Annual Report 2016-17.