March 2019
Ambedkar University Delhi launches MA in Performance Practice (Dance)
A new post-graduate course at Ambedkar University Delhi to professionally equip a new generation of dancers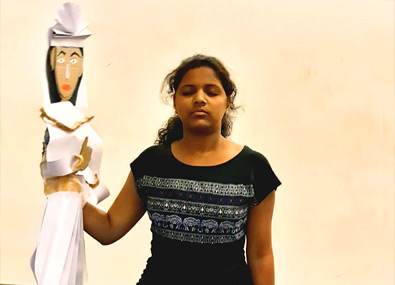 A student rehearsing at the School of Culture and Creative Expressions.
Dance, in India, is emerging in different contexts (other than the traditional auditorium/festival-mandated classical and folk-dance performances) becoming the voice of discrete narratives, and showcasing a plethora of vocabularies.
However, higher education opportunities for this evolving form are still restricted to post-graduate courses that teach classical dance forms like Bharatanatyam, Kathak, Odissi and others. Critical studies on dance, movement and performance practice theory are not incorporated into existing courses. And moreover, contemporary dance forms are not deemed worthy of a stand-alone curriculum. Dance training in India is also predominantly meted out in the guru-shishya tradition, which leaves a dancer technically sound, but theoretically and artistically on shakier ground.
Bridging the gap
In 2017, the Tata Trusts partnered with Ambedkar University Delhi (AUD) to run a pilot programme for a Master's degree in Performance Practice (Dance) at the School of Culture and Creative Expressions. Collaborating with a government-established institute like AUD was necessary to house a course on contemporary dance practice within an accredited university system. This would ensure that graduating students would have the necessary weightage and worth of a recognised post-graduate degree.

An inter-disciplinary curriculum was prepared by Gati Dance Forum, led by Mandeep Raikhy, a dancer and choreographer working in the field for over 20 years, and Ranjana Dave, a dancer and writer, in consultation with several practitioners and scholars from the field. The course was developed with the support of the Tata Trusts, the Royal Norwegian Embassy, the Goethe Institute, and the British Council. The curriculum amalgamates theory and practice with core and optional subjects covering a range of topics such as 'Awareness Observation Description: Reading and Writing Dance"; "Embodied Practice: Fundamental Moving Principles"; "Dance Histories, Ecologies and Identities", and "Investigating Choreographic Principles, Methodologies and Form". While Mandeep Raikhy and Ranjana Dave anchor the course as assistant professors, visiting faculty includes artists, choreographers, and professionals from other technical fields who will be teaching specific classes during the two-year course.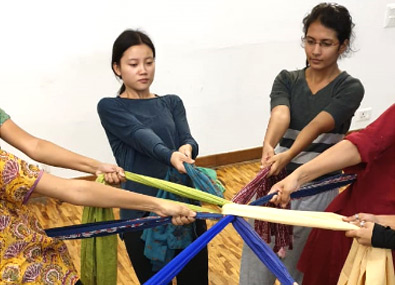 A new generation of students trying their ideas out in the studio.
Critical challenges
Collaborating with a state-run mechanism came with its own set of challenges. Not only were the Trusts trying to introduce a course that could not be measured against any set benchmarks – because none exist – but the course also required specific infrastructural requirements like a well-equipped dance studio.
Negotiations were necessary to secure an off-campus site that was already equipped with a dance studio, a library and teaching space. Months of work went into seeking necessary approvals, filing necessary paperwork and ensuring the availability of off-campus student services. All this deferred the launch of this programme by a year.
Launching the course
Finally, in July 2018, AUD announced the commencement of the course. Then began the selection of faculty and students. Out of the 40 applications that were received, 19 students were selected for the premiere batch. The course is in its second semester now, and students have completed courses in Dance: Reading and Writing, performance making, and fundamental movement principles.
Twice a week, students attend compulsory courses in cultural theory at AUD's Kashmere Gate campus. This semester, visiting choreographers like UK-based Marina Collard, Nrityagram's Bijayini Satpathy, Avantika Bahl and Zuleikha Chaudhuri have been engaging with students in three-week periods each, to enable them to practice the principles of performance making.
The Trusts' endeavour is designed to offer young and/or mid-career dance professionals an opportunity to learn knowledge mined from traditional movement systems, and new practices from global innovators in the field of dance. It is hoped that the MA Performance Practice (Dance) course will become a new pedagogic model that will professionally equip a new generation of dancers.