June 2018
Adopting profitable avenues
The illustrious story of Marotrao Thak has inspired many villagers to be a part of the dairy programme initiated by the Trusts' Sukhi Baliraja Initiative in Yavatmal district of Maharashtra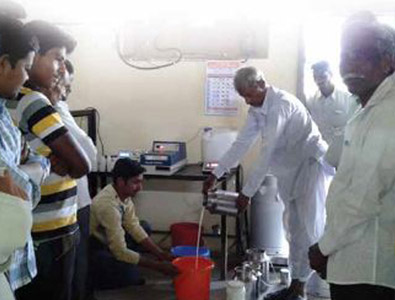 The milk collection centre in Wadgaon has created many opportunities for people in the nearby areas
The illustrious story of Marotrao Thak has inspired many villagers to be a part of the dairy programme initiated by the Trusts' Sukhi Baliraja Initiative in Yavatmal district of Maharashtra. Marotrao, a 56-year-old farmer from Wadgaon village, has three acres of land where he produces cotton and pigeon pea. Uncertainty in rainfall in the last few years has been hampering his agricultural produce. Higher input costs in agriculture, low yields and a distressed market provoked him to turn towards an alternative income source. He purchased one local cattle breed producing three litres of milk per day and sold the milk at the rate of Rs20 per litre. As the dairy business works on fat percentages, cow milk was not procured on a regular basis because of its fat content and, therefore, most of the times the milk remained unsold.

As Marotrao struggled to make his new venture profitable, he learned about the dairy plant established by Tata Trusts in Wadgaon which had its milk procurement centres in the nearby villages. The Trusts was procuring cow milk at the rate of Rs24 per litre. Relieved by this, Marotrao began pouring three litres of milk every day at the centre and earned over Rs2,000 per month. He is satisfied with the way he has been managing his work, and says, "Due to availability of a milk market at the local level, I am able to manage the dairy business without affecting my day-to-day agricultural activities". This kindled a ray of hope among other villagers and encouraged them to consider buying milch animals to actively participate in the dairy programme. Today, Marotrao has three milch animals with a daily milk output of 8 litres, fetching him over Rs6,000 per month. He was the first milk pourer at the milk collection centre in Wadgaon, and has not only motivated other farmers, but also encouraged the plant to scale-up the programme in the coming years.
This story has been taken from the Sir Ratan Tata Trust and Allied Trusts Annual Report 2016-17.