About Tata Trusts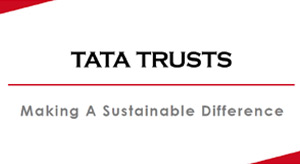 Tata Trusts are amongst India's oldest, non-sectarian philanthropic organisations. The Trusts own two-third of the stock holding of Tata Sons, the apex company of the Tata group of companies. The wealth that accrues from this asset supports an assortment of causes, institutions and individuals in a wide variety of areas. In this manner, the profits that the Tata companies earn go back many times over to the communities they operate in. These funds have been deployed towards a whole range of community development programmes across the country, for over a 100 years now.

Since its inception, Tata Trusts have played a pioneering role in transforming traditional ideas of charity and introducing the concept of philanthropy to make a real difference to communities.Through grant-making, direct implementation and co-partnership strategies, the Trusts support and drive innovation in the areas of healthcare and nutrition; water and sanitation; energy; education; rural livelihoods; natural resource management; urban poverty alleviation; enhancing civil society and governance; media, arts, crafts and culture; and diversified employment. The Trusts engage with competent individuals and government bodies, international agencies and like-minded private sector organisations to nurture a self-sustaining eco-system that collectively works across all these areas.



Tata Trusts continue to be guided by the principles of its Founder, Jamsetji Tata. With the Founder's vision of proactive philanthropy and his approach to 'giving', the Trusts catalyse societal development while ensuring that initiatives and interventions have a contemporary relevance to the nation. In addition to promoting and facilitating initiatives in elementary education, Tata Trusts also award fellowships and merit scholarships to students pursuing higher studies. It grooms social scientists, cancer specialists, nuclear scientists and distinguished institutional administrators, who in turn have striven to make the country a power to reckon with in various fields, including science and technology. The Trusts also support causes and initiatives that provide disaster relief and aids in rescue work in case of calamities. The Trusts not only assist by providing grants and helping to mobilise funds, they also offer on-ground support directly as well as in partnership with other stakeholders.

In order to enhance impact and ensure that interventions are sustainable, the Trusts have adopted a cluster-based approach, supporting multiple interlinked activities in identified clusters of contiguous villages across select geographies across India. Coupled with this, is the Trusts' strict adherence to ensuring that robust financial systems are put in place with all partner organisations. Today, spread over 17 states and 170 districts across the country, programmes supported by the Trusts reach out to millions of households through an efficient network of 450 plus partner organisations. Additionally, the Trusts' projects and initiatives, especially in the area of educational attainment, significantly contribute to building intellectual capital in the country.