January 2011
A niche for themselves
Uttarakhand Bamboo and Fiber Development Board has helped Amaravati, Neetu and other artisans scale up in self-respect and to a better life through art and handicraft programmes to improve livelihoods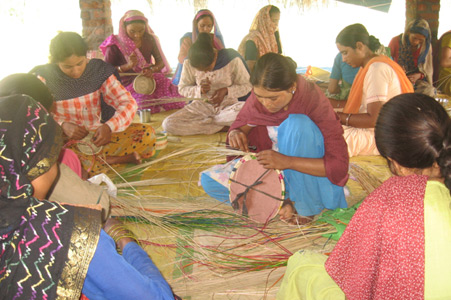 Trainer Neetu demonstrates the art of making articles from straw
Amaravati, wife of Amar Singh, in village Bhitora, dared to dream. And today, she lives in a large house with a colour television in the drawing room and biogas in the kitchen. Her family is a proud owner of a tractor, motorbike and more. From abject penury, Amaravati scaled up to a better life with determination and thanks to the initiatives of Uttarakhand Bamboo and Fiber Development Board (UBFDB).

Studied up to the eight standard, Amaravati, 36, and mother of two sons, says the family's 2.5-acre farm was insufficient for survival and she was obliged to work as a farm labourer elsewhere. When the resource persons from Jalagam Pariyojana (JP) – a watershed development programme of the Government of Uttarakhand (GoUA) - visited her village to persuade them to form a Self Help Group (SHG), the villagers bonded to create it within two days. They received training in stitching, carpet-weaving, fiber-work, mushroom farming, etc. The JP team also provided subsidized rice and wheat seeds for sowing. A loan from the SHG enabled Amaravati to redeem her agricultural plot pledged to the village money lender. Under the Bhoomi Sudhar Pariyojana (a soil conservation programme run by the GoUA), several villagers like her received a loan for purchasing bullock carts and things began looking up for the livelihood of the community. Narrating the economic turnaround wrought by UBFDB she says, "My fate changed the day the Board stepped into our village. I was involved in several training programmes and became a skilled artisan earning up to Rs. 1,200 a month. Our elder son now works as a bamboo craftsman in CFC, Bhitora while my husband is engaged in making bamboo houses and earning between Rs. 3,000-7,000/-. I am now heading the village cooperative society."

Trainer Neetu

The story of 23-year-old Neetu from Chintimajhara village is equally dramatic. Belonging to the Tharu tribe, and keenly interested in fiber handicraft, she seized on the opportunity arising from the UBFDB programmes. Giving up the sickle and winnow, she completely immersed herself in learning grass (bamboo) and fiber work. Within two years, she graduated to a master trainer drawing a daily allowance of Rs. 200/- travelling across villages to impart handicraft training to women. "Till date," exclaims a proud and elated Neetu, "I have grossed up to Rs. 20,000/-!" She looks forward to continue teaching even after marriage.

Trusts' Support to UBFDB

The UBFDB was promoted as an autonomous agency in 2003 by the GoUA in Dehradun to sustainably utilize, manage and develop the existing resource base of bamboo and natural fiber in the state, besides promoting bamboo and fiber based livelihood options. Starting with the basic assumption that the economic backwardness of a region is characterized by the co-existence of unutilized or under-utilized man-power on the one hand and unexploited natural resources on the other, UBFDB has made efforts to devise a system where both these factors are utilized to their potential, thereby transforming common folk like Amaravati and Neetu into entrepreneurs.

Under the Himmothan Pariyojana, the Trusts have supported UBFDB, Dehradun since 2004. The bamboo and fiber-based enterprise provides hope to the rural poor of Uttarakhand through sustainable employment avenues. The Board has been working with the Tharu tribal community who are engaged in producing bamboo handiwork. The Board's integrated project includes activities such as spreading awareness, building capacity, upgrading skills, infrastructure development, marketing and promotion. It also sets up grass root community-based SHGs and cooperative societies. The artisans create articles such as coasters, fruit and flower baskets, dustbin, wall hangings and mirrors with fiber border. They also produce folding chairs and tables; mini stools, magazine boxes and furniture for children.

Aided by a host of key activities, including setting up of artisan centres, craft-centric training and capacity building, the average additional income levels have risen between Rs. 18,000/- and Rs. 30,000/- per annum. The bamboo utilization rate too has gone up from 30-40 percent to 80 percent.

The programmes have helped redraw the economic scenario in the region and the wallet share has reflected this change. The artisans are now carving out a respectable niche in society, standing tall as equals to other citizens of India.